Having spent countless hours testing various models, my journey has led me to some of the best direct-drive turntables that stand out in terms of performance and value. Drawing from my hands-on experience, I've curated this article to focus on reliable direct drive players that offer outstanding value in the mid-range price bracket. But before we get to the product reviews, let me say a few words about these models so you can better understand some nuances.
Our pick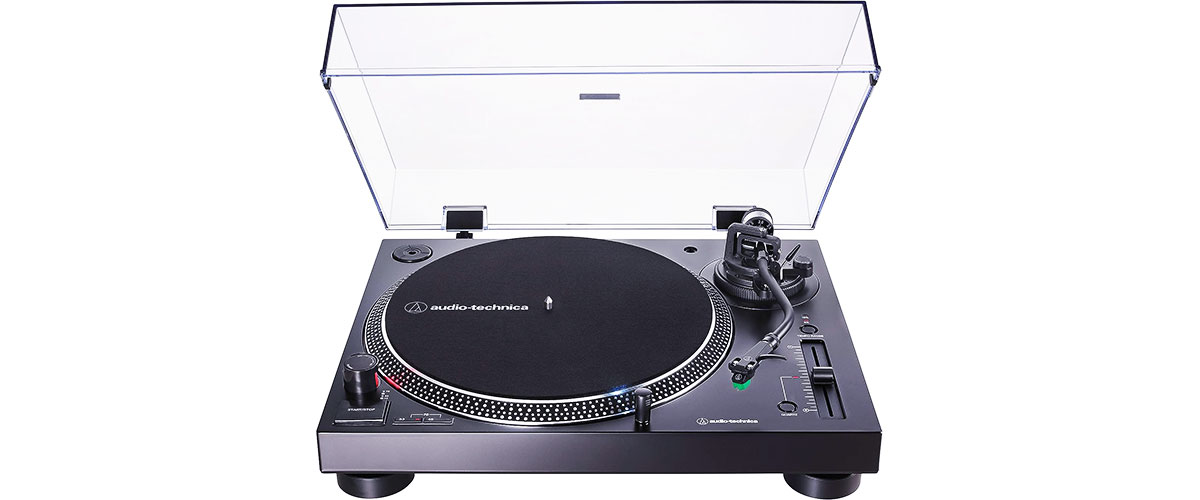 Audio-Technica AT-LP120XUSB
Best direct drive turntable
AT-LP120-USB turntable features a DC servo direct-drive motor, a adjustable dynamic anti-skate control, selectable phono preamplifier and USB output that allows direct connection to your computer.
Read the full review
.
Turntables under $500 comparison table
Name
Drive type
Operation type
Speeds
Phono Pre-Amp
Bluetooth
Review
Audio-Technica AT-LP120XUSB

best overall

direct
manual
33 1/3, 45, 78 RPM
yes
yes
Review
Technics SL-100C

premium

direct
semi-automatic
33 1/3, 45, 78 RPM
yes
no
Review
Audio-Technica AT-LP5X

also great

direct
manual
33 1/3, 45, 78 RPM
yes
no
Review
Pioneer PLX-1000

for DJ

direct
manual
33 1/3, 45 RPM
yes
no
Review
What is a direct-drive turntable?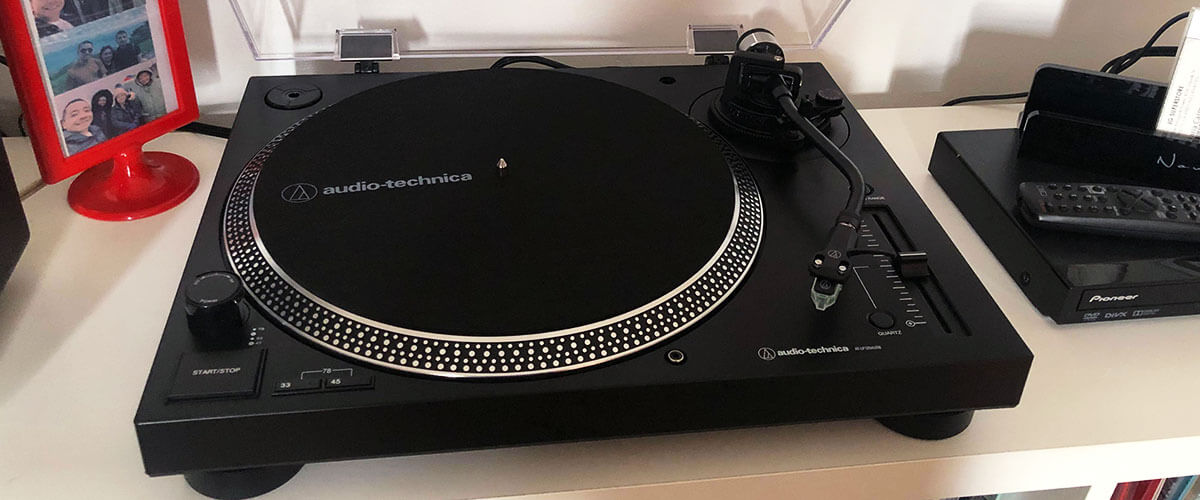 A direct-drive record player is distinguished by its motor placement. Instead of using an external belt or gears, the motor is situated directly beneath the platter. This setup allows the platter to spin with the motor's direct force, resulting in a quick start-up time and precise rotational speed. Of course, this technology has its advantages and disadvantages, which we will now consider in detail.
Pros and cons over other types of turntables
Pros
Speed stability and accuracy: the direct connection between the motor and the platter allows for a more stable rotation. This precision is appreciated by both audiophiles seeking fidelity in sound reproduction and DJs who need constant speed for mixing and scratching.
Durability: with fewer moving parts, direct-drive models tend to be more durable and require less maintenance than their belt-driven counterparts. This can be a significant advantage for those who use their turntable regularly.
Quick start and stop: direct drive turntables reach their full rotation speed almost instantly and stop just as quickly. This feature is especially beneficial for DJs who need to start and stop records promptly during performances.
Cons
Potential for vibrations: since the motor is directly connected to the platter, there's a chance that vibrations from the motor can be transferred to the platter and, consequently, the record. This can potentially affect sound quality, although advancements in design and technology have mitigated this issue in many modern models.
Price: direct-drive turntables can sometimes be more expensive than belt-driven models, especially when looking at entry-level options.
Warm-up time: some listeners argue that these players need a bit of time to 'warm up' before they deliver their most pleasing sound.
In conclusion, while there are pros and cons to consider, direct-drive turntables offer a compelling option for those seeking precision, durability, and quick response times in their record playback experience.
Best direct drive turntable reviews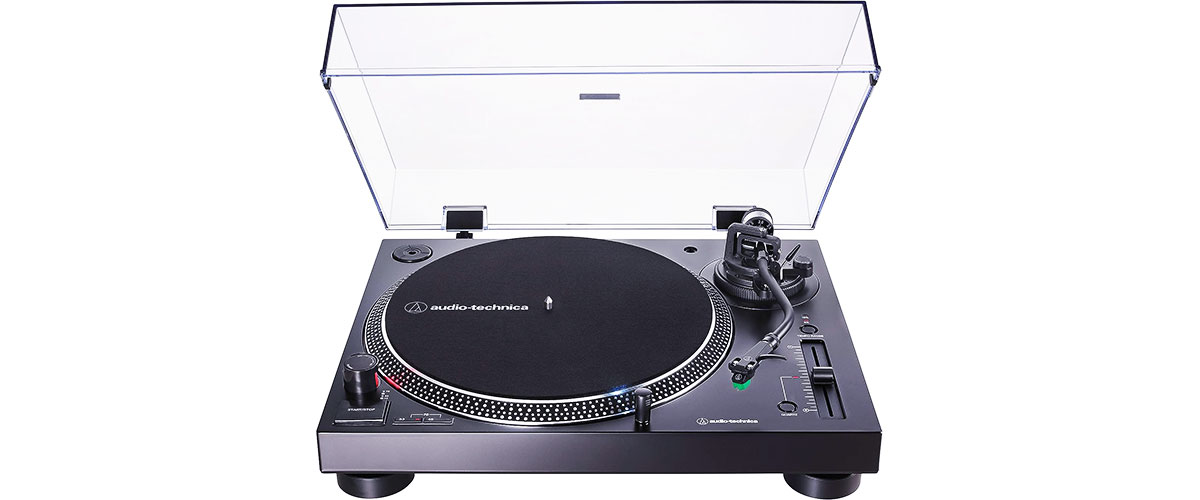 Audio-Technica, a renowned brand in the audio sector, once again proves its mettle with the AT-LP120XUSB. As I delved into its features and capabilities, I was reminded of the brand's attention to detail and its dedication to producing quality equipment.
One of the AT-LP120XUSB's standout features is its three selectable speeds: 33/45/78 RPM. This flexibility allows enthusiasts to delve into various record types, from vintage 78s to contemporary LPs. During my testing, I immersed myself in an array of genres, from the hauntingly soulful sounds of Billie Eilish's "When We Fall Asleep, Where Do We Go?" to some classic jazz records. The turntable's ability to pick up intricate details, from the lowest bass notes to the softest mid and treble, was remarkable.
Its direct-drive DC servo motor ensures unwavering rotation, which is pivotal for accurate sound reproduction. Coupled with a well-designed damped base, the TT does an outstanding job at keeping any unwanted low-frequency rumbles at bay, ensuring that what you hear is pure, unadulterated audio goodness.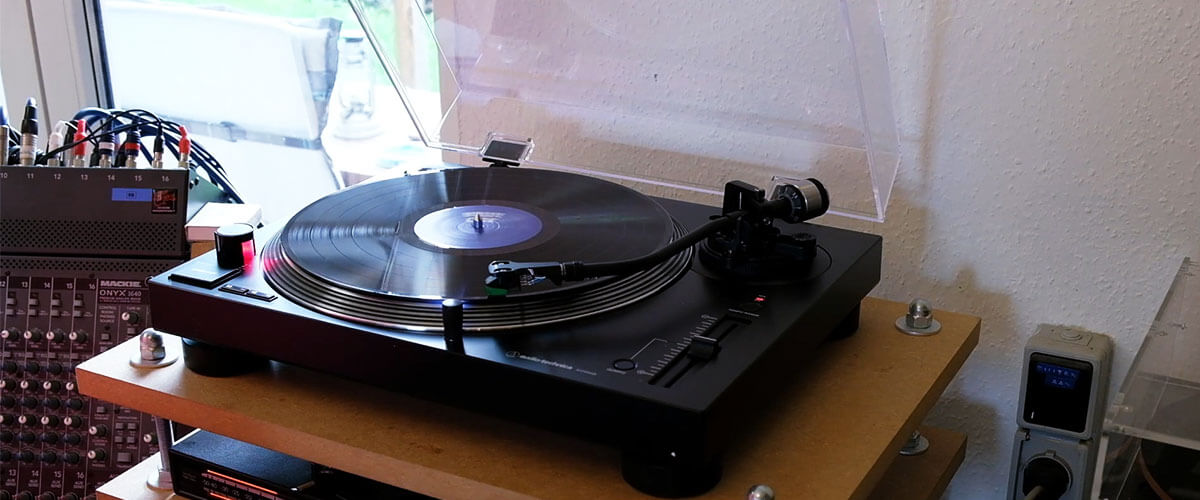 Manually operated, the AT-LP120XUSB allows seasoned vinyl listeners the level of control they crave. Features like the adjustable dynamic anti-skate control, variable pitch control with quartz speed lock, and the balanced S-shaped tonearm provide a personalized listening experience.
For the digitally inclined, this model seamlessly bridges analog and digital realms, offering vinyl-to-digital audio file conversion. My experience with this feature was smooth, yielding high-quality digital files.
When placed side by side with the Technics SL-100C, the AT-LP120XUSB holds its ground, especially in terms of value for money. At the same time, while the SL-100C may offer a more refined build and components, the AT-LP120XUSB shines, offering a rich feature set and decent performance at a more accessible price point.
In sum, the Audio-Technica AT-LP120XUSB earns its title as the overall best direct-drive turntable for its price range, seamlessly blending three-speed versatility, precise sound reproduction, digital conversion, and strong body. Audio-Technica never disappoints!
Key specs
Drive type: direct.
Operation type: manual.
Speeds, RPM: 33 1/3, 45, 78.
Phono Pre-Amp: yes.
Bluetooth: yes.
USB: yes.
Aux input: no.
Pros
Great sound – picks up every tiny sound.
The platter operates silently.
High-quality components and solid build.
Capable of converting vinyl to digital audio files.
Cons
The provided stylus isn't suitable for DJ functions.
The plastic 45-rpm spindle feels inadequate in comparison to the overall quality.
Setup may be a bit tricky for beginners.
Technics SL-100C – premium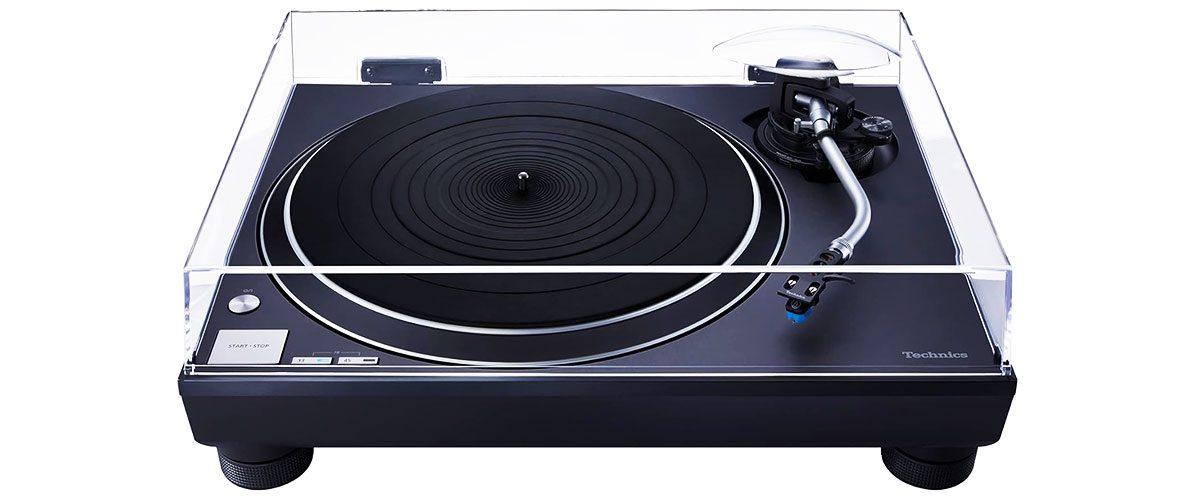 Steeped in a legacy of turntable mastery, Technics presents the SL-100C, a masterpiece that harmonizes vintage appeal with modern sonic clarity. This is a truly high-end model. When you take it out of the box and run your hand over the surface for the first time, you feel the quality of materials, parts, and accessories. You can immediately see that this is the Bentley of my current predominantly mid-range devices.
The core of the SL-100C is a coreless direct-drive motor, which delivers an exceptionally quiet yet precise rotational stability, a must-have for any audiophile direct-drive turntable. This precise engineering provided an impeccable foundation for each record played, from the most delicate acoustics to the robust lows of classic rock.
Sporting an aluminum S-shaped tonearm that exhibits heightened sensitivity, the TT ensures meticulous tracking and sublime audio translation. However, while the factory-fitted Audio-Technica cartridge is a good starting point, offering a warm and layered sound profile, it may not satisfy keen listeners' thirst for a truly high-end cartridge. But on the other hand, such an easy setup let me jump straight into exploring my vinyl collection, relishing the diverse tunes without fussing over a complicated setup.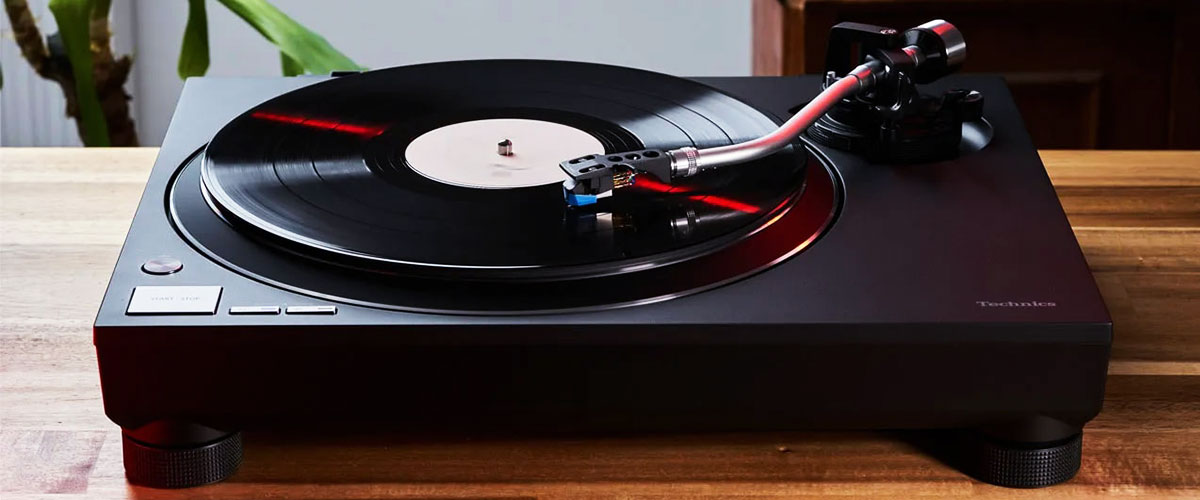 The player's ingenious Auto Lifter function epitomizes convenience, safeguarding your vinyl treasures and stylus with automatic care at the record's end. This feature alone clearly hints that the SL-100C turntable is a top device, skillfully combining audiophile sound quality with intelligent, enthusiast-oriented innovation.
To encapsulate, the Technics SL-100C stands out as a superior choice for serious vinyl enthusiasts, marrying high-fidelity audio with user-friendly features. Yes, it didn't become my leader, as the AT-LP120XUSB won the price/quality ratio, which is designed for the standard needs of most ordinary customers. But if your budget allows you and you want a "wow product", SL-100C will be an excellent choice.
Key specs
Drive type: direct.
Operation type: semi-automatic.
Speeds, RPM: 33 1/3, 45, 78.
Phono Pre-Amp: yes.
Bluetooth : no.
USB: no.
Aux in.: no.
Pros
Robust and stable construction.
The automatic lift feature prevents needle and record damage.
Offers easy adjustment of tonearm height and anti-skating.
Excellent sound quality.
Ready to play with minimal adjustments needed.
Cons
The provided "audiophile" cartridge might not meet the expectations set by the marketing, specifically the conical stylus.
Considering that it is a premium segment product, it will also be priced accordingly.
Audio-Technica AT-LP5X – also great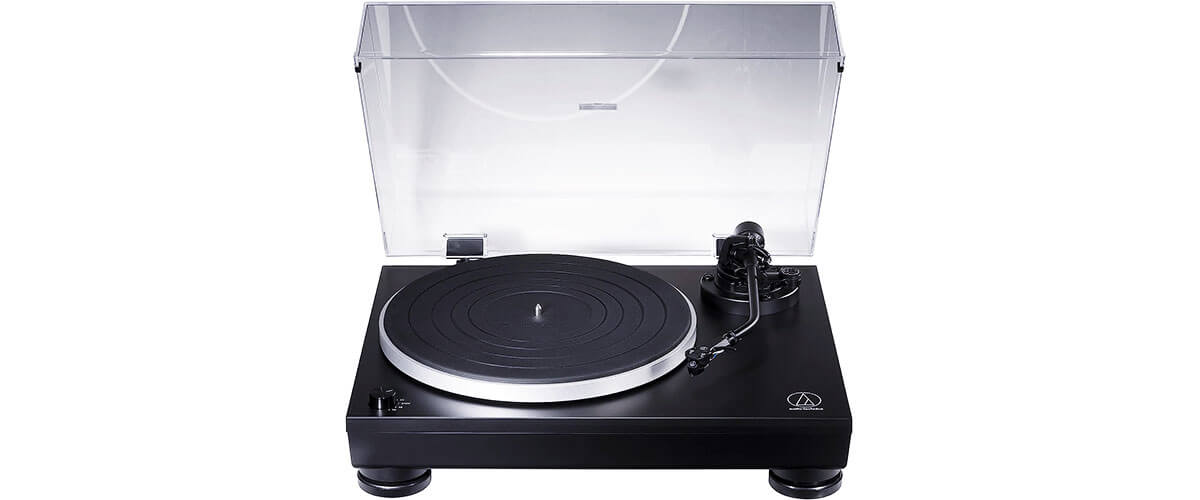 In the realm of vinyl playback, the Audio-Technica AT-LP5X has made a name for itself as one of the best budget direct-drive turntables on the market. That's why I wanted to test it personally and, if successful, add it to the review. Yes, it was a spoiler, and since it's on my list, it's a really worthwhile item.
From the moment I unboxed this unit, it was clear that setting it up would be a hands-on affair. Balancing the tonearm and adjusting the anti-skate mechanism was a meticulous process that tested my patience. To tell the truth, this table is not suitable for those who seek immediate gratification from their audio equipment, as it demands an investment of time and a touch of technical acumen. Yet, for enthusiasts, this is part of the charm – engaging with the machinery that breathes life into records.
The turntable's three-speed capability allows for a diverse vinyl experience, accommodating the 33-1/3 classics, the 45 singles, and the vintage 78 RPM records. It's a flexible feature that record collectors will appreciate.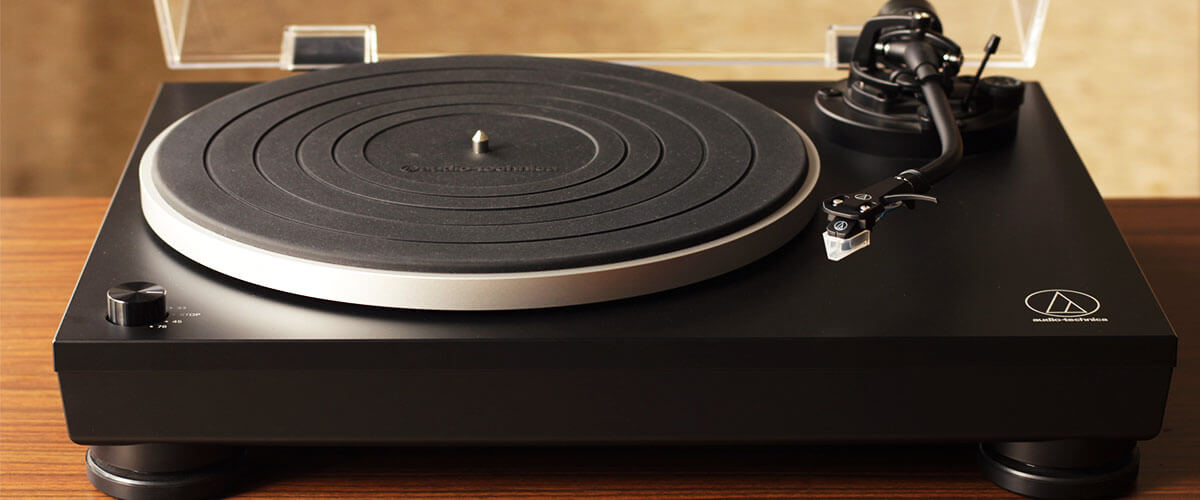 Once dialed in, the performance of the AT-VM95E cartridge did not disappoint. As I cycled through records – from the rollicking rock of the '70s to the electronic beats of today – the player displayed a remarkably clean soundstage. What stood out was the balance in its audio reproduction: bass notes had depth without muddiness, and the highs were crisp but not overbearing.
The lightweight headshell and J-shaped tonearm – a nod to the brand's vintage designs – worked in harmony to reduce tracking errors, which in turn preserved the integrity of my cherished vinyl.
To conclude, the Audio-Technica AT-LP5X doesn't pretend to compete with the heavyweights in terms of high-end features. Instead, it carves out its niche as a basic yet reliable turntable that respects the listener's intelligence and budget.
Key specs
Drive type: direct.
Operation type: manual.
Speeds, RPM: 33 1/3, 45, 78.
Phono Pre-Amp: yes.
Bluetooth: no.
USB: no.
Aux input: no.
Pros
It has pretty high-quality audio performance for a budget device.
Robust build.
Speed versatility.
Decent components.
Cons
Setting up is not straightforward and requires patience.
The anti-skating mechanism may need manual tweaking.
Proper setup may require additional tools like an alignment gauge, which are not included.
Pioneer PLX-1000 – for DJ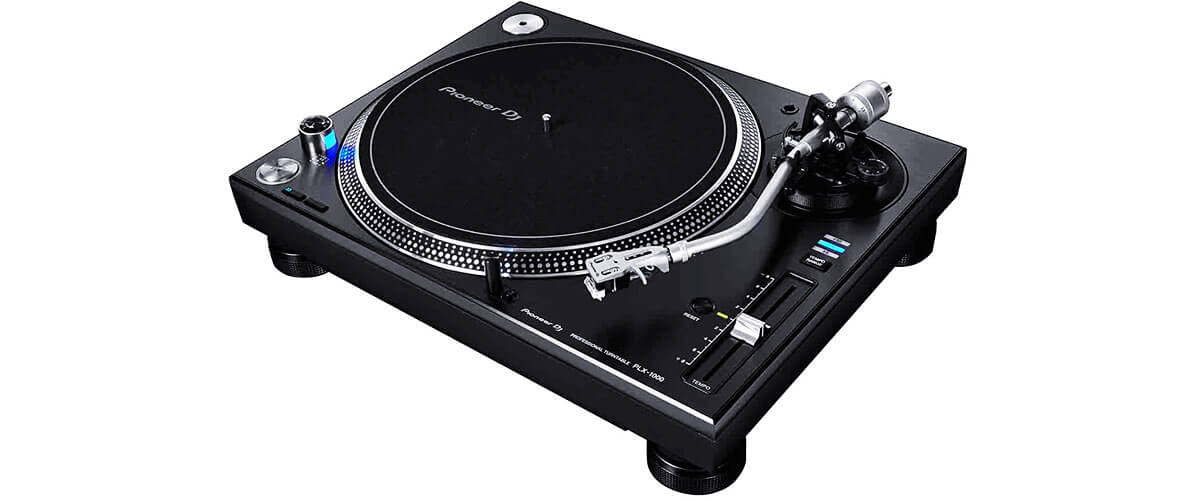 Pioneer DJ is synonymous with DJ culture, a reputation built upon years of delivering equipment that sets the standard in clubs worldwide. The Pioneer PLX-1000 turntable is no exception, representing their commitment to DJs who cherish the tactile experience of vinyl as well as the reliability required in high-pressure environments.
My time with the PLX-1000 was revealing. From the moment I unboxed it, the heft and build quality were apparent. The turntable has a reassuring solidity, a nod to its professional pedigree. Once set up, which was a smooth process thanks to clear instructions and a user-friendly design, I was eager to put it through its paces.
With a layout familiar to anyone who's used a turntable in a DJ booth, the PLX-1000 feels intuitive. Its high-torque direct drive system is powerful, getting up to speed almost instantaneously. There's a sense of confidence when starting and stopping, with the platter responding promptly to my touch.
The sound quality delivered by the PLX-1000 was admirable. Spinning a variety of records from my collection, from the pulsating beats of techno to the intricate layers of classical compositions, the sound was consistently clear and detailed. The isolation is particularly impressive; even when I tested it in a setup mimicking a live environment with substantial volume and bass, the PLX-1000 held its own with no discernible resonance transmitted through the turntable.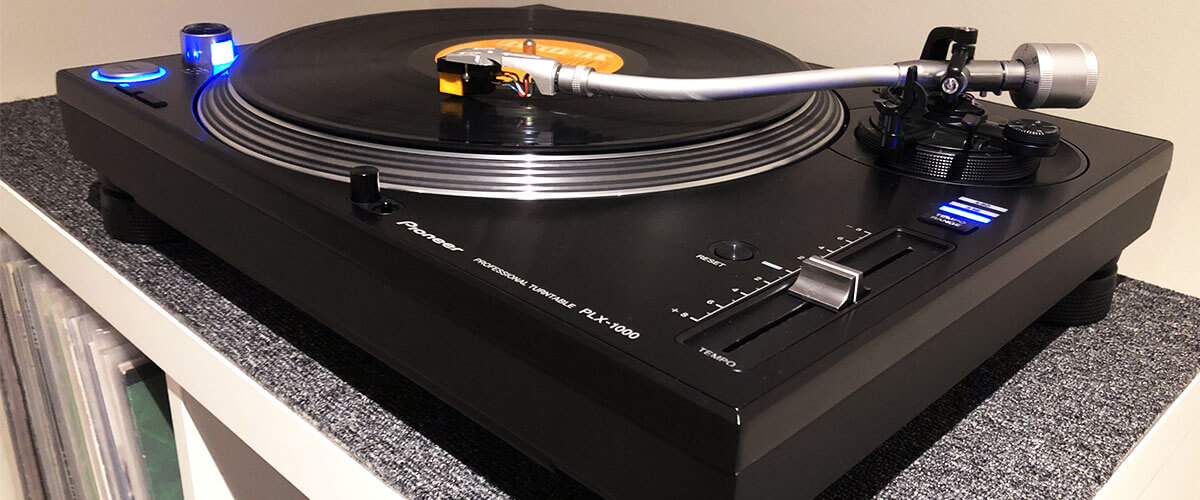 One thing I appreciated was the flexibility the PLX-1000 afforded. The tempo control is expansive, providing wide-ranging pitch adjustments without sacrificing sound clarity. Plus, the detachable power and audio cables are a boon for any DJ who travels frequently, simplifying setups and replacements.
While the PLX-1000 doesn't come with a cartridge, this allows for customization depending on the user's preferences. Seasoned DJs will likely have their preferred cartridge and stylus setup, but for newcomers, this means there's an additional step and expense before their first spin.
In sum, the Pioneer PLX-1000 solidifies its place as a professional-grade vinyl player. Its robust build, precise control, and sound fidelity affirm its position as a reliable choice for DJs, providing the perfect canvas to craft their unique sound experience.
Key specs
Drive type: direct.
Operation type: manual.
Speeds, RPM: 33 1/3, 45.
Phono Pre-Amp: yes.
Bluetooth: no.
USB: no.
Aux input: no.
Pros
Heavy-mass, die-cast zinc chassis minimizes resonance and vibrations.
Stable rotation and remarkable control.
Equipped with pro-grade gold-plated RCA jacks for reduced impedance.
Convenient adjustable feet, anti-skating, tracking weight, and tonearm height adjustments.
Cons
Absence of a hinged dust cover.
The tonearm wires might be too thin for some users' preferences.
FAQ
Why do DJs prefer direct-drive turntables?
Such models are favored by DJs primarily due to their quick start-up and precise speed control, essential for real-time manipulation of records. These features allow DJs to perform scratching and other techniques with ease. The durability of direct drive mechanisms also stands up better to the rigors of live performances, making them a reliable choice for professionals.
Are direct-drive turntables more expensive than belt-drive ones?
Generally, direct-drive turntables tend to be more expensive than their belt-drive counterparts. This is due to the more complex and robust motor design required to directly spin the platter, leading to higher production costs. However, the price gap has been closing over the years, and now there are direct-drive options available at various price points.
How important is torque in a direct drive turntable, and what's a good torque value?
Torque is vital in direct-drive turntables, especially for DJs, as it determines how quickly the platter reaches its desired speed and maintains it. A higher torque ensures swift start-up and consistent speed, essential for seamless mixing and scratching. But for home use, a slightly lower torque can still offer a stable performance.
Is a direct-drive turntable suitable for beginners?
Of course, a direct-drive turntable is great for beginning audiophiles. Their robust construction and reduced maintenance needs (no belts to replace) make them user-friendly. While they might come at a slightly higher price point than some entry-level belt-drive models, the investment can be justified by their durability and consistent performance. Beginners looking for a long-lasting and reliable turntable will definitely find direct-drive models to be a worthwhile option.
We are supported by our audience. When you purchase through links on our site, we may earn an affiliate commission at no extra cost to you.
Our newsletter
* We will never send you spam or share your email with third parties