In the diverse world of vinyl players, finding the best turntables under $300 can often feel like striking a delicate balance between performance and price. While these turntables don't offer the high-end features of their pricier counterparts, they're perfect for casual listeners and those looking for decent performance without breaking the bank. Drawing from my own experience testing a myriad of models, I've found that this price point can yield some pretty good results with the right choice.
In this guide, we'll dive deep into a selection of commendable turntables from various manufacturers within this budget. These are not the crème de la crème, but they certainly bring value to the table for their cost.
Our pick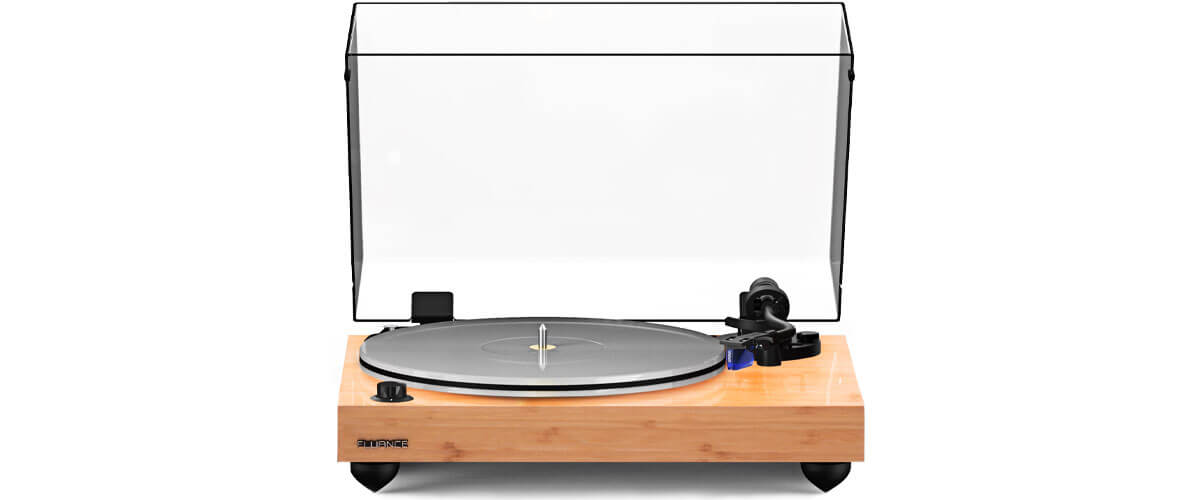 Fluance RT82
Best turntable under $300
With the Fluance RT82, you will get an immersive vinyl record listening experience for beautifully warm and natural music that transports you into the center of the performance.
Read the full review
.
Turntables under $300 comparison table
Name
Drive type
Operation type
Speeds
Phono Pre-Amp
Bluetooth
Review
Fluance RT82

best overall

belt
manual
33 1/3, 45 RPM
no
no
Review
Sony PS-LX310BT

also great

belt
fully-automatic
33 1/3, 45
yes
yes
Review
Electrohome Kingston 7-in-1

all-in-one

belt
semi-automatic
33 1/3, 45, 78 RPM
yes
yes
Review
Best turntables under $300 reviews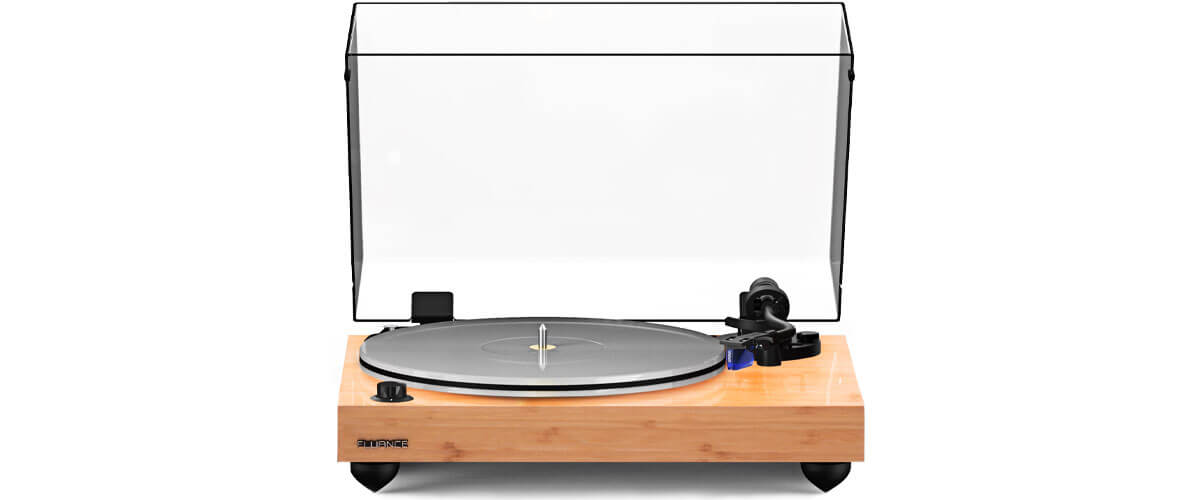 Navigating the world of budget vinyl players often requires a discerning ear, and the Fluance RT82 offers a respectable performance for its price point. One of its commendable features is the Ortofon OM10 elliptical cartridge. While it doesn't reach the heights of high-end models, it provides a decent linearity and reduces distortion better than many in this bracket.
A common hurdle with affordable turntables is the interference of vibrations and noise. The RT82's isolated motor and speed control show a genuine attempt to mitigate this issue, offering a steadier platter velocity and a more consistent listening experience.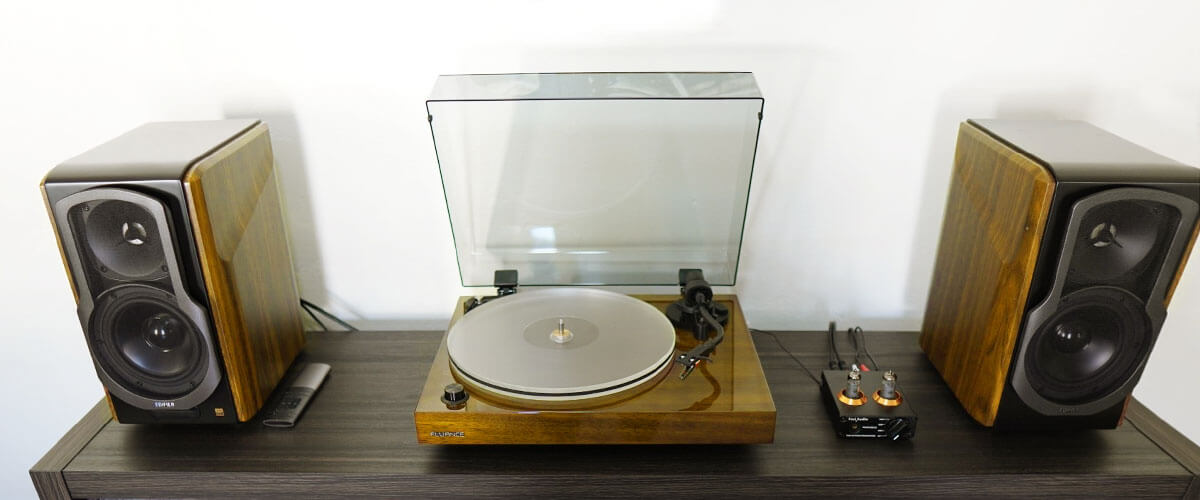 Its high-mass MDF wood plinth combined with the metal platter reveals a thoughtful design intent. This combination provides insulation against external disturbances, so you will get more warmth and clarity from your records.
In my personal listening sessions, the RT82 provided a clear and enjoyable sound. Sure, it cannot match the luxury of premium turntables, but it still does a commendable job of bringing out the nuances of the vinyl.
When put side by side with the Sony PS-LX310BT, the latter does have advantages like Bluetooth connectivity and USB ripping. However, in terms of a more focused audio experience, the RT82's balanced S-shaped tonearm gives it a slight edge in sound consistency.
In conclusion, if you're on the quest for the best turntable under $300, the Fluance RT82 is a compelling choice. Marrying thoughtful design with dependable performance, it offers a rich vinyl experience that's both affordable and impressive.
Key specs
Drive type: belt.
Operation type: manual.
Speeds, RPM: 33 1/3, 45.
Phono Pre-Amp: no.
Bluetooth: no.
USB: no.
Aux input: no.
Pros
Sturdy build – solid tonearm, no wobble in the platter, and substantial plinth, which helps reduce vibrations.
The motor maintains a consistent rotation speed with minimal deviations.
Offers clear, defined sound with the Ortofon OM 10 cartridge.
Adjustable feet – allows for easy leveling, especially useful in places where the floor or surface isn't even.
Cons
Does not have an internal phono preamp.
The cueing lever and tonearm latch feel cheaper compared to other turntable parts.
Sony PS-LX310BT – also great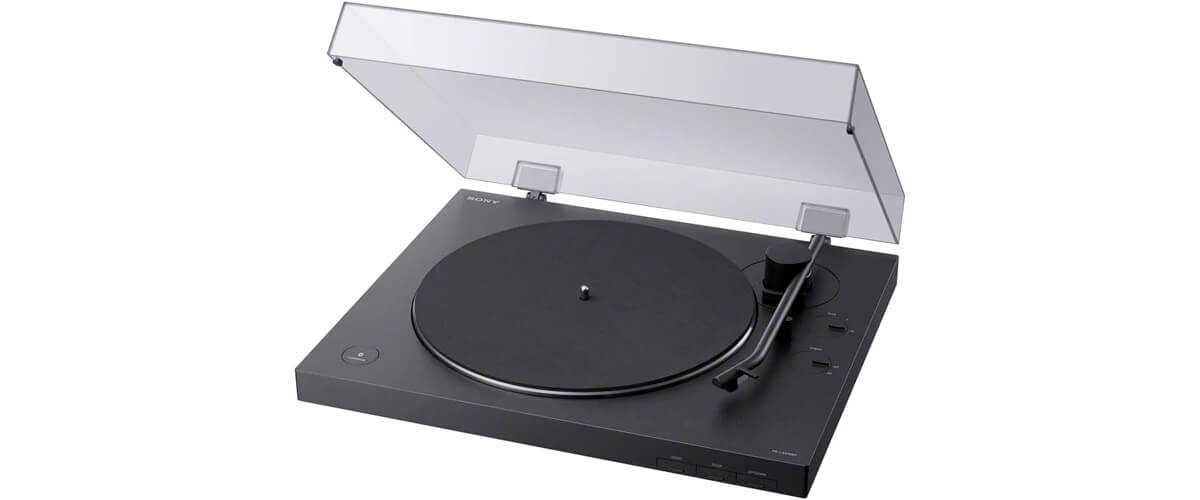 In the sub-$300 turntable market, the Sony PS-LX310BT strikes a chord with its mix of classic turntable characteristics and contemporary features. Starting with its user-friendly attributes, the one-step auto start, stop and return make for an effortless vinyl listening session. For novices and casual listeners, this is a welcome respite from the often intricate dance of manual setups.
I love the PS-LX310BT's built-in switchable phono output and line-out phono preamp, complete with three gain settings. This ensures optimal compatibility, allowing you to integrate it into various audio setups seamlessly. The addition of USB ripping further sets this model apart, providing you with the added advantage of digitizing your beloved vinyl collection.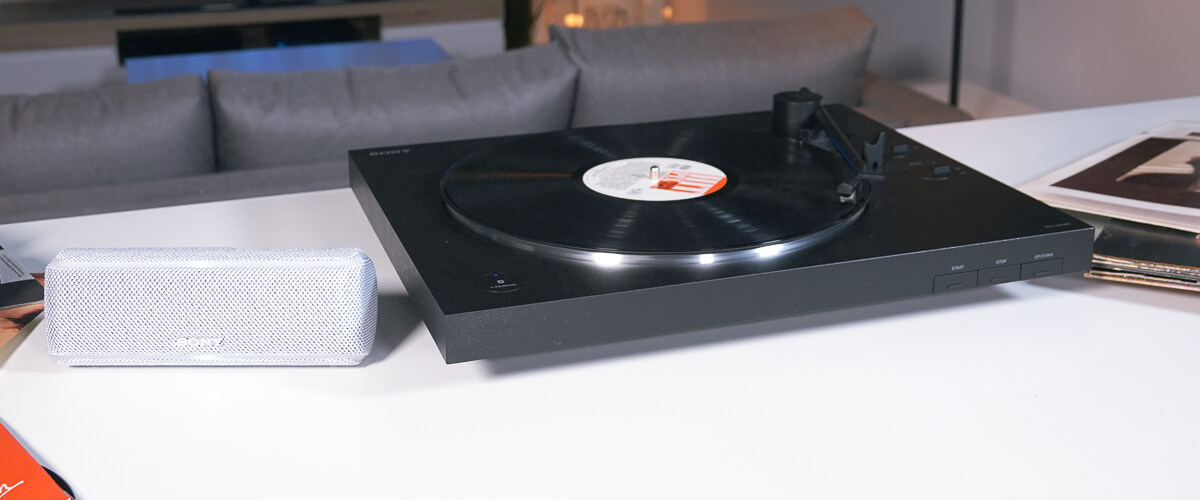 The player's sonic capabilities, framed by an aluminum die-cast platter, help in reducing vibrations. The outcome is a sound that's clearer and closer to the hi-fi spectrum than some might expect at this price point. During my sessions, the PS-LX310BT delivered a broad soundstage, giving depth to the tracks and making the music feel alive.
Where I found the Sony PS-LX310BT to really shine was in its adaptability. While the Fluance RT82 might have a slight edge in sound quality and solidity, the Sony steps ahead with its Bluetooth connectivity. It easily connects wirelessly to speakers, headphones, and other devices, catering to today's convenience-loving listener. Additionally, the presence of its built-in Phono EQ further amplifies its versatility.
To wrap things up, the Sony PS-LX310BT emerges as the best record player under $300 in terms of blending traditional vinyl playback with modern conveniences. It bridges the gap between past and present, ensuring every vinyl enthusiast feels right at home.
Key specs
Drive type: belt.
Operation type: fully-automatic.
Speeds, RPM: 33 1/3, 45.
Phono Pre-Amp: yes.
Bluetooth: yes.
USB: yes.
Aux input: no.
Pros
Fully automatic.
Produces clear sound without the typical hissing and pops of older records.
Setup and syncing are straightforward and user-friendly.
Offers both RCA and Bluetooth connectivity, allowing for a wider range of setups.
Elegant design makes the turntable look more expensive than it is.
Cons
The lightweight design can cause the unit to shift when buttons are pressed.
Certain parts like the tonearm and buttons feel cheaper in quality.
Non-detachable AC output cables – make the turntable less convenient for Bluetooth-only setups.
Electrohome Kingston 7-in-1- all-in-one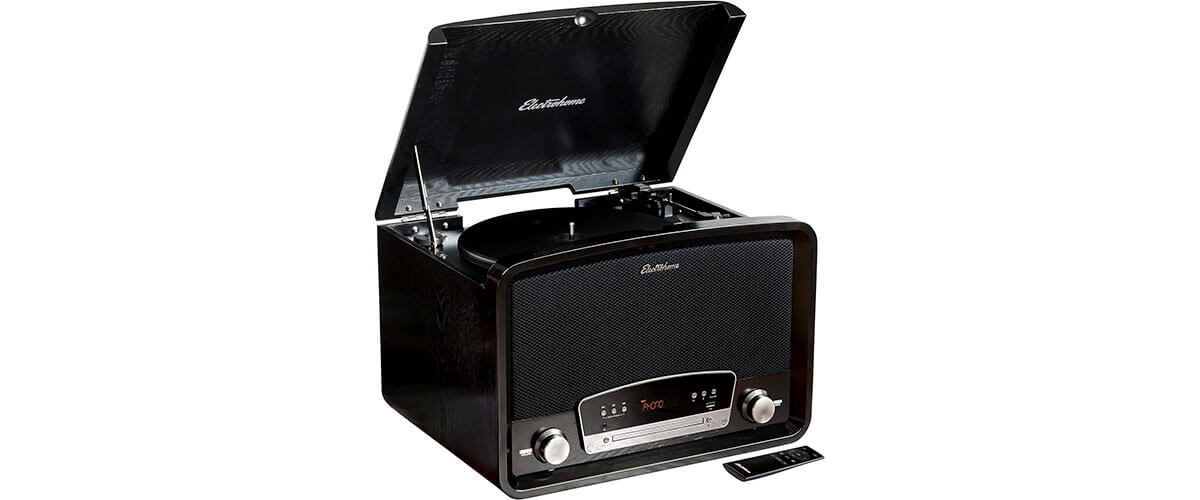 The turntable market has a broad spectrum, from minimalist designs to multifunctional hubs. The Electrohome Kingston 7-in-1 squarely positions itself in the latter category – it's not just a turntable, it's an all-in-one audio experience. Perhaps audiophiles will smile sarcastically as they believe that such a device should only play music qualitatively, but many modern people are looking for just such options.
And we'll start the review with the versatility of this model. In my opinion, the 7-in-1 system is no marketing gimmick. Beyond the 3-speed belt drive turntable, it smoothly integrates Bluetooth, Aux in, AM/FM Radio, a CD Player, and USB functionality. For those with a varied taste in music sources, this machine eliminates the need for multiple devices.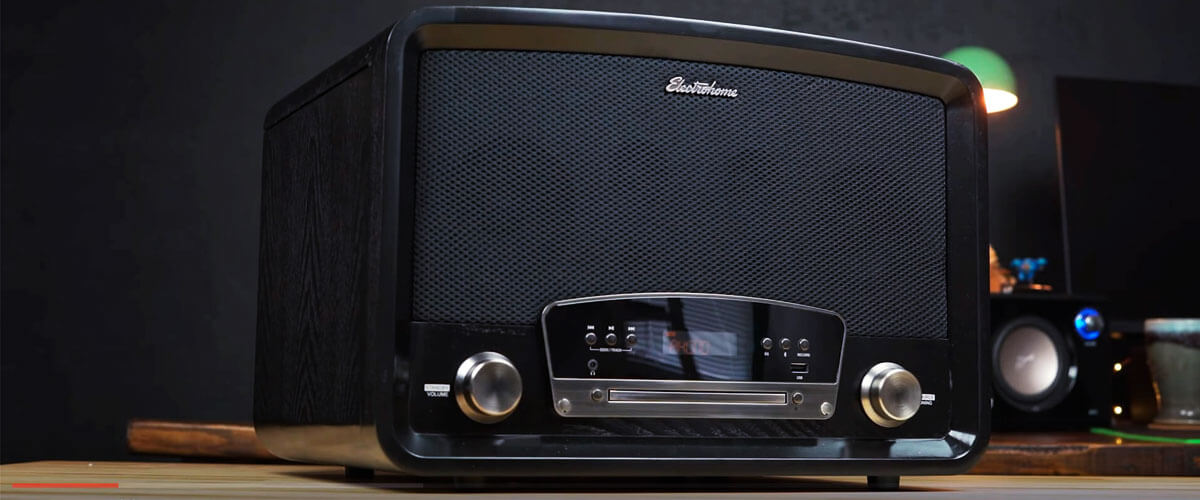 Another commendable feature is its design. Backed by Electrohome's century-long legacy in the audio industry, the Kingston 7-in-1 boasts a retro-modern aesthetic. The wood cabinet adds a vintage flair and efficiently enhances the sound with its warm resonance.
During my listening sessions, I found the four high-performance speakers to be surprisingly adept for an integrated system. While purists might still prefer external setups, for the casual listener, these speakers do more than just justice to the music.
I also love this TT's capacity for digitization. The option to convert vinyl records or CDs to MP3 files onto a USB drive is a boon in the digital age. It's like preserving the old while embracing the new, all in one neat package.
Overall, the Electrohome Kingston 7-in-1 represents a harmonious blend of past and present. For those seeking top turntables under 300 bucks that deliver a multi-faceted audio experience, this model confidently hits all the right notes, proving that versatility need not come at a premium.
Key specs
Drive type: belt.
Operation type: semi-automatic.
Speeds, RPM: 33 1/3, 45, 78.
Phono Pre-Amp: yes.
Bluetooth: yes.
USB: yes.
Aux input: yes.
Pros
Retro, all-wooden design that is both sturdy and visually pleasing.
Deliver decent sound; external speakers are optional.
Intuitive controls and functions.
Connects seamlessly via Bluetooth.
Cons
Cheap needle.
The CD drive operates loudly.
Audio-Technica AT-LP3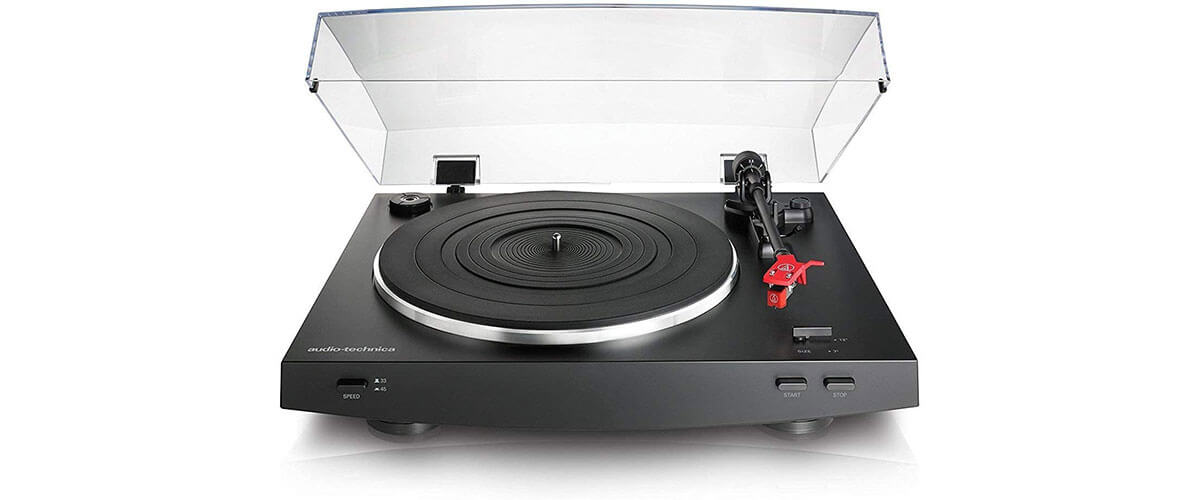 The Audio-Technica AT-LP3 positions itself confidently within the budget-friendly turntables, offering a blend of utility and satisfactory sound output given its price.
Central to its design is a balanced straight tonearm paired with the AT91R Dual Moving Magnet phono cartridge. While listening to albums such as Fleetwood Mac's "Rumours" and tracks from Norah Jones, the AT-LP3 provided a consistent, if basic, rendition. It manages to extract a decent clarity from the records, though, naturally, it doesn't reach the heights of premium models.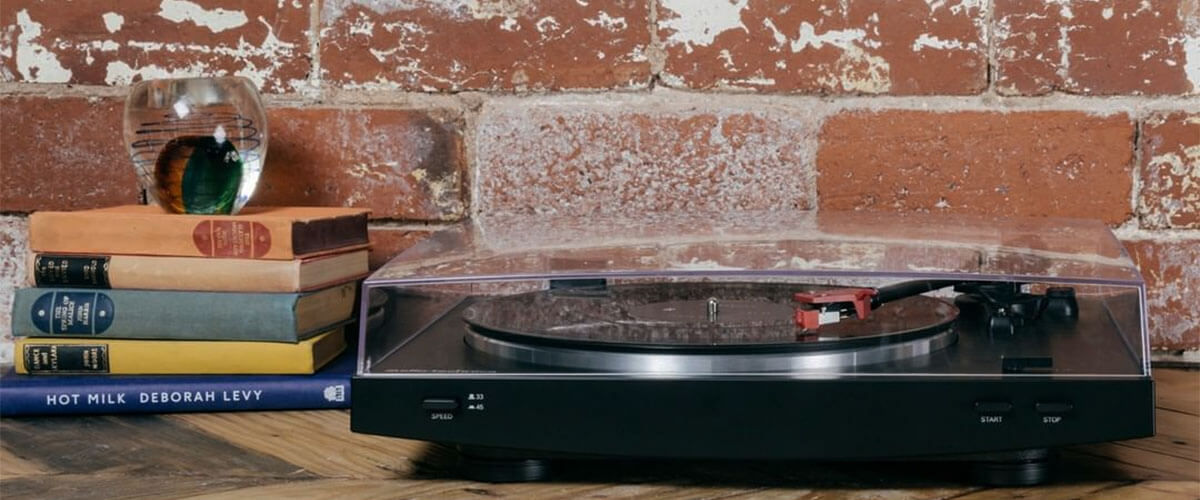 The hydraulically damped lift control stands out as a thoughtful touch. Aimed at enhancing user experience, this feature helps to gently and securely place the stylus on the record, a bonus, especially for those new to the vinyl scene. However, what makes the AT-LP3 particularly user-friendly is its fully automatic operation.
The built-in preamp is a noteworthy inclusion, offering convenience by allowing users to easily connect to various audio setups without needing an external device. For the everyday listener, this integrated feature is both practical and efficient.
To sum up, the Audio-Technica AT-LP3 presents itself as a competent automatic turntable in the affordable segment. So, if you are seeking a straightforward vinyl experience without denting your wallet, it's a viable contender.
Key specs
Drive type: belt.
Operation type: manual.
Speeds, RPM: 33 1/3, 45.
Phono Pre-Amp: yes.
Bluetooth: no.
USB: no.
Aux input: no.
Pros
Solid build and robust design.
Comes equipped with all the essential components for instant setup.
Universal cartridge mount allows for easy cartridge upgrades.
Cons
Non-detachable RCA-only cables.
Requires an external headphone amp for headphone listening.
Crosley C100BT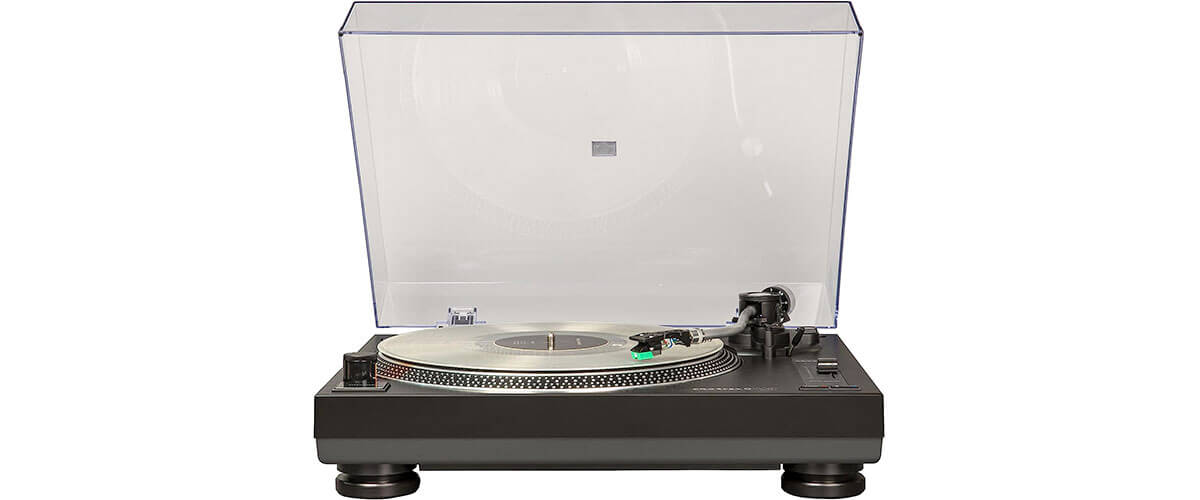 Crosley, long associated with bringing vinyl to households with its range of turntables, adds another feather to its cap with the C100BT. Building on its heritage, this model showcases Crosley's commitment to evolve with the times.
Relying on a two-speed belt-driven mechanism, the TT provided consistent playback during my sessions. Its Bluetooth capability was a highlight, allowing me to skip the traditional wire setups and connect directly to my wireless speakers.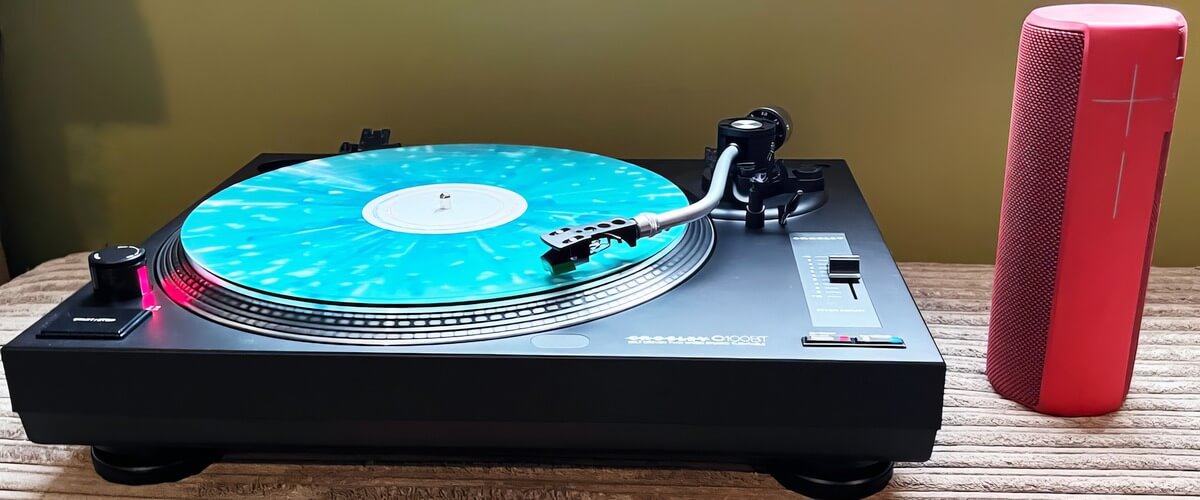 While immersing myself in classics like The Beatles' "Abbey Road" and the soothing rhythms of Miles Davis, I found the C100BT's sound to be engaging. Yet, there was a slight thinness, even with the assistance of the Audio-Technica AT95E cartridge.
A few nuances caught my attention. For one, the turntable had a tendency to spin slightly slower than the standard 33 RPM. Though it was an easy manual adjustment, it's something you might want to note. And, as previously mentioned, the sound, although mostly satisfying, did lack some depth on certain tracks.
In conclusion, the Crosley C100BT demonstrates the brand's stride toward modernizing its lineup while maintaining its vinyl-centric roots. This model stands as a great affordable turntable for those venturing into the vinyl space with an appetite for both tradition and innovation.
Key specs
Drive type: belt.
Operation type: manual.
Speeds, RPM: 33 1/3, 45.
Phono Pre-Amp: yes.
Bluetooth: yes.
USB: no.
Aux input: no.
Pros
Offers potential for audio quality upgrades.
Allows for fine-tuning of playback speed.
Provides compatibility with various audio setups.
Automatically stops the turntable after a certain duration.
Cons
May require manual speed adjustments.
Some users experienced problems with the tonearm being too low.
Compared to other models, the sound might be perceived as thinner.
What to look for when choosing vinyl players under $300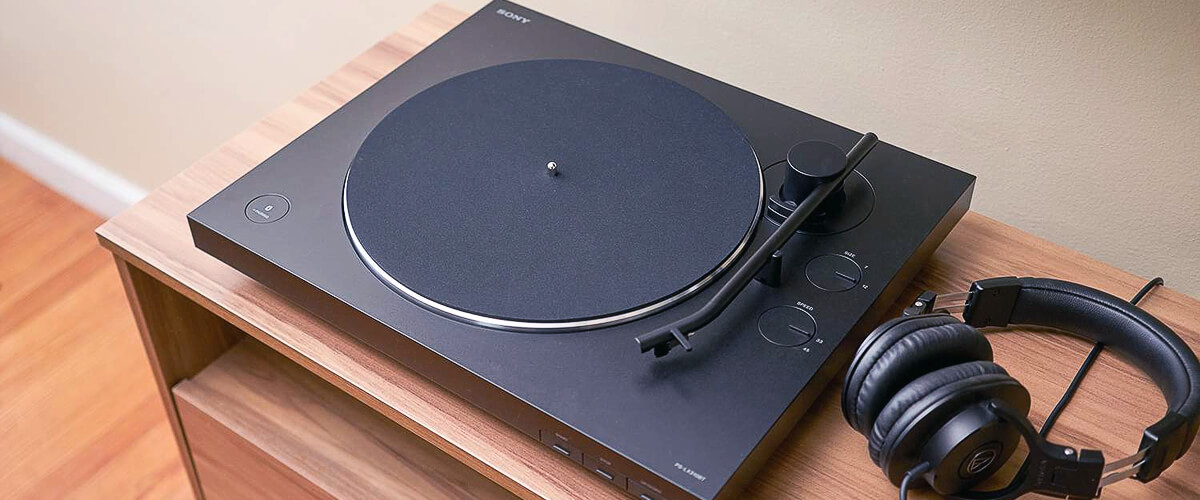 When choosing a vinyl player under $300, certain features can make or break your listening experience. Dive into this section to discover key aspects that merit your attention.
Plinth and platter material
The foundation of any good turntable is its plinth (base) and platter. Their materials significantly influence sound quality by managing unwanted vibrations. A heavier and more stable plinth, typically found in higher-quality turntables, ensures fewer disturbances and a clearer sound. In the sub-$300 range, aluminum dominates as the prevalent platter material due to its durability and cost-effectiveness. However, some standout models, like the Fluance RT82, elevate the experience by employing a high-quality solid wood (MDF) base.
Well-designed tonearm
A tonearm's design and material play a pivotal role in determining the sound quality of a turntable. It's responsible for accurately positioning the cartridge and stylus on the vinyl, influencing the overall fidelity of sound reproduction. While various materials are used, it's essential to steer clear of tonearms made primarily of plastic. They tend to be less stable and can introduce unwanted resonance or vibrations. A well-constructed tonearm, typically made of metals or composites, ensures consistent tracking and minimal distortion, making it a critical consideration when searching for a quality vinyl playing experience.
Cartridge
The cartridge is like the heart of a turntable – it's where the magic happens. This little component shapes the sound character and detail extraction from your vinyl. All the players we've talked about come with a little bonus: they have replaceable cartridges. Why is this cool? From my personal spin sessions, I've found that switching up the cartridge can feel like getting a whole new turntable. It's like upgrading from regular headphones to those fancy noise-canceling ones. So, getting a TT with a replaceable cartridge is definitely a win because it promises better sounds in your future vinyl adventures.
Phono preamp
Have you ever wondered why turntables can't just plug into any speaker or system? Enter the phono preamp. This little gadget amplifies the signal from your vinyl to a level that standard audio systems can understand. Now, when exploring turntables below $300, you'll find that most come with a built-in phono stage. Handy, right? But here's a twist: some pricier, high-end models skip this feature. Why? It allows audiophiles the freedom to pick their own external phono preamp, giving them an extra layer of customization. It's like choosing your special sauce to spice up your favorite dish, making every note sound just right.
We are supported by our audience. When you purchase through links on our site, we may earn an affiliate commission at no extra cost to you.
Our newsletter
* We will never send you spam or share your email with third parties