If you are ready to dive into the world of vinyl and get your own collection, I suggest you look at the AT-LP1240-USBXP from the Japanese company Audio-Technica.
This model is aimed at professional DJs but will also suit anyone who likes to enjoy quality music at home. Well, this Audio-Technica AT-LP1240-USBXP review will help you better know the benefits and features of this product, and I'll also give you my opinion on how it sounds.
Design and materials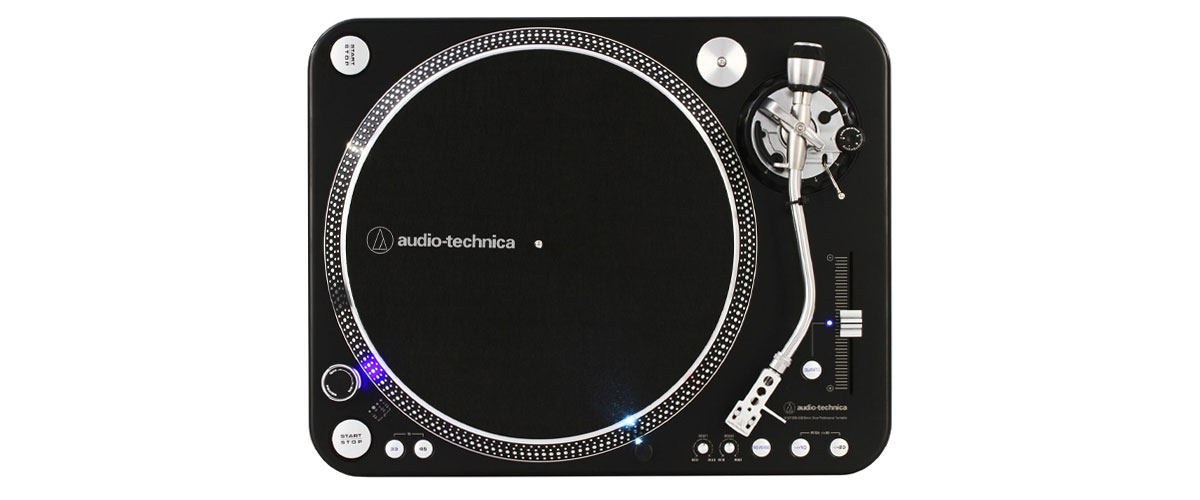 The design of this model looks quite simple but elegant at the same time. Its classic matte black and silver color will fit into any home interior. Moreover, I am sure you will appreciate the convenient cover that protects the device from dust, as well as the stylish backlighting.
The turntable features two RCA outputs and removable cables. The package includes a USB cable, audio adapter cables, a removable dust cover, and an adapter for 45 RPM. I should note that the Audio-Technica AT-LP1240-USBXP record player is quite rugged and designed for various operating conditions.
I would single out a professional-grade anti-resonance cast aluminum disc with an excellent felt slip mat, a quality sound pickup, and a pair of handy on/off buttons. In addition, the desktop has four anti-vibration feet with adjustable dynamic anti-skate.
Features and specs
I have already mentioned that this model was designed with professional DJs in mind, so it has a lot of interesting features, which we are going to consider now.
The turntable comes with the AT-HS6 universal ½" mounting head and the AT-VM95E Dual Magnet phono cartridge with a 0.3 x 0.7 mil elliptical stylus, which is compatible with any VM95 series interchangeable stylus, which to me is a big plus as it ensures maximum compatibility with DJ mixers. The S-tonearm is height-adjustable with a swiveling horizontal ring and locked in place with a locking mechanism. The playback system is fully manual and allows you to play records at 33/45/78 RPM.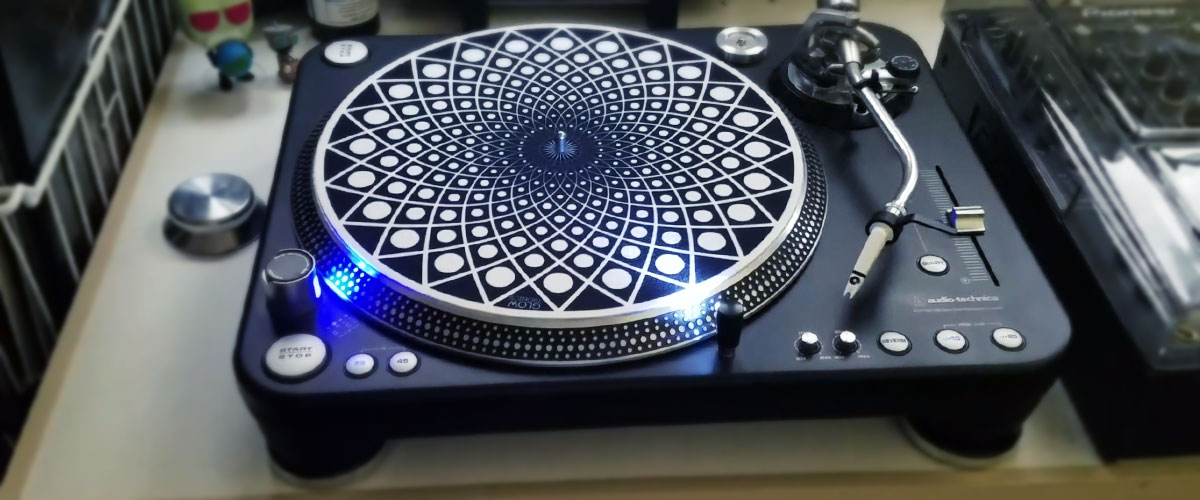 An optional USB output allows direct connection to a computer (computer interface – USB 1.1 Compliant Windows 7 or higher, or MAC OS X or higher). Other DJ-specific features in this turntable are the forward-reverse operation and pitch control, so you can easily create and mix new tracks. Moreover, I was specifically pleased with the removable backlight, which makes it easy to place the needle on the record in the dark.
The model has an RCA output and a switchable phono preamplifier for phono- or line-level output, making it easy to connect to an amplifier, an active speaker, or headphones.
How does it sound
The first seconds after lowering the needle, the acoustic system gives a characteristic murmur of bass frequencies, but almost immediately, its volume decreases, becoming imperceptible. After connecting the headphones, I could not overcome the residual murmur. It was very weak but still audible. As for the AC background, it is absolutely not audible at any needle position, not only in the speaker system but also in the headphones. Although the manufacturer declares the drive detonation at a relatively high value (0.1% WRMS), it is not felt at all during the listening.
While testing, the AT-LP1240USB showed complete indifference to external vibrations. As I listened with the protective cover in place up to the volume limits for efficiency, I did not find any signs of acoustic excitement.
The turntable showed excellent sound quality, which fully reveals the advantages typical for vinyl. My acoustic system responded very well to this sound. The timbre coloration was authentic and natural. The sound was characterized by an even tonal balance, detailed and deep bass. Separately, I was impressed by the naturalness of the midrange, but the upper frequencies were not transparent enough. However, even with these insignificant remarks, the potential of the turntable showed itself beautifully.
Key specs
Drive type: direct.
Operation type: manual.
Speeds, RPM: 33 1/3, 45, 78.
Phono Pre-Amp: yes.
Bluetooth: no.
USB: yes.
Aux input: no.
Pros
Concealed illumination for accurate needle insertion.
Extensive drive tuning options.
Choice of cartridge heads.
Allows to change records "on the fly".
Cons
The tonearm is not as heavy as you may want it to be.
We are supported by our audience. When you purchase through links on our site, we may earn an affiliate commission at no extra cost to you.
Our newsletter
* We will never send you spam or share your email with third parties