If you are passionate about a special atmosphere of pure vinyl sounding, the AT-LP7 by Audio-Technica will exceed all your expectations. This fully manual 2-speed turntable is a bright representative of the VM cartridge line possessing a dual moving magnet cartridge.
Sounds intriguing? Then, let's have a deeper look at this novelty and conduct an Audio-Technica AT-LP7 review to clarify the nuances.
Design and materials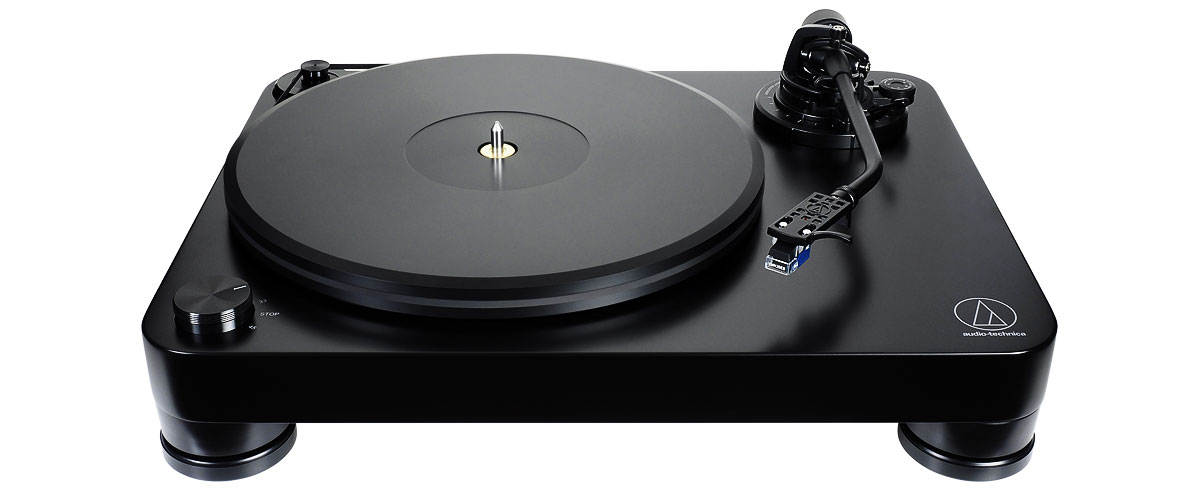 The AT-LP7 is a mechanical, belt-drive turntable that combines sophisticated technology and top-quality materials. Its chassis is made from 40 mm-thick MDF which proved to be a superb vibration absorber. The anti-resonance platter is manufactured from a rigid, low-friction thermoplastic (polyoxymethylene) measuring 20 mm thick.
The ability to replace the original elliptical bonded stylus with any other from the VM line is a significant benefit of this device.
Features and specs
The AT-LP7 turntable is supplied with the VM520EB cartridge supplemented by a lightweight (10 g) AT-HS10 removable headshell and 0.3 x 0.7 mil elliptical bonded stylus. To mitigate eventual tracking error, the manufacturer equipped the J-shaped tonearm with a metallic gimbal suspension system and anti-skate control. The tonearm's height adjustment quality – from 0 mm to 6 mm – offers the opportunity to fit a variety of cartridges.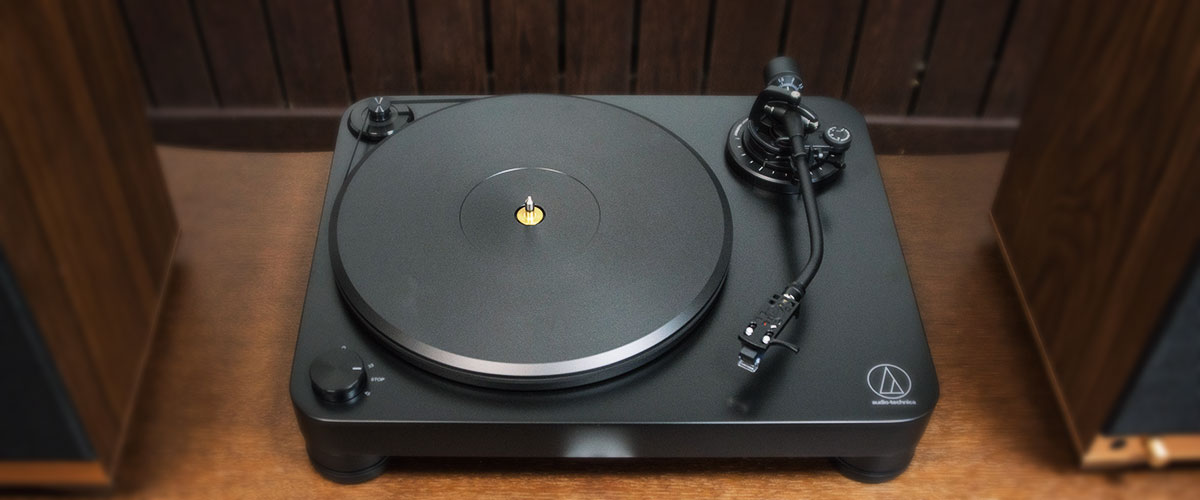 The turntable has an integrated switchable phono/line preamp with mode selection MM/MC capacity that enables you to use it with a diverse set of cartridges as well as multiple entertainment and music systems that don't have a separate phono input. However, you will need to use a USB cable to connect the AT-LP7 to a third-party audio interface of digital sources. Keep in mind that there is no Bluetooth in this model.
I should note that the manufacturer has equipped the AT-LP7 with a dual RCA (male) to dual RCA (male) stereo cable, an adapter to 45 RPM, and a specially designed dust cover to protect the turntable as well.
How does it sound
This model delivers good sound thanks to the dual MM cartridge with exceptional channel separation and advanced frequency response. In addition, the AT-LP7 maintains precise platter rotation at two speeds – 33-1/3 and 45 RPM due to an embedded speed-sensor system. Music lovers will greatly appreciate a quiet, stable playback, as the innovative belt drive ensures exclusion from the mechanical noise of the motor, and the plinth secures superb vibration control.
Key specs
Drive type: belt.
Operation type: manual.
Speeds, RPM: 33 1/3, 45.
Phono Pre-Amp: yes.
Bluetooth: no.
USB: no.
Aux input: no.
Pros
The ability to easily install almost any cartridge.
Easy to setup and use.
Easy to upgrade.
Durable and reliable.
We are supported by our audience. When you purchase through links on our site, we may earn an affiliate commission at no extra cost to you.
Our newsletter
* We will never send you spam or share your email with third parties