As you know, choosing a quality turntable is quite difficult, especially if you have to do it for the first time. So today, I'll tell you about some of the best Pro-Ject turntables, and you'll see that among the products of this brand, you will surely find something that suits you in all parameters. Because when audiophiles talk about vinyl players, you always hear about Pro-Ject, which has definitely earned that reputation.
At the edge of the technological breakthrough in 1991, when digital music listening gadgets were becoming fashionable, Heinz Lichtenegger, the founder of the Austrian company Pro-Ject, considered it his duty to preserve the tradition of analog sound. After all, what could be better? So, thanks to his faith, enthusiasm, and excellent taste, he created turntables available to any customer. Today, after all these years, the brand has production facilities in Austria, the Czech Republic, and Slovakia.
Our pick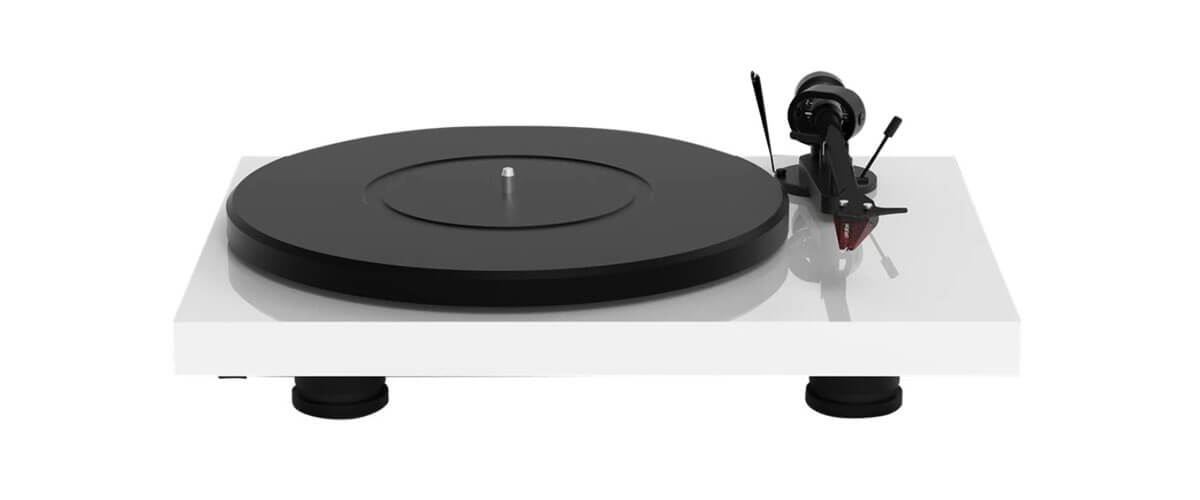 Pro-Ject Debut Carbon EVO
Best Pro-Ject turntable
The Debut Carbon EVO focuses on the core aspects that make a turntable sound great. Technically correct design – expert craftsmanship – handmade in the EU.
Read the full review.
Pro-Ject Turntables Comparison Table
Name
Drive type
Operation type
Speeds
Phono Pre-Amp
Bluetooth
Review
Pro-Ject Debut Carbon EVO

best overall

belt
manual
33 1/3, 45, 78 RPM
no
no
Review
Pro-Ject X2

premium pick

belt
manual
33 1/3, 45, 78 RPM
no
no
Review
Pro-Ject T1

budget choice

belt
manual
33 1/3, 45 RPM
no
no
Review
Pro-Ject Automat A1

fully automatic turntable

belt
fully automatic
33 1/3, 45 RPM
yes
no
Review
Pro-Ject Jukebox E

all-in-one turntable

belt
manual
33 1/3, 45 RPM
yes
yes
Review
Are Pro-Ject turntables good?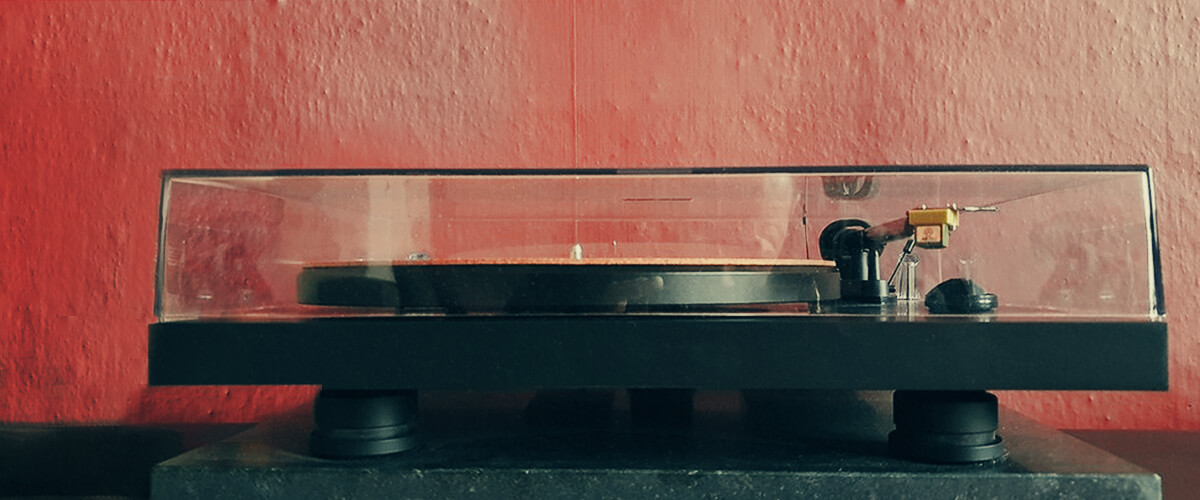 Pro-Ject can boast that it makes many of the related components used in its vinyl turntables, making it a great price/quality balance. The brand has a wide range of models, from budget models (starting from about $350) to ultra-tech models for $12,000. Thus, the brand will suit literally everyone.
Here you will find classic record players, fully automatic, with Bluetooth function and a built-in phono preamp, in different designs and colors. In addition, the creators pay attention to details made of different materials to ensure the better sound of your favorite records.
Being easy to use and install but always high quality, reliable, and long proven in the market, the turntables of this brand are a worthy choice. A music lover of any age, experience, or taste will find what they are looking for and will undoubtedly appreciate every model of Pro-Ject vinyl player.
Best Pro-Ject turntable reviews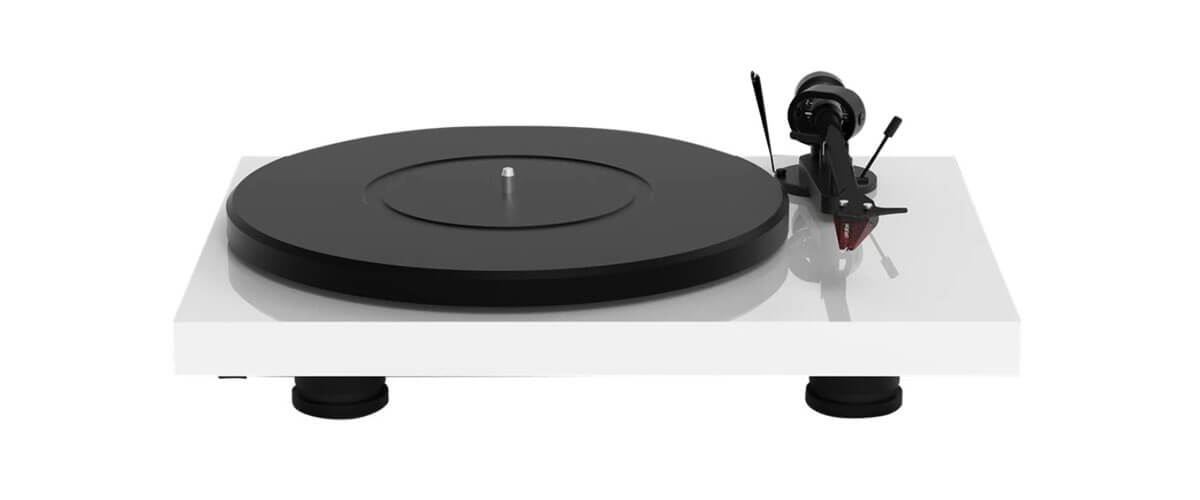 The Pro-Ject Debut Carbon EVO record player is essentially an upgraded Pro-Ject Debut Carbon (DC). According to the manufacturers, they took their most popular model, improved everything possible, and produced a product of extraordinary quality in the medium price range.
The most important feature of this model is the 8.6″ solid carbon tonearm. Of the entire wide range, only the Pro-Ject Debut Carbon (DC) has one. Although I prefer curved tonearms (I believe they are more accurate), it has still earned a solid reputation among fans. The tonearm comes with the Sumiko Rainier cartridge installed.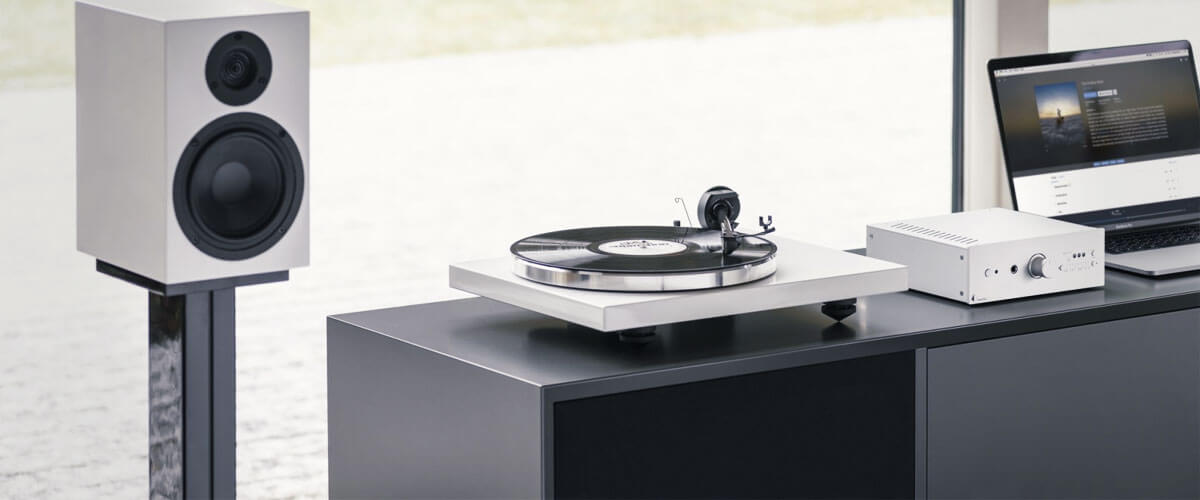 The Pro-Ject Carbon EVO has an automatic speed switch (33, 45, and 78 rpm) that is elegantly hidden under the solid MDF plinth. And speaking of the last one, I should mention the color range. You have the opportunity to choose from nine available in this model, including new satin colors, which will be saved with the dust cover on for a long time. Also, among the improvements to the vinyl player, you'll find an improved motor mount, three height-adjustable feet, and a 12-inch steel TPE platter with a damping ring. This will provide quieter operation and, therefore, better clear sound. It's easy to install and operate, so it's also suitable for beginners.
I really enjoyed testing the Pro-Ject Carbon EVO, and I can say that it is the best Pro-Ject turntable. I heard no vibration, hum, or motor noise in its operation. So if you're willing to pay a reasonable price for a turntable, be confident in your choice. It is undoubtedly a reliable turntable that will serve you for a long time, pleasing you with sound quality and its elegant light design.
Key specs
Drive type: belt.
Operation type: manual.
Speeds, RPM: 33 1/3, 45, 78.
Phono Pre-Amp: no.
Bluetooth : no.
USB: no.
Aux in.: no.
Pros
Automatic speed switching.
Adjustable acrylic dust cover.
Height adjustable feet minimize vibration.
Cons
A straight tonearm is not as accurate as a curved one.
Pro-Ject X2 – premium pick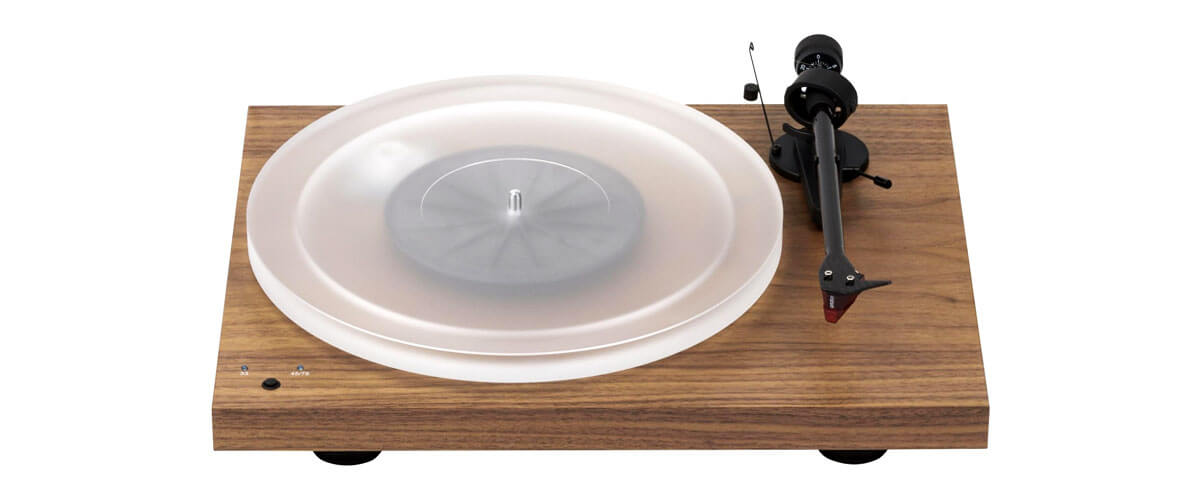 Well, if there's a time when you can call yourself a seasoned audiophile, then you'll definitely start considering premium turntables. And Pro-Ject X2 is obviously one of them. This model will suit those who understand the dependence of sound quality on the quality of materials and who will comprehend a higher level of understanding of the sound of music.
The Pro-Ject X2 allows you to modify it to your taste, with fully adjustable azimuth and VTA. The straight tonearm has a carbon fiber-covered aluminum core. It comes with a Pick it 2M Silver cartridge with silver-coated inner copper coils, which guarantees excellent sound. Notably, you can also purchase a turntable without it. The X2 runs at three speeds of 33/45/78 RPM, which change at the touch of a button.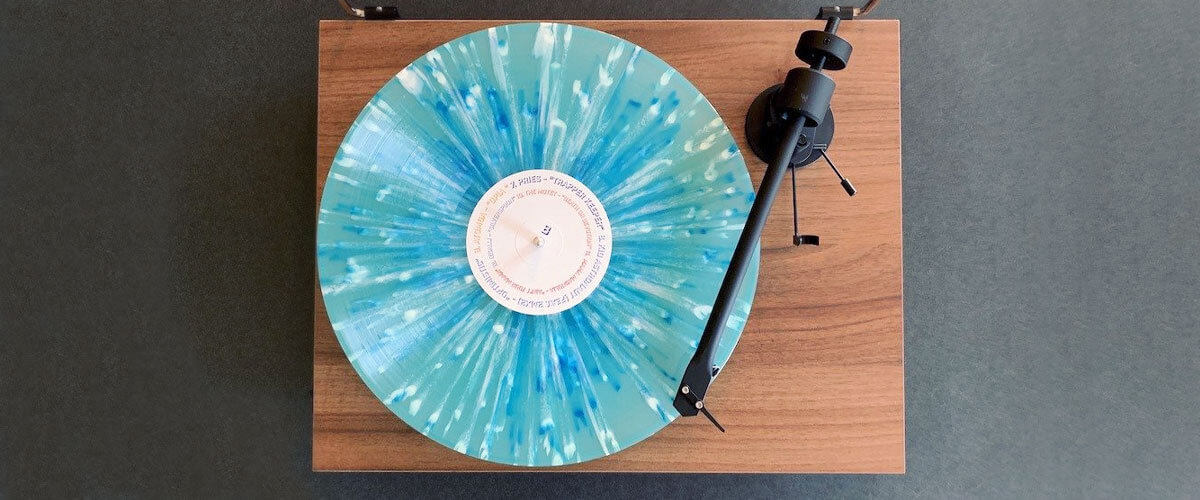 Unlike the Pro-Ject Carbon EVO and Pro-Ject T1, this model has a weighted acrylic platter and plinth. The motor is isolated, almost excluding vibration and resonance problems, and immediately raises the X2's class. And its tonearm is also longer, at 9 inches instead of 8.6. This reduces possible distortion and allows you to set the cartridge more accurately.
The Pro-Ject X2 is a reliable, durable, serious record player that absolutely deserves its place among the competitors of its rank and fully justifies its price. Easy to use, it is a worthy choice for the seasoned audiophile, who can appreciate the sound quality, although it has a little softened bass. You'll love it for sure.
Key specs
Drive type: belt.
Operation type: manual.
Speeds, RPM: 33 1/3, 45, 78.
Phono Pre-Amp: no.
Bluetooth : no.
USB: no.
Aux in.: no.
Pros
Longer tonearm.
Acrylic platter.
Weighted platter and plinth.
Pro-Ject T1 – budget choice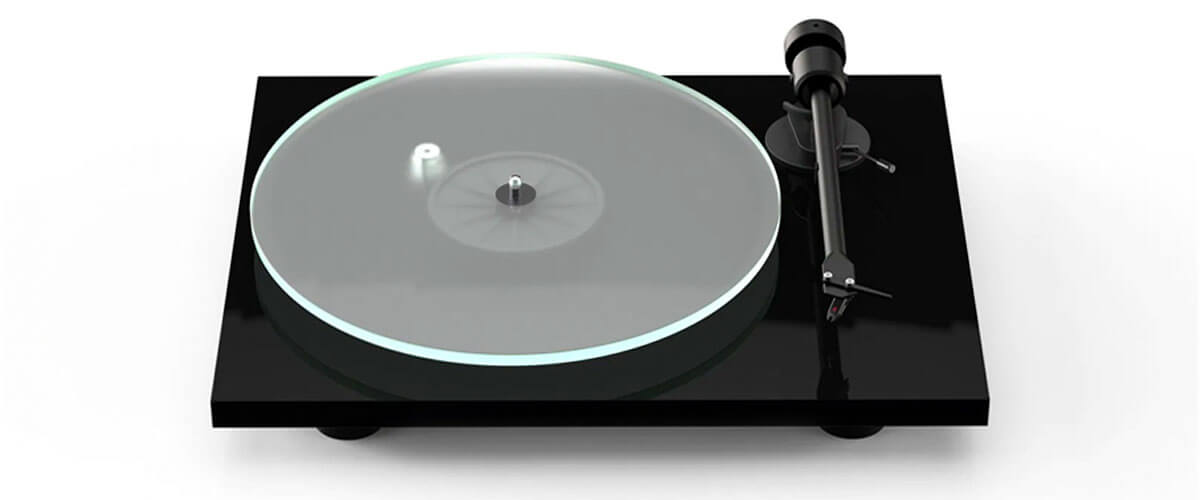 For those who just want to start their way into the world of vinyl without having to spend their last savings, you should consider the ProJect T1 turntable. It's the basic standard turntable in its line, and it's by far the most optimal budget ProJect model. It doesn't have a single plastic part, which is unusual for its price, which means the turntable will last you a long time.
The ProJect T1 has a solid aluminum tonearm with a fairly high-quality Ortofon OM 5E Moving Magnet cartridge and an elliptical diamond stylus. This model has a very nice 8mm glass platter, and the plinth comes in three finishes (glossy black, satin white, and walnut veneer). A dust cover is also included.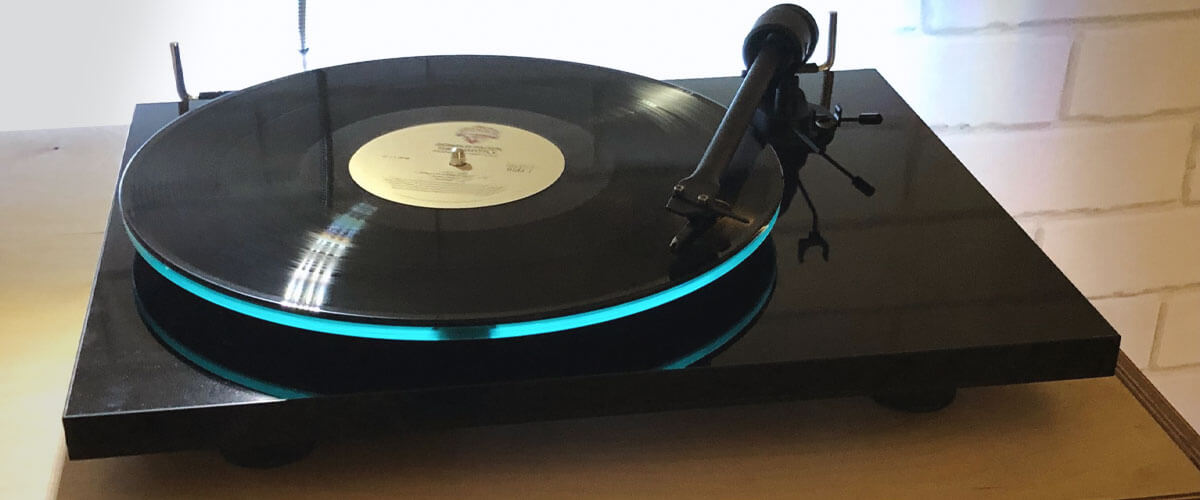 Just like the previous model reviewed, the Pro-Ject T1 doesn't have a built-in phono stage. And unlike the Carbon EVO, it has two speeds of 33 and 45 rpm and a manual drive belt change in between. But for its price, you wouldn't expect otherwise.
The T1 is incredibly easy to set up because all you have to do is install the platter and belt yourself, so it is perfect for those who are buying their first turntable. Even though the bass in it is not the cleanest, too soft for me, still the overall listening experience is very pleasant. It definitely deserves your attention.
Key specs
Drive type: belt.
Operation type: manual.
Speeds, RPM: 33 1/3, 45.
Phono Pre-Amp: no.
Bluetooth : no.
USB: no.
Aux in.: no.
Pros
No plastic parts.
Solid aluminum tonearm.
Built-in Ortofon OM 5E cartridge.
Very easy to set up.
Cons
Not the cleanest, too soft bass.
Pro-Ject Automat A1 – fully automatic turntable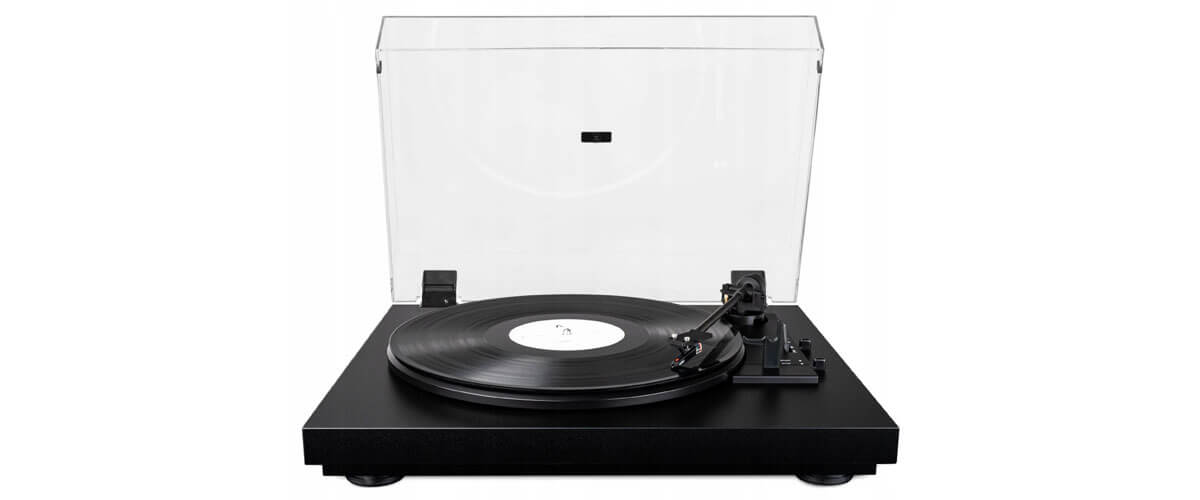 Novice music fans may at first be afraid of the process of setting up their new vinyl player. However, it's no secret that everything comes with experience. The ideal solution, in this case, is the fully automatic Pro-Ject Automat A1 turntable. Just switch the speed you want, and press "start."
In this record player, the manufacturer has done everything for you. The ultra-light straight aluminum tonearm comes with an already built-in and adjusted Ortofon OM10 cartridge. And the creators put all the control buttons on the panel. There is a speed switch from 33 to 45 rpm, a start/stop button, and a tonearm up and down regulator. The solid body of the turntable protects you from unwanted vibrations, as does the damped aluminum platter. And the protective cover protects the vinyl player from dust.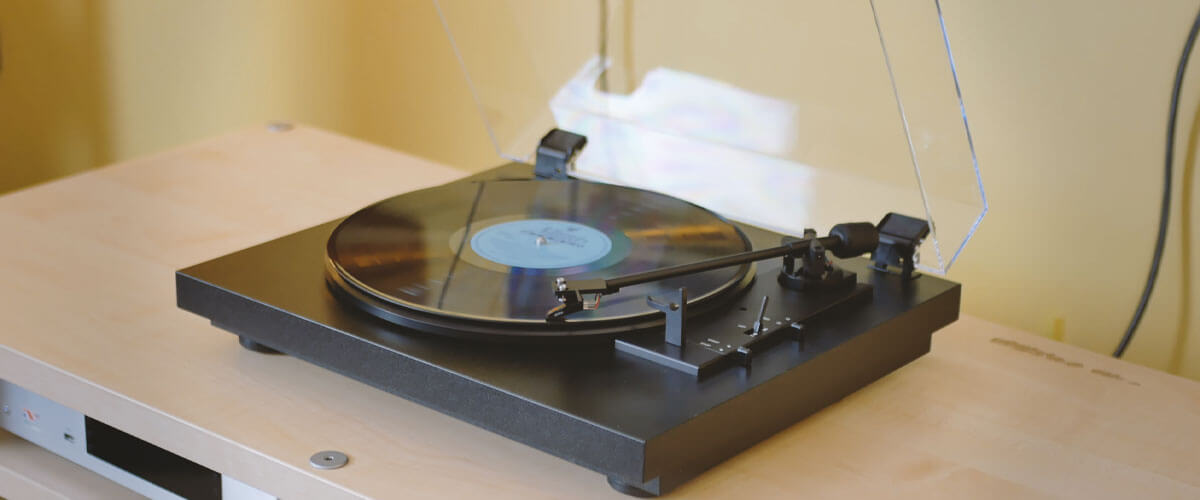 The main difference between the Pro-Ject X2, ProJect T1, and Carbon EVO is that the record player is fully automatic. And also, the Pro-Ject Automat A1 is a turntable with a built-in phono preamp, which is pretty good quality. Of course, you can easily turn off the preamp if you want to use another one, but having it will save you money at the beginning of your music journey.
For its price, the sound quality of the Pro-Ject Automat A1 is excellent and can please even experienced users, although the latter will notice some slight wow and flutter. But in my opinion, this is an excellent record player for beginners, which will free you from fears before installation and use. Quality parts, ease of use, and reliability are constant companions of Pro-Ject turntables.
Key specs
Drive type: belt.
Operation type: fully automatic.
Speeds, RPM: 33 1/3, 45.
Phono Pre-Amp: yes.
Bluetooth : no.
USB: no.
Aux in.: no.
Pros
Fully automatic, easy to use, all control buttons are on the panel.
Built-in and adjusted Ortofon OM10 cartridge.
Dust cover.
Built-in good quality preamp.
Cons
Some slight wow and flutter.
Pro-Ject Jukebox E – all-in-one turntable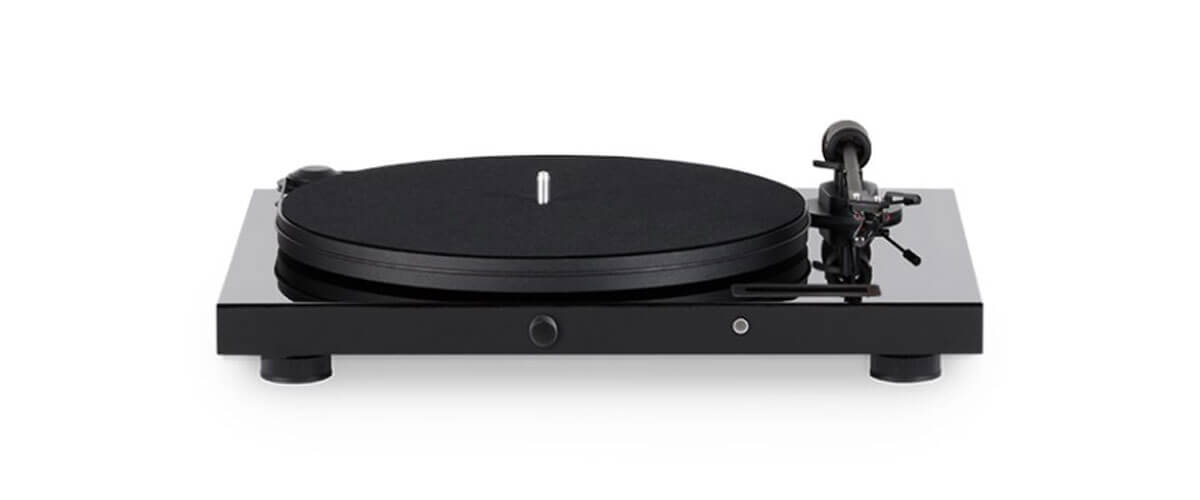 The Pro-Ject Juke Box E is listed on the manufacturer's website as an audiophile "all-in-one Plug & Play" record player system. And it fits that description perfectly. So if you like the comfort setup and use and aren't confused about digitizing analog sound, you'll love this player.
So, the Pro-Ject Juke Box E is a Bluetooth turntable with a built-in phono preamp, line preamplifier, and power amplifier. So, you can just connect to your speakers and enjoy your favorite songs immediately. The vinyl player comes with a remote control, so it's perfect for those who like to party outdoors because you do not need to constantly run to the record player to switch something. It is easy to set up and very easy to use. The anti-skate and Ortofon OM 5E cartridge were installed and adjusted for you at the factory. It comes with a felt mat, dust cover, and an adapter for 7″ singles. And you can choose the color of the Juke Box E white, red, or black to suit your taste.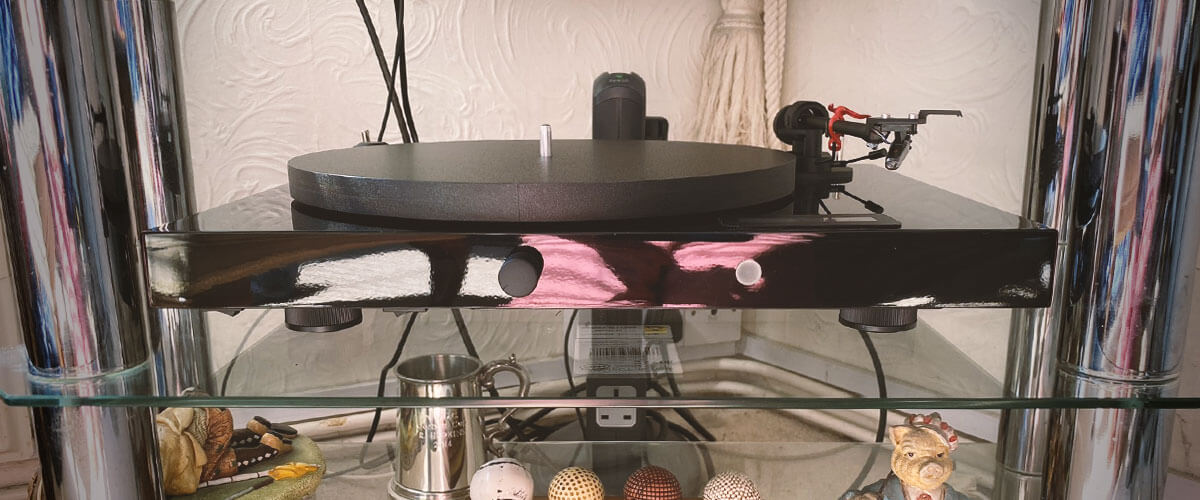 Just like the Pro-Ject Automat A1 in this model, the cartridge, as noted, is pre-installed and adjusted, and there's a built-in phono preamp as well. But the Juke Box E also has RCA line level and preamp/phono level jacks, left/right speaker outputs, and an antenna jack for the Bluetooth receiver on the back of the plinth. The connector selection switch is on the front panel and doesn't look very attractive or reliable to me, but it is convenient.
There's no doubt about the quality of Pro-Ject turntables, and the Juke Box E is no exception. Although I am not a fan of digital sound, and when testing the player, I heard some minor noises, I still can't help but give this model its due. If you choose comfort, the Juke Box E will keep you happy for a long time.
Key specs
Drive type: belt.
Operation type: manual.
Speakers : output.
Speeds, RPM: 33 1/3, 45.
Phono Pre-Amp: yes.
Bluetooth : yes.
USB: no.
Aux in.: yes.
Pros
Remote control saves time.
Easy to install and use.
Good-enough built-in cartridge and preamp.
Cons
Not very attractive and reliable front panel jack switch.
Minor noise.
How to choose the right Pro-Ject turntable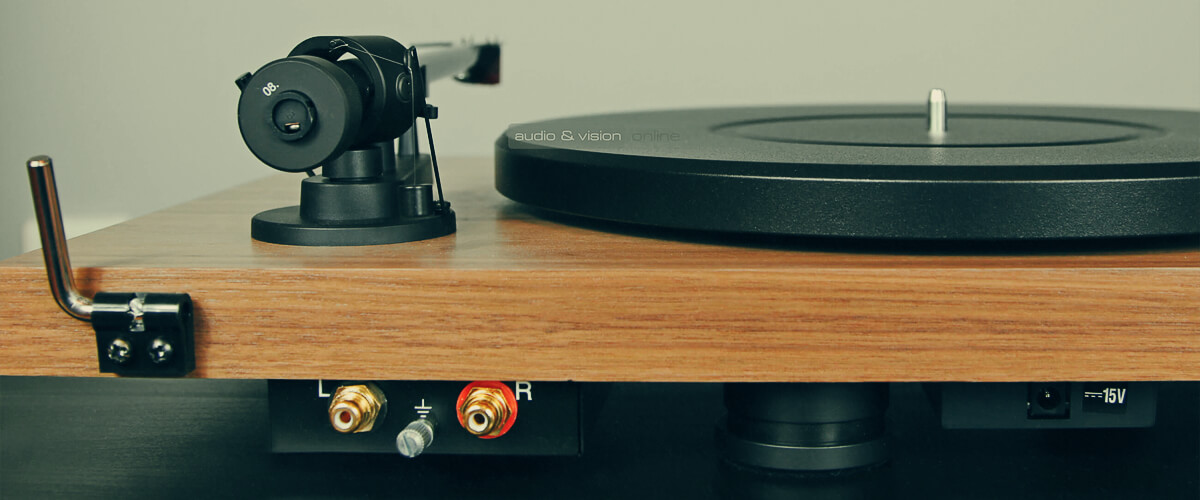 Choosing the right Pro-Ject turntable can be a daunting task, given the variety of models available. Here are some tips to help you make an informed decision:
Determine your budget: Pro-Ject turntables can range from $300 to over $10,000. Knowing your budget will help you narrow down your options.
Consider your level of experience: Pro-Ject offers turntables for every type of vinyl enthusiast, from beginner to seasoned audiophile. If you're new to vinyl, an entry-level turntable like the E1 or the Primary E Phono may be a good choice. If you're more experienced, you may want to consider a mid-range turntable like the Debut Carbon DC or the X1.
Decide on the features you need: Pro-Ject turntables come with a variety of features, such as built-in phono preamps, USB outputs, and adjustable tonearms. Determine which features are important to you and choose a turntable accordingly.
Read reviews: Reading reviews from experts and users can give you a better idea of the pros and cons of each turntable model.
Consider a comparison: If you're having trouble deciding between two Pro-Ject turntables, consider a comparison. I advise you to compare not brands but specific models of these manufacturers. Then, such a comparison will be objective and correct.
Remember that the right Pro-Ject turntable for you depends on your preferences and needs. You can make an informed decision by considering your budget, experience level, desired features, and reading reviews.
FAQ
Where are Pro-Ject turntables made?
The Pro-Ject turntables are made in Austria, the Czech Republic, and Slovakia.
Do Pro-Ject turntables have preamps?
Some Pro-Ject turntables include a built-in preamp, while others do not. Therefore, it is important to check the specifications of each turntable to determine if it includes a preamp.
Are Pro-Ject turntables reliable?
There is no definitive answer to this question, as reliability can depend on the individual turntable model and the specific usage conditions. However, Pro-Ject turntables are reliable and durable, and many users report they had no problems with their turntables.
Is the record player the same as the turntable?
A
turntable
comprises a platter, tonearm, and cartridge. It operates as a standalone unit that requires additional components to play music. On the other hand, a record player is an all-in-one unit that does not need external components.
We are supported by our audience. When you purchase through links on our site, we may earn an affiliate commission at no extra cost to you.
Our newsletter
* We will never send you spam or share your email with third parties