For many, the allure of vinyl is undeniable, but diving into the world of turntables can be daunting, especially when budget constraints come into play. Fortunately, finding the best record players under $100 is not only possible but also offers some surprisingly commendable options.
Over the years, I've had the privilege of testing and experiencing numerous TTs in this price range, discovering that while they might not have all the bells and whistles of their higher-priced counterparts, they certainly don't skimp on delivering a satisfying listening experience.
For those just starting their vinyl journey or even seasoned enthusiasts on a budget, inexpensive record players reviewed here provide a solid entry point – they can perfectly spin your favorite records with sufficient clarity and warmth. So, if you're searching for a wallet-friendly way to dive into the nostalgic world of vinyl, you're in the right place
Our pick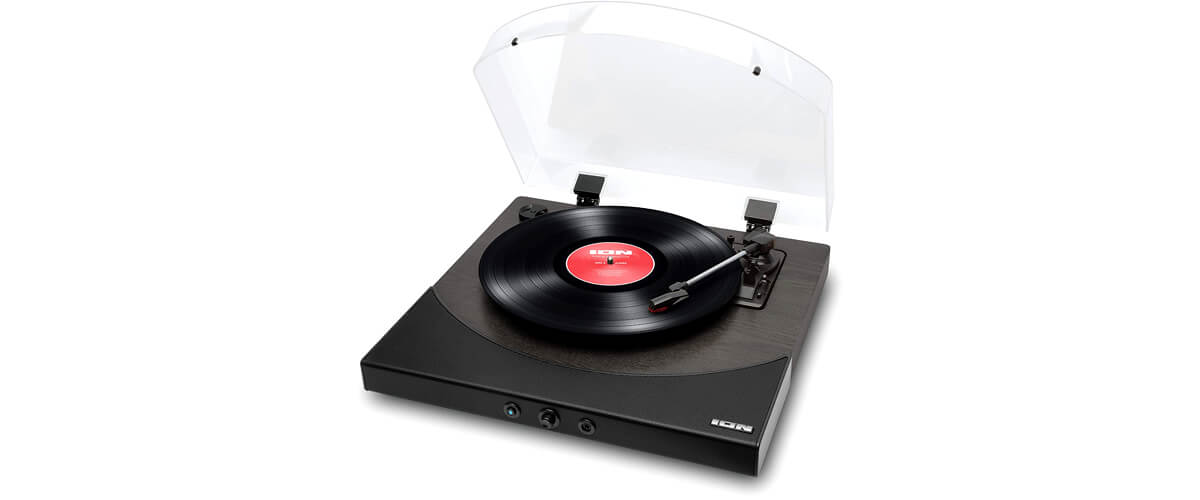 ION Audio Premier LP
Best turntables under $100
The ION Audio Premier LP is a 3-speed (33 1/3, 45, and 78 RPM) wireless turntable with speakers, USB conversion, Bluetooth, RCA, and headphone outputs.
Read the full review
.
Turntables under $100 comparison table
Name
Drive type
Operation type
Speeds
Phono Pre-Amp
Bluetooth
Review
ION Audio Premier LP

best overall

belt-drive
manual
33 1/3, 45, 78
yes
yes
Review
Audio-Technica AT-LP60X

also great

belt-drive
fully-automatic
33 1/3, 45
yes
no
Review
House of Marley Stir It Up
belt-drive
semi-automatic
33 1/3, 45
yes
no
Review
Best turntables under $100 reviews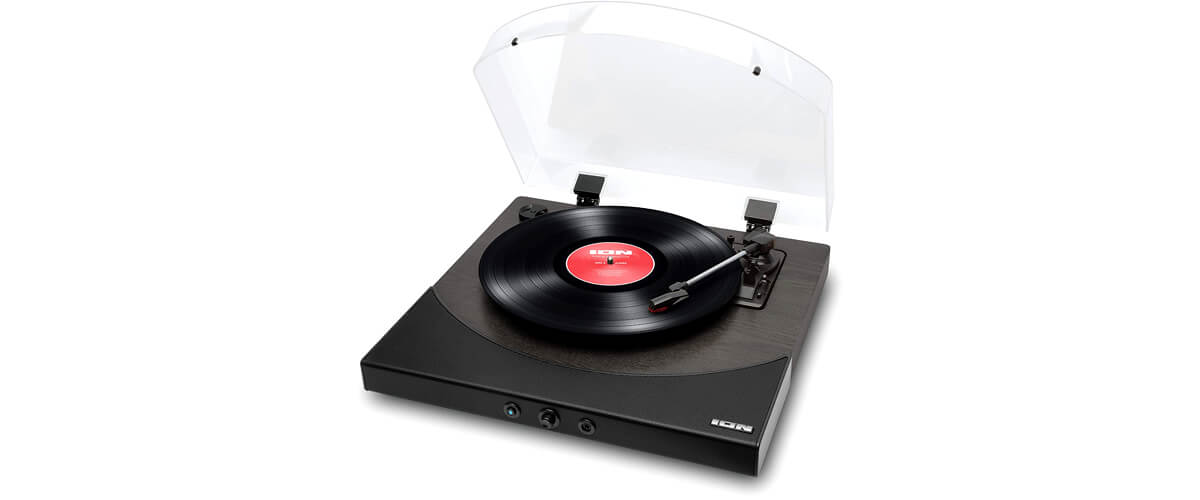 The ION Audio Premier LP turned out to be a delightful surprise during my testing period, illustrating that quality and affordability can coexist. Its versatile speed options are a godsend for those with diverse vinyl collections, spinning everything from the oldies at 78 RPM to contemporary hits at 33 1/3 and 45 RPM.
However, what stood out most was its seamless Bluetooth streaming feature. The Premier LP transmits wireless signals to any Bluetooth speaker effortlessly, allowing for a clutter-free listening environment. For those afternoons where I just wanted to kick back with some tunes, this feature was a dream.
Speaking of connections, the built-in phono pre-amplifier is worth its weight in gold for wired aficionados, ensuring that the essence of every track resonates clearly, even through non-Bluetooth speakers. I enjoyed the richness and the punchy, crystal-clear sound produced by the onboard speakers – they bring your vinyl to life, creating a room-filling ambiance without any fuss.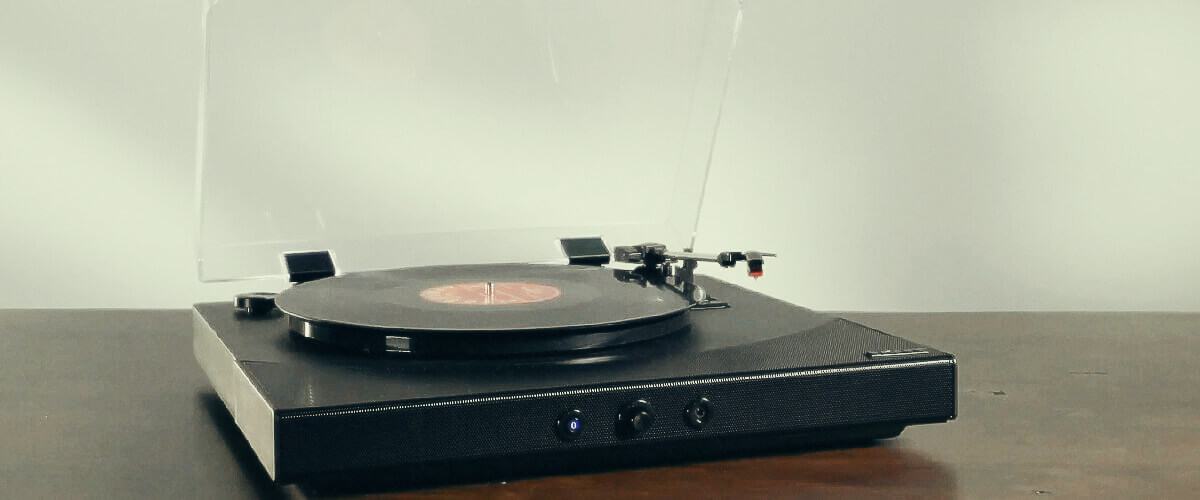 The ability to digitize the library is another cherry on top. With the included ION Audio EZ conversion software, you can transfer your vinyl tracks into digital files, providing the longevity of your collection.
Comparing the ION Audio Premier LP to the Audio-Technica AT-LP60X, both turntables offer good enough sound clarity and quality, with the Audio-Technica excelling in automatic operation and reduced resonance. However, the Premier LP's flexible connectivity options, including Bluetooth streaming, and its digitization feature place it a notch above, especially for those who value versatility and modern conveniences.
In conclusion, the ION Audio Premier LP brings a balance of functionality, quality, and convenience, making it the best record player under $100 for those looking to enjoy every groove of their vinyl, whether through modern or traditional means.
Key specs
Drive type: belt-drive.
Operation type: manual.
Speeds, RPM: 33 1/3, 45, 78.
Speakers: yes.
Phono Pre-Amp: yes.
Bluetooth: yes.
USB: yes.
Aux in.: yes.
Pros
The elegant, dark-hued design.
Impressive audio quality at its price point.
Built-in speakers are efficient but better for soft audio levels.
Versatile with modern features.
Setup and operation are straightforward and user-friendly.
Cons
The quality of the needle is rather mediocre.
Audio-Technica AT-LP60X – also great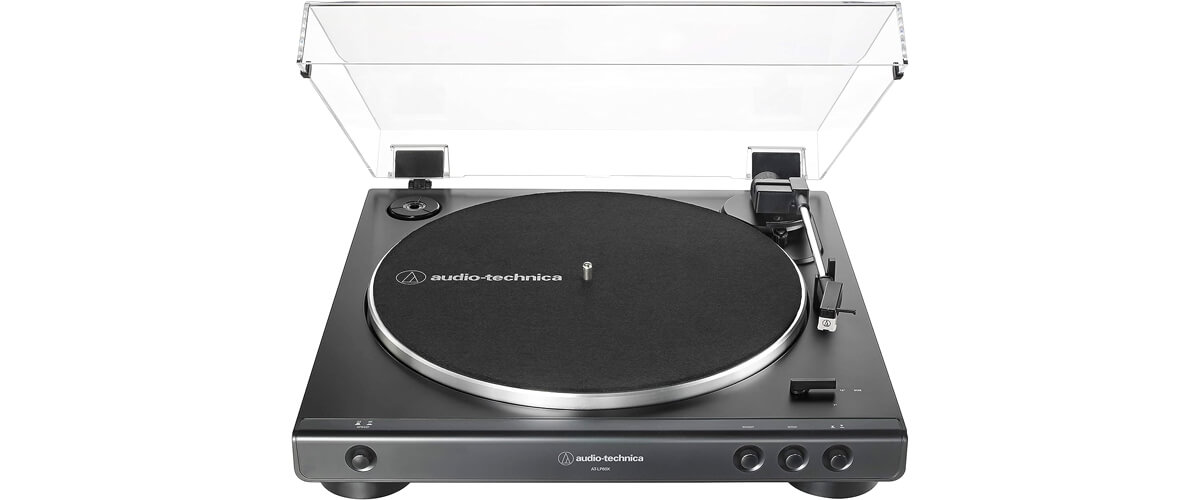 For those seeking an affordable record player that doesn't skimp on quality, the Audio-Technica AT-LP60X is a noteworthy choice. My firsthand experience with this player left me pleasantly surprised by the features and performance packed into its price tag. This model had a really exciting rivalry with my leader.
One standout feature is the fully automatic belt-drive operation. With the simple press of a button, you can watch as the tonearm positions itself gently on the vinyl — pure convenience. This provides smooth playback and eliminates the worry of placing the needle manually, avoiding potential damage to your cherished records.
The anti-resonance, die-cast aluminum platter is another win. It works diligently behind the scenes to minimize vibrations, ensuring you get a clear listening experience without any disruptive buzz or hum. For me, it translated to a cleaner sound, allowing the soul of the music to come through.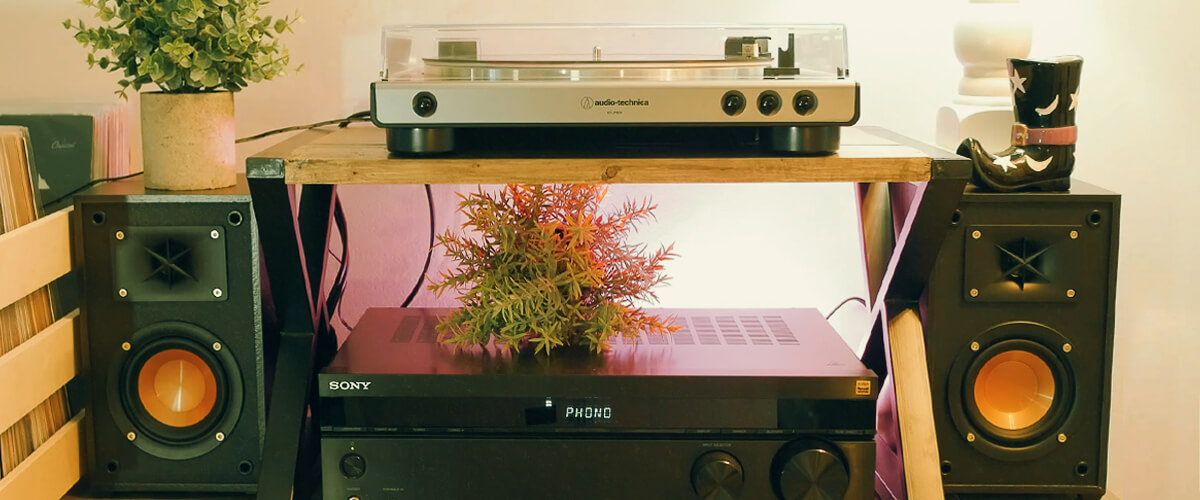 What also caught my attention was the external AC/DC conversion. Handling this conversion outside the main unit limits unnecessary noise, making sure you hear more of your music and less annoying electrical interference. These thoughtful touches elevate the listening experience beyond the turntable's price point.
Comparing it to the ION Audio Premier LP, while the latter shines with its versatile connectivity options, the AT-LP60X shines in its simplicity and commitment to delivering a clean sound. Its unpretentious design, paired with functional features, makes it a solid option for those who just want a reliable record player without any fuss.
In wrapping up, the Audio-Technica AT-LP60X is a testament to how a budget-friendly choice can still offer a satisfying experience. It could easily be the best turntable under $100 in terms of simplicity and effective features.
Key specs
Drive type: belt-drive.
Operation type: fully-automatic.
Speeds, RPM: 33 1/3, 45.
Speakers: no.
Phono Pre-Amp: yes.
Bluetooth: no.
USB: no.
Aux in.: no.
Pros
Offers authentic analog experience.
Good audio quality right from the start.
High-grade equipment components.
Simple and intuitive operation.
Cons
Buttons appear to be of inferior quality.
Lacks options for cartridge enhancement.
House of Marley Stir It Up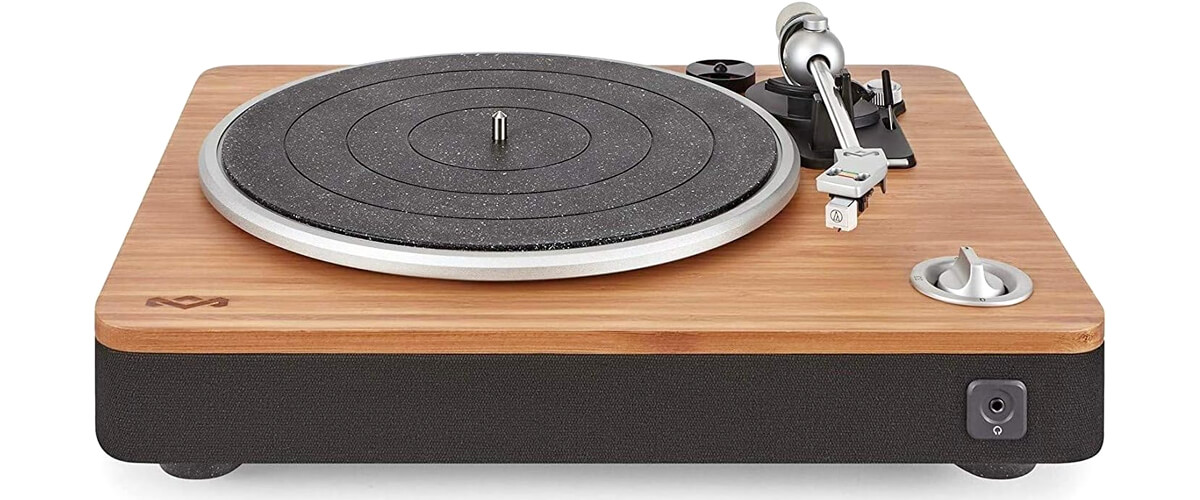 House of Marley Stir It Up serves as an economical and eco-friendly gateway for those delving into the realm of affordable vinyl players. My interaction with this device revealed it to be a frugal fusion of mindful design and adequate functionality. The inclusion of a modular Audio Technica cartridge and a built-in preamp emanate clear, nuanced sound, enabling every record spin to be an enjoyable auditory experience without exhausting your wallet.
The added capability to disable the internal amp is a versatile feature if you fancy using your own external preamp. It provides a level of customization that caters to diverse listening preferences and financial plans.
With a USB port in tow, the turntable facilitates the digitization of cherished vinyl, a noteworthy spec usually reserved for pricier counterparts.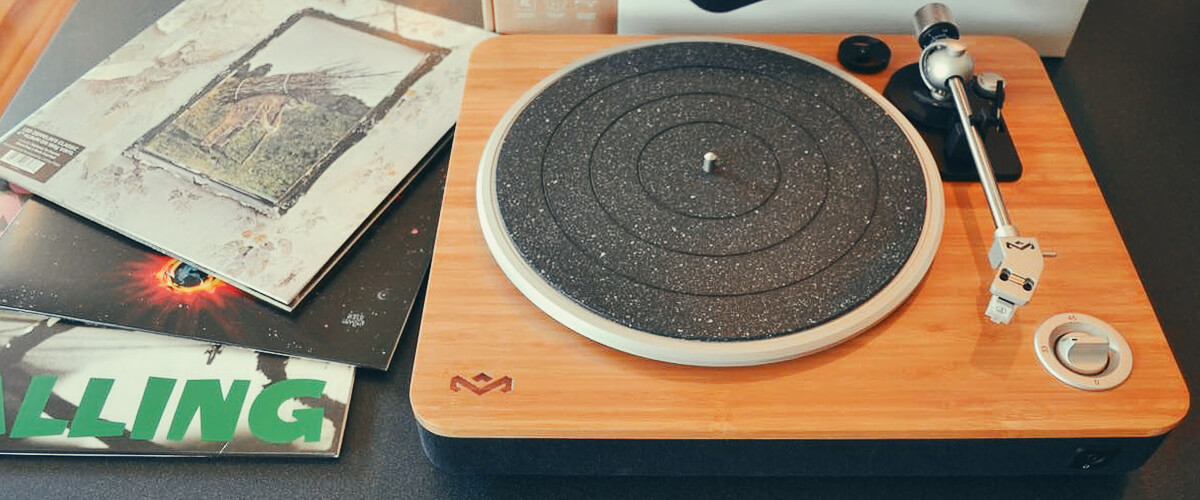 The Marley Stir it Up is adorned with a bamboo plinth, offset by elements of aluminum and metal, offering a visually compelling and eco-responsive silhouette. It embodies a commitment to green living, all without demanding a hefty investment.
The need for manual operation might be a minor hiccup if you lean towards more automated solutions; however, it's a negligible trade-off considering the versatility and value enveloped in this model.
To wrap up, House of Marley Stir It Up stands out as an excellent pick for those on the hunt for a good cheap record player. It harmonizes affordability with environmental awareness, offering a sound solution that is likely to appeal to green-thumbed vinyl lovers seeking value.
Key specs
Drive type: belt-drive.
Operation type: semi-automatic.
Speeds, RPM: 33 1/3, 45.
Speakers: no.
Phono Pre-Amp: yes.
Bluetooth: no.
USB: yes.
Aux in.: no.
Pros
Warm and very crisp sound experience.
Aesthetically pleasing and well-designed.
Includes a cloth top for protection.
Cons
Lack of automatic arm movement to start and stop the turntable.
Noticeable motor noise which can cut through the music at louder volumes, though it can potentially be remedied with oiling.
Poor manual.
Crosley Cruiser Plus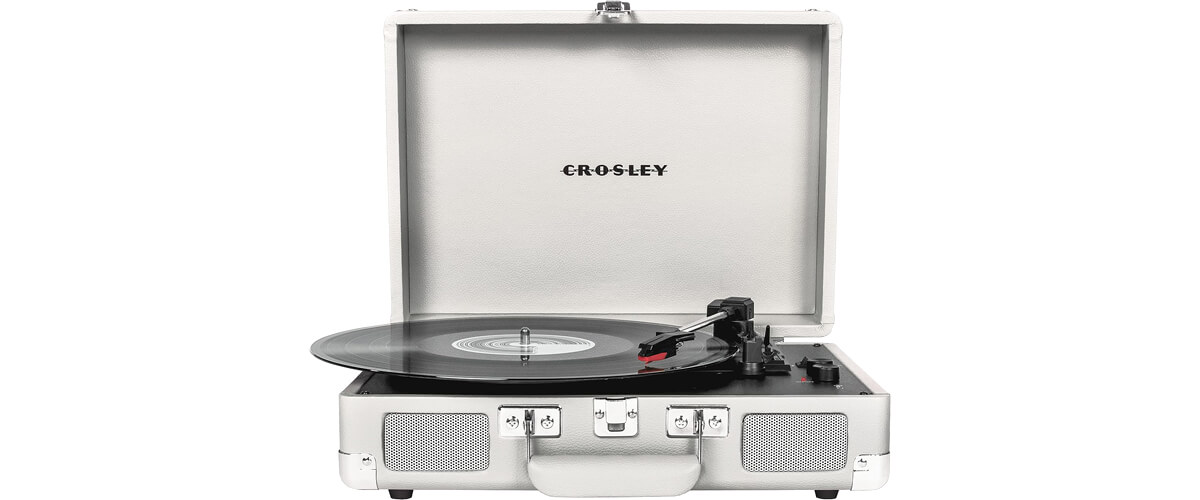 The Crosley Cruiser Plus combines vintage charm with contemporary features, making it a delightful pick for those dipping their toes into the vinyl world on a budget. At the core of its functionality is the three-speed, belt-driven turntable system. This allows users to enjoy a variety of records, from the nostalgia-inducing 78 RPMs to the more standard 33 1/3 and 45 RPMs.
A great feature that particularly caught my attention was its Bluetooth connectivity. It's not every day you find such a harmonious blend of old and new. You can play your classic vinyl and then swiftly switch to streaming from your phone, tablet, or other Bluetooth-enabled devices, catering to both vintage enthusiasts and modern audiophiles alike.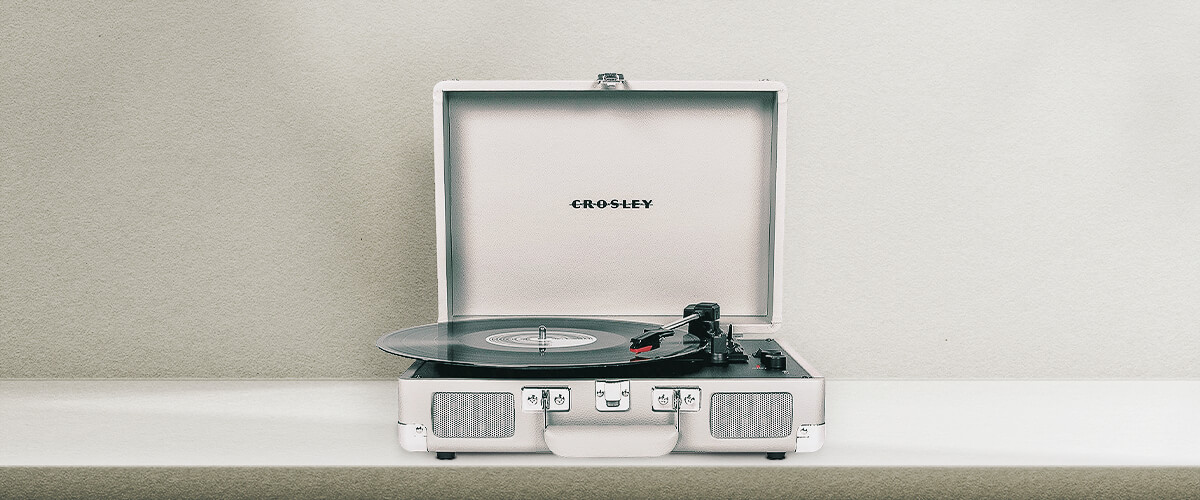 Another highlight is its portability. The suitcase-style design isn't just for aesthetics – the built-in handle makes it easy to carry your music with you, perfect for social gatherings or a relaxing afternoon at a friend's house. Plus, its adjustable pitch control ensures you can fine-tune your listening experience to your preference.
On the downside, while the built-in speakers provide good sound for casual listening, those searching for a more immersive auditory experience might want to leverage the RCA output to connect the Cruiser Plus to an external sound system.
In conclusion, the Crosley Cruiser Plus proves itself as an engaging entry-level turntable that doesn't skimp on features. It's an ideal companion if you are looking for a mix of retro flair and modern convenience without breaking the bank.
Key specs
Drive type: belt-drive.
Operation type: manual.
Speeds, RPM: 33 1/3, 45, 78.
Speakers: yes.
Phono Pre-Amp: no.
Bluetooth: yes.
USB: yes.
Aux in.: yes.
Pros
Beautiful – a nice vintage feel and appearance.
Comes in attractive colors.
Lightweight and easy to transport.
Offers plug-in for headphones.
Cons
Some static background noise is noticeable.
The sound is not very loud.
LP&No.1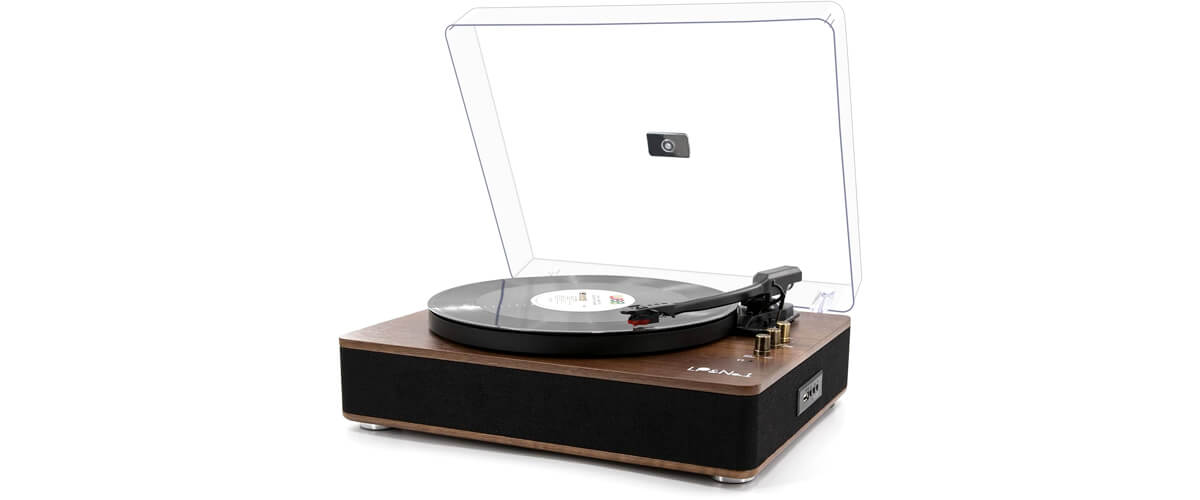 The LP&No.1 is another practical choice in the world of low-cost record players. Its design seamlessly blends elements of vintage charm with modern perks, allowing users a taste of the classic vinyl experience infused with today's conveniences. The most notable of these modern touches is its Bluetooth connectivity, bridging the gap between old-school vinyl and contemporary digital collections.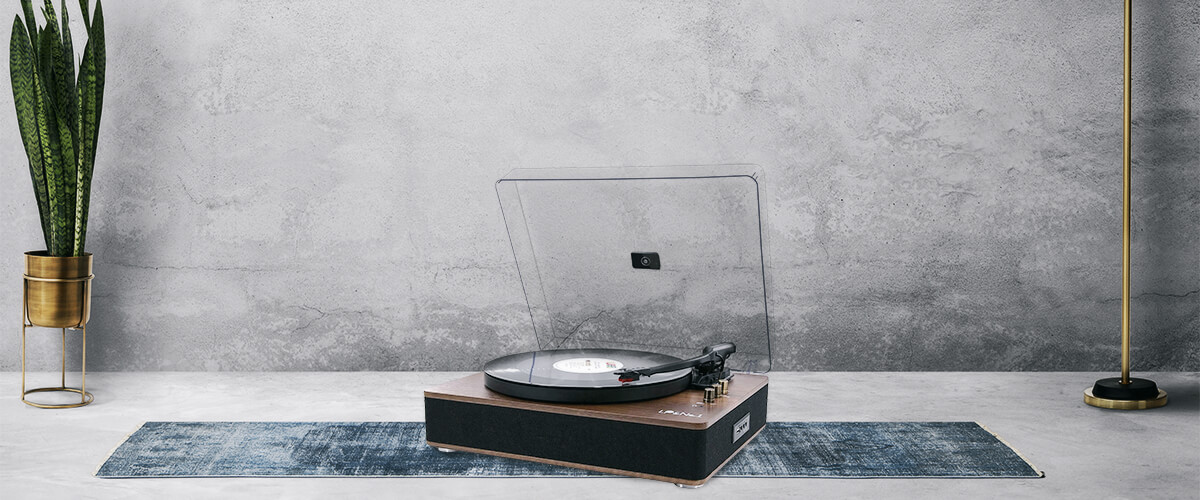 The TT's belt-driven system promises a decent playback experience, offering adjustable speeds to accommodate various record types. While this model covers the basic features most newcomers seek, its performance nuances are understandably modest, given its price point. For example, when you stack it against the House of Marley Stir It Up, the LP&No.1's auditory output might feel less refined, largely because the Stir It Up sports a modular Audio Technica cartridge and an integrated pre-amp.
Similarly, the Crosley Cruiser Plus edges out with its pitch control feature and design aesthetics, factors that enhance the overall vinyl listening experience.
However, while the LP&No.1 might not be the pinnacle of sound precision in the under $100 bracket, it holds its ground as an approachable and affordable entry.
Key specs
Drive type: belt-drive.
Operation type: manual.
Speeds, RPM: 33 1/3, 45, 78.
Speakers: yes.
Phono Pre-Amp: no.
Bluetooth: yes.
USB: no.
Aux in.: no.
Pros
Simple setup and user-friendly controls.
Visually pleasing design.
Offers a range of features at a low price point.
Cons
Built-in speakers have limited sound quality.
Build quality might not appeal to vinyl purists.
Is it worth buying a cheap turntable?
Contrary to prevailing assumptions, I firmly believe that vinyl players under 100 dollars, like the ones in this review, deserve consideration. While it's undeniable that their sound quality isn't on par with pricier models, their performance is commendable for the price range. If used properly, the likelihood of these affordable models causing damage to LPs is minimal.
Throughout my extensive testing period, I didn't observe any damage to the pieces of vinyl played. However, a word to the wise: if you own collectible or culturally valuable records, it's prudent to exercise caution when playing them on budget-friendly TTs. In essence, these budget machines are worthwhile contenders for a casual listener looking to experience the joy of vinyl without a hefty price tag.
We are supported by our audience. When you purchase through links on our site, we may earn an affiliate commission at no extra cost to you.
Our newsletter
* We will never send you spam or share your email with third parties