Vinyl has made a remarkable comeback in the music world, and for those on a budget, the hunt for the best record players under $200 is a journey full of riddles, traps, and other challenges. Yes, that's right. After all, you are most likely a beginner who will be confused by the abundance of options on the market today.
I've spent considerable time exploring various models in this price range, experiencing the charm and sometimes a total disappointment from what I heard. In this review, we'll delve into some of the finest budget models available, each bringing something unique to the table. We'll explore players from various manufacturers, highlighting their features, advantages, and disadvantages. Whether you're a vinyl veteran or just starting your collection, these machines offer a good way to enjoy your favorite tunes. So, let's spin into the world of affordable TTs and find out which ones hit the right notes!
Our pick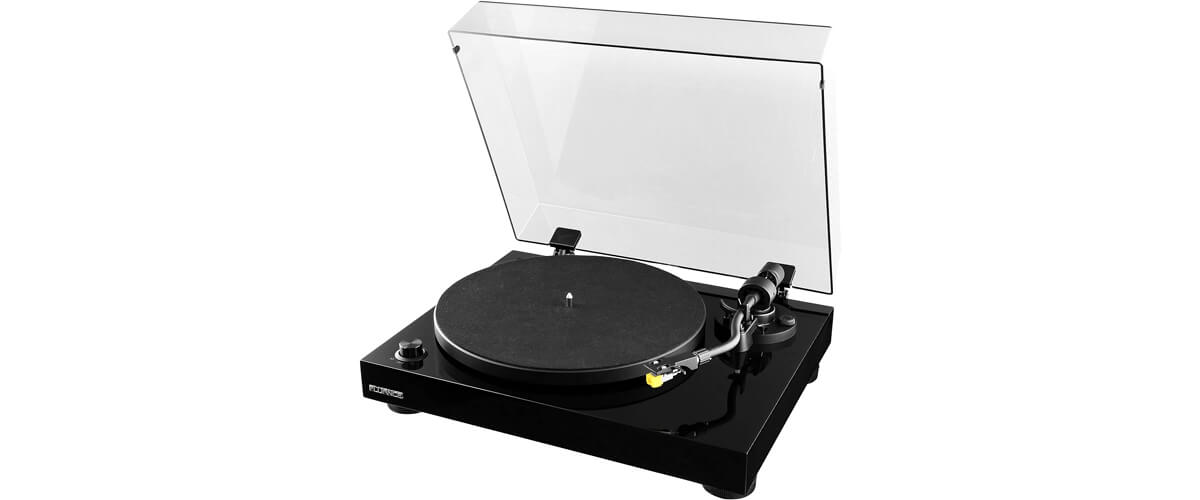 Fluance RT80
Best turntables under $200
The premium components of Fluance RT80 allow this high-fidelity belt-driven turntable to recreate the performance as the artist intended.
Read the full review
.
Turntables under $200 comparison table
Name
Drive type
Operation type
Speeds
Phono Pre-Amp
Bluetooth
Review
Fluance RT80

best overall

belt-drive
manual
33 1/3, 45, 78
yes
no
Review
Crosley C100

also a great choice

belt-drive
manual
33 1/3, 45, 78
yes
no
Review
1byone H009

all-in-one

belt-drive
manual
33 1/3, 45, 78
yes
yes
Review
Best turntables under $200 reviews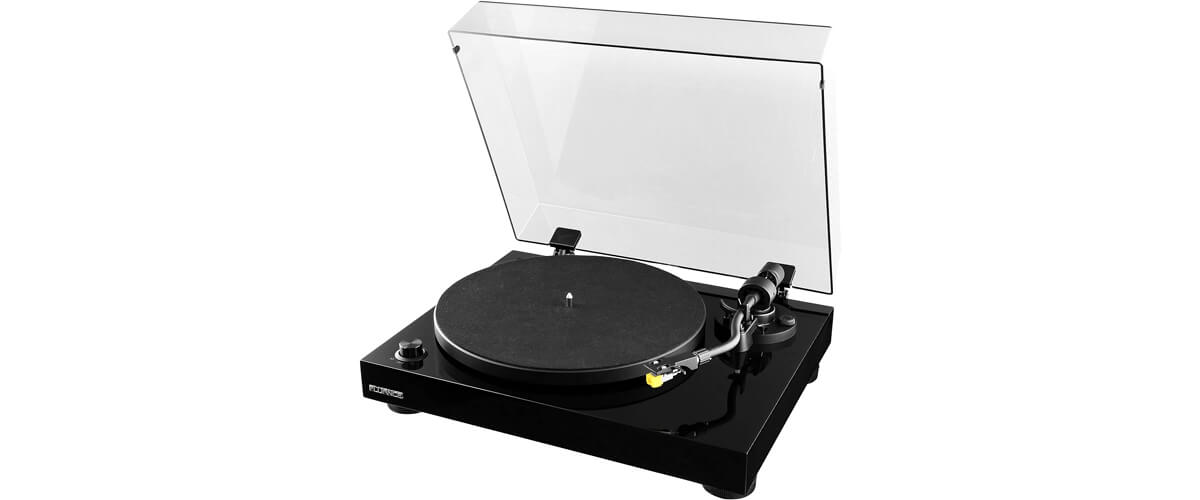 I will start with the model, which, in my opinion, is the best turntable under $200. Fluance RT80 gets my highest rating, so it is no surprise that I want to start my review with it. It stands as a beacon of optimal performance and sufficiently high fidelity, bringing the intricate details of every record to life without burning a hole in your pocket.
The Fluance RT80's pride is its precision. With its diamond-tipped Audio Technica AT91 stylus, it goes deep into the record's grooves, revealing every nuance of the sound as the artist intended. This means you're not just listening, you're experiencing every high, every low, and every melody in high-definition audio, making the listening session a live concert in your living room.
It's not just about the sound, the RT80 is a piece of art. The beautifully crafted cabinet, using engineered (MDF) wood and complemented by isolation feet, an aluminum platter, and a rubber platter mat, keeps those unwanted vibrations at bay. This thoughtful construction means each note reaches your ears unadulterated, without any background noise, letting you lose yourself in the music.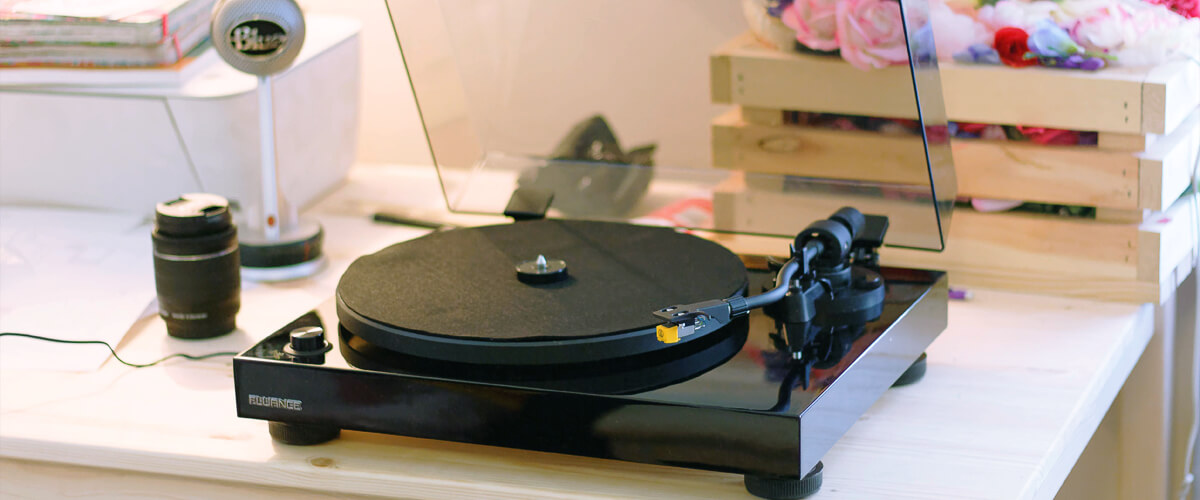 The built-in Texas Instruments preamp is another jewel in the crown. This feature allows us to perceive not just the sound but also the warmth and authenticity in every tune, be it a timeless classic or a recent chartbuster. Particularly notable for a vinyl player under $200, this component enriches the RT80, delivering a sound experience that is both pure and genuine.
Now, comparing it with the Crosley C100, which indeed holds its ground with adjustable tonearm and manual controls, Fluance still takes the lead. Its unique balance and decent sound quality make the RT80 a step ahead.
In essence, the Fluance RT80 is more than a good budget turntable, it's an affordable ticket to a musical journey with really high sound quality! Its nice design, coupled with crystal-clear sound, transforms every record into a live performance, presenting itself as the ideal pick for those eager to explore vinyl's rich, immersive realm without breaking the bank.
Key specs
Drive type: belt-drive.
Operation type: manual.
Speeds, RPM: 33 1/3, 45.
Speakers: no.
Phono Pre-Amp: yes.
Bluetooth: no.
USB: no.
Aux in.: no.
Pros
Well-constructed, sturdy, and durable.
Easy installation of tonearm weight and balance.
Consistent and smooth operation.
The drive is very quiet.
Compatible with various cartridges for upgrade flexibility.
Cons
Balance weight dial and anti-skating markings are hard to see.
Supplied cords are short.
Crosley C100 – also a great choice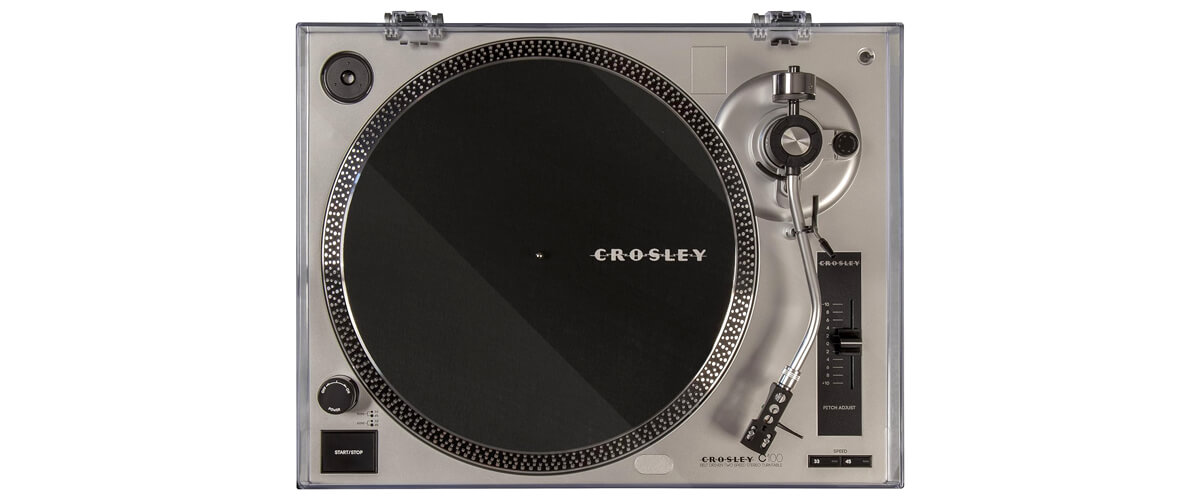 In a market flooded with turntables competing for the spotlight, the Crosley C100 sets itself apart. It emerges as a distinct choice within the sub-$200 range, offering a seamless fusion of intuitive controls and sturdy design. You could say it's practically "breathing down the neck" of the leader of my list.
With this model, it's all about empowerment. The manual start/stop controls allow you to navigate your record collection with finesse and accuracy. Moreover, the adjustability inherent in the s-shaped tonearm facilitates optimal needle tracking force, guaranteeing flawless spins and contributing to the extended life of every record in your collection.
The precision of the C100 gets a nice boost from its solid, damped die-cast aluminum platter and the accompanying felt slip mat. They work together to ensure each LP plays smoothly and stays balanced.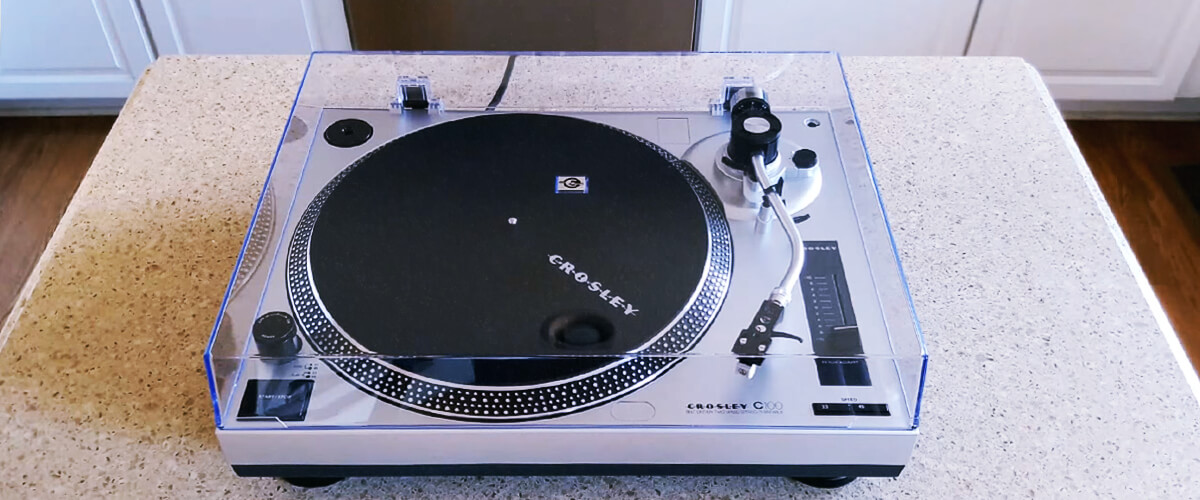 However, the real strength of this model lies in how well it gets along with other equipment. Thanks to the built-in preamp and the removable RCA output cables, it can connect to all kinds of stereo systems in no time.
Comparing the C100 to the Fluance RT80, it becomes obvious that while the latter offers superior sound clarity and a more sophisticated aesthetic, the former excels in providing user-centric controls and adaptability, making it a good choice for those who value functionality and customization.
To encapsulate, the Crosley C100 is a beacon of versatility and user-friendly design among the best turntables under $200. With its harmonious blend of practicality and pleasure, it welcomes music lovers to immerse themselves in the magical realm of vinyl with ease and style.
Key specs
Drive type: belt-drive.
Operation type: manual.
Speeds, RPM: 33 1/3, 45.
Speakers: no.
Phono Pre-Amp: yes.
Bluetooth: no.
USB: no.
Aux in.: no.
Pros
Optimizes the tracking weight for the stylus/cartridge, preventing record damage.
Offers upgrade paths and easy maintenance.
Prevents stylus damage by stopping the platter after a certain amount of time.
Provides a grounded connection, reducing interference.
Cons
Although the TT feels durable, it's made of plastic.
The provided cable is not long enough for many setups.
1byone H009 – all-in-one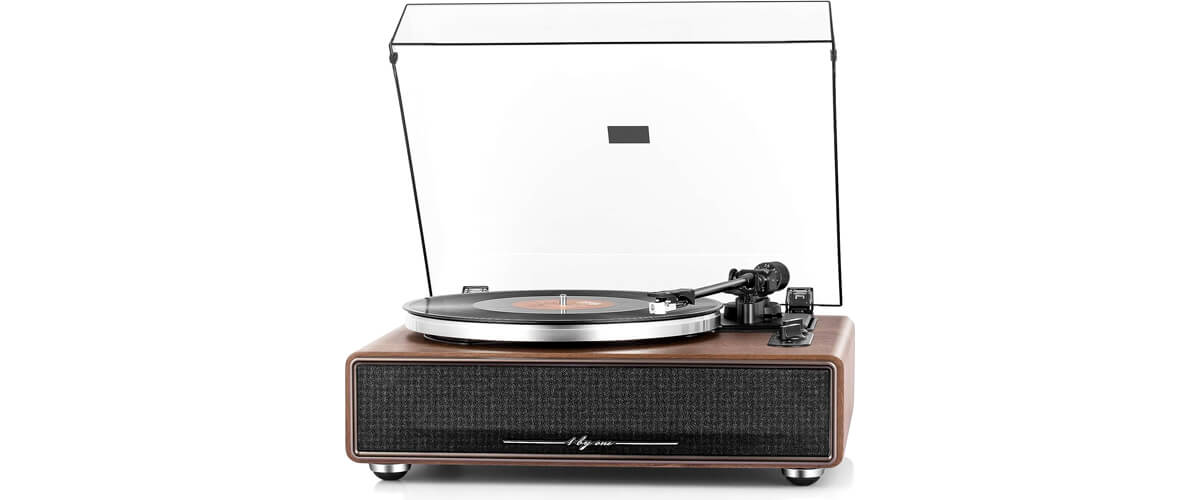 For those seeking an all-encompassing auditory experience, 1byone H009 will make a harmonious blend of vintage charm and modern technology.
The elegance of this unit is apparent in its aesthetic appeal, combining streamlined corners with a mix of wood and metal materials. It's a visually attractive and functional piece that augments any room with a touch of sophistication and technological grace.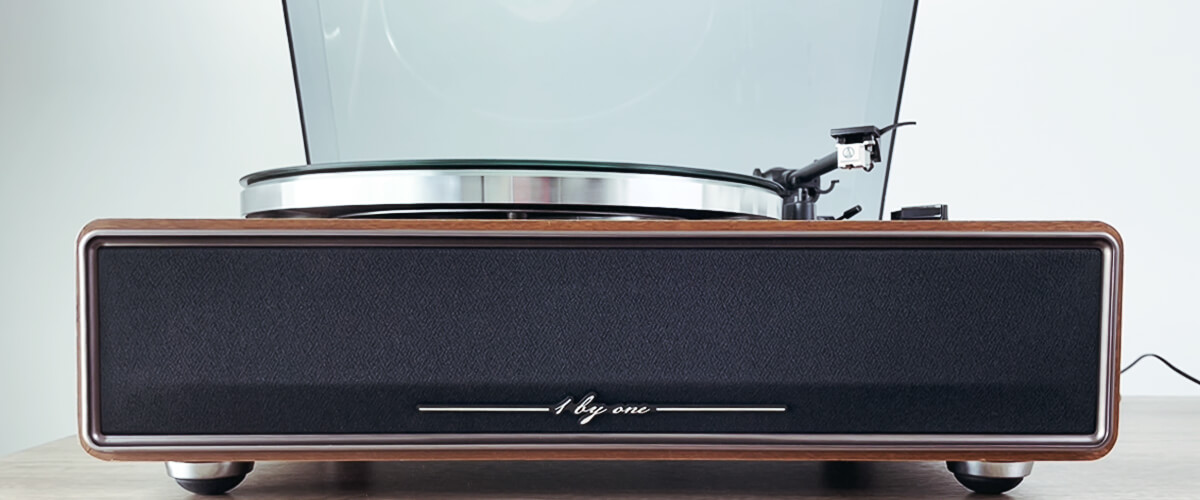 However, the H009 isn't just a feast for the eyes – it's an auditory delight as well. It spins at both 33 and 45 RPM, so whether you're in the mood for the melodic tunes of the '60s or the pulsating beats of contemporary hits, this turntable ensures optimal playback. It also features a magnet-type cartridge and adjustable counterweight that fine-tune each channel to bring out the warm, rich sounds and keep any noise or distortion at bay. These little details really make your music come alive, whether you're listening through the built-in speakers or hooking up to your own external ones with the handy included amplifier.
I really like the Bluetooth streaming feature. It's super convenient and lets me play my favorite jams wirelessly, so there are no cords to trip over, and the music just fills the whole room, reaching every nook and cranny.
The true gem of this machine is its all-in-one nature, making it a great record player under 200. It marries functionality with simplicity, allowing you to experience music with both clarity and warmth, all while enjoying the seamless, wireless convenience of Bluetooth streaming.
Key specs
Drive type: belt-drive.
Operation type: manual.
Speeds, RPM: 33 1/3, 45.
Speakers: yes.
Phono Pre-Amp: yes.
Bluetooth: yes.
USB: no.
Aux in.: no.
Pros
Stylish design.
Has a small footprint.
Comes with a quality cartridge and stylus.
Has an auto-off feature that stops the platter from spinning after 3 minutes of silence at the end of a record.
Clear and easy instructions, including a video link, facilitate straightforward installation and setup.
Cons
There's no automatic return function once the record is over.
Lacks native Bluetooth-out functionality.
The volume knob is not accessible when the cover is closed.
Audio-Technica AT-LP60X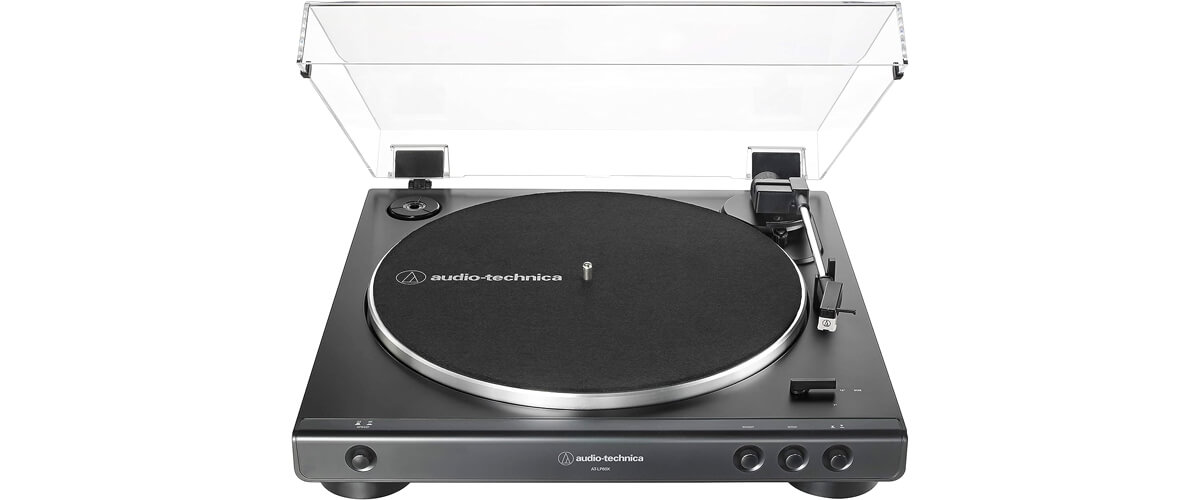 After spending quality time with the Audio-Technica AT-LP60X, it's clear that this is a good beginner record player for those venturing into the analog realm. Its fully automatic belt-drive operation, supporting both 33 1/3 and 45 RPM, offers a smooth experience for novices and ensures that your cherished vinyl gets the care it deserves.
The anti-resonance, die-cast aluminum platter stands out not just in its construction but in its performance, minimizing vibrations that can mar your listening sessions. Combined with a thoughtfully redesigned tone arm base and headshell, this results in improved tracking and notably reduced resonance. The external AC adapter was a welcome surprise, which cleverly handles the AC/DC conversion outside the chassis. Why does this matter? Simply put, it diminishes noise interference, making listening clearer and more enjoyable.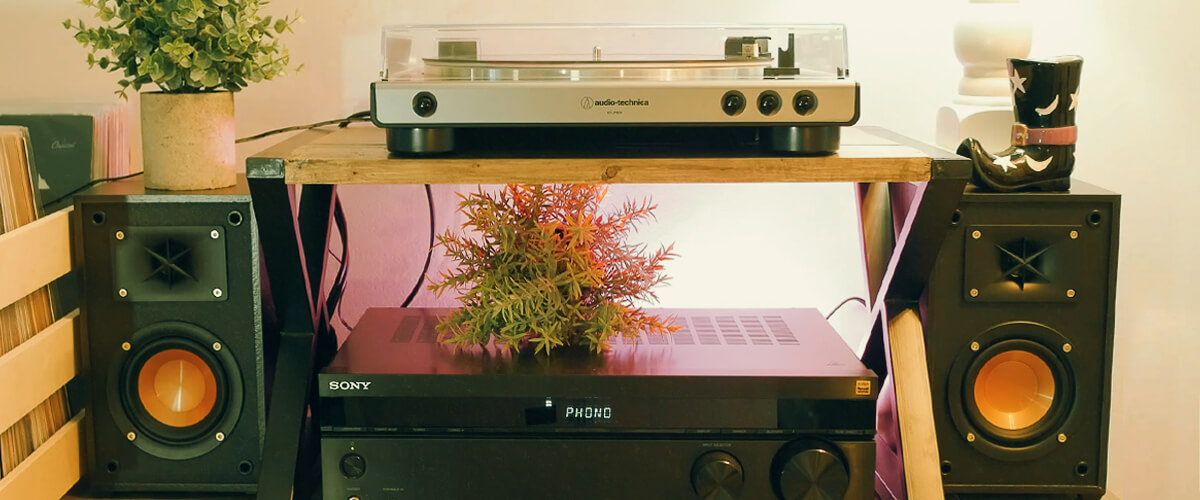 Give it a spin, I should say that this machine definitely hits the mark for someone just diving into vinyl. But my friends who've been in this game for a while did mention missing some of the upgradability and advanced features they've come to love in other turntables.
Overall, in transitioning from digital to vinyl or simply adding a turntable to your sound setup, the Audio-Technica AT-LP60X proves to be a reliable and worthwhile companion. It skillfully merges simplicity with quality, making it an excellent choice for newcomers eager to explore the rich world of records.
Key specs
Drive type: belt-drive.
Operation type: fully-automatic.
Speeds, RPM: 33 1/3, 45.
Speakers: no.
Phono Pre-Amp: yes.
Bluetooth: no.
USB: no.
Aux in.: no.
Pros
Offers automatic start, stop, and return features, minimizing manual handling and potential damage.
Adequate sound quality for its price range.
Its small footprint and lowish profile make it space-efficient.
Easy to set up, clear instructions provided.
Cons
The plastic feels somewhat cheap and lightweight.
The needle is very fragile and can pop off easily, requiring careful handling.
The included aux cable may not transmit sound properly, necessitating the use of different cables for optimal performance.
House of Marley Stir It Up Wireless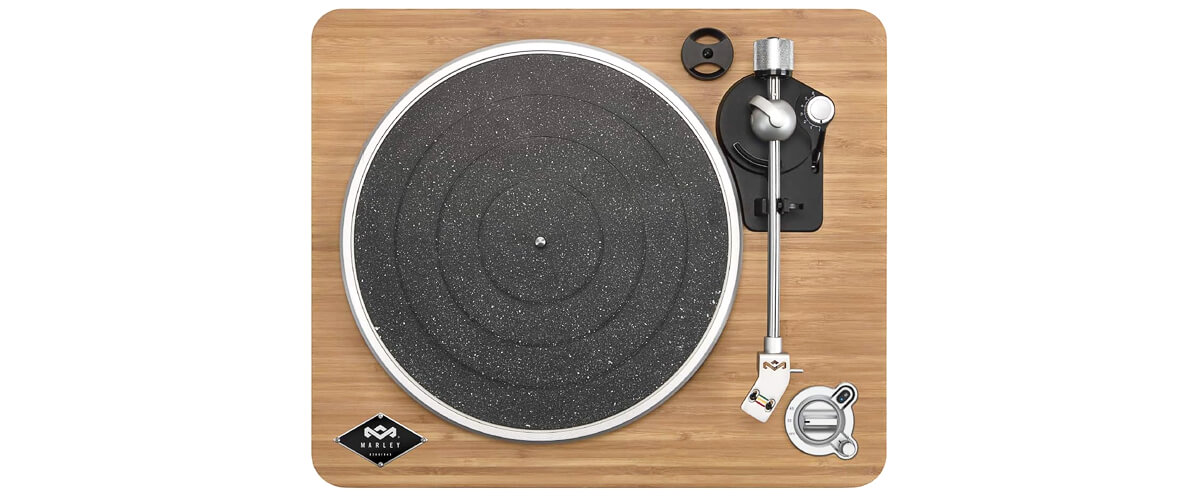 I've recently had the pleasure of trying out the House of Marley Stir It Up Wireless, and trust me, it stands out in the crowded market of Bluetooth turntables under 200 dollars. This gem masterfully bridges vintage charm with today's wireless convenience, capturing the essence of vinyl while embracing modern tech.
Right out of the box, its sustainable design grabs attention. The blend of natural bamboo with the brand's eco-friendly Rewind fabric and Regrind silicone sets a standard for environmental consciousness in audio gear. And, as a subtle nod to the legendary musician, there's a Bob Marley quote delicately engraved on the tonearm, adding a unique character touch.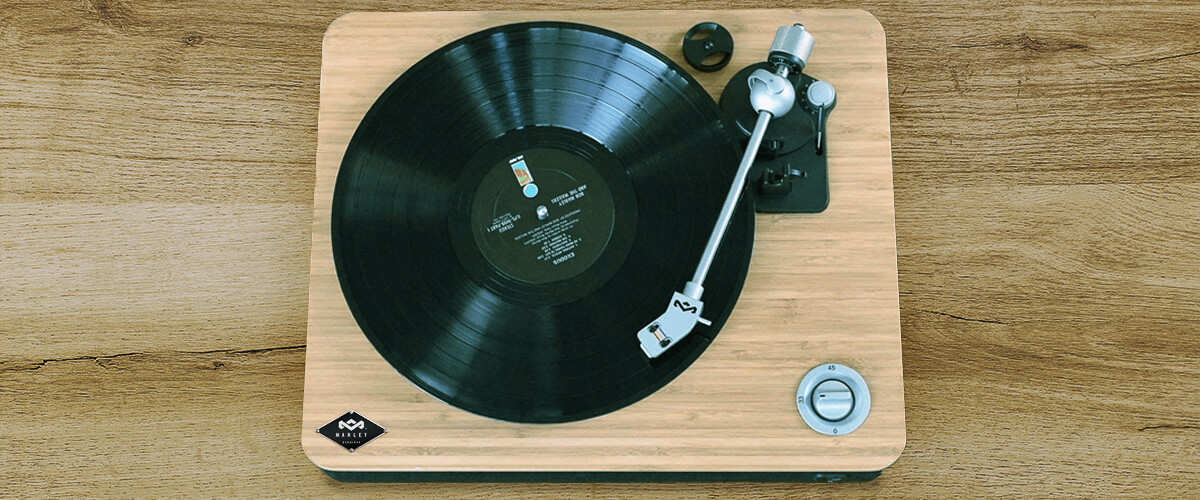 Performance-wise, it doesn't skip a beat. The sound remains consistent and vibrant whether you're wirelessly streaming to your favorite Bluetooth speaker or using the 3.5mm headphone jack for a more personal session. The modular Audio-Technica phono cartridge is a nice touch, ensuring a smooth playback experience for both 33 and 45 RPM records. Plus, with its USB port, digitizing your beloved vinyl collection is a breeze.
However, while the wireless capability is certainly a notable feature, there were instances where the Bluetooth connectivity experienced slight interruptions. It's a minor glitch, but it's something to keep in mind.
All in all, if you're on the hunt for a turntable that marries style with functionality and doesn't break the bank, the House of Marley Stir It Up Wireless is an intriguing option. Its eco-conscious design and balance of classic and contemporary specs make it a great addition to any audio setup.
Key specs
Drive type: belt-drive.
Operation type: semi-automatic.
Speeds, RPM: 33 1/3, 45.
Speakers: no.
Phono Pre-Amp: yes.
Bluetooth: yes.
USB: yes.
Aux in.: no.
Pros
Beautiful and attractive design, making it a nice addition to any living room.
Offers excellent sound through Bluetooth and headphones.
Comes with all necessary wires and multiple outlet adapters.
Option to upgrade the cartridge or add an external preamp later.
Cons
Some users experienced difficulties with Bluetooth pairing.
Comes with a recycled protective cover instead of a hood, which is a disadvantage for those with pets or who want additional protection for their turntable.
Adjusting settings like anti-skating requires trial and error due to a lack of clear instructions.
Are record players under $200 worth the money?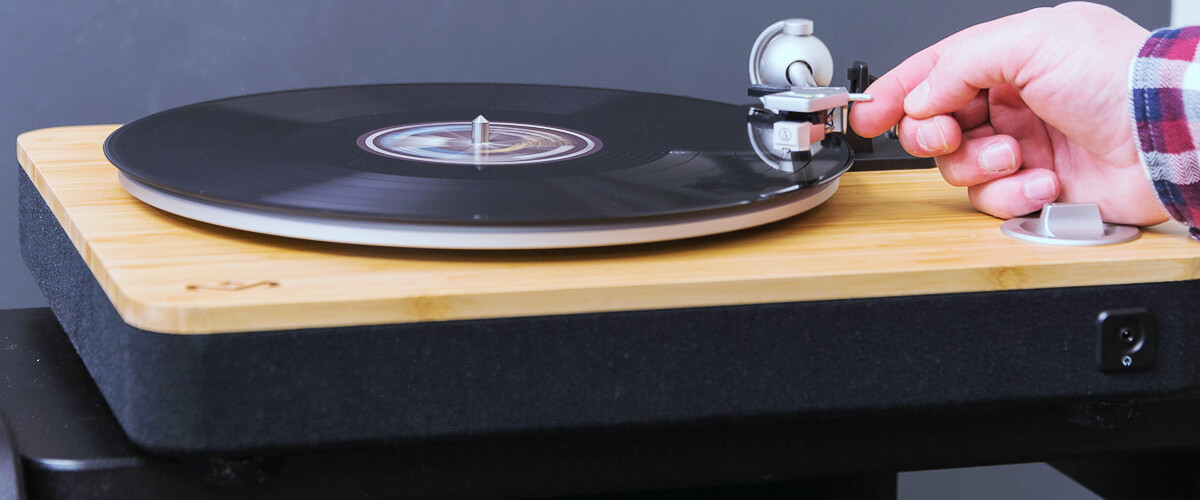 Absolutely, if you're new to the world of vinyl, plunging into the under $200 range is totally worth a look. These turntables are like the welcoming committee for anyone curious about the unique vibes of vinyl, letting you dip your toes without emptying your wallet.
You know, when you're starting, grabbing an entry-level record player in this price range usually means you're getting something stable and well-made compared to the cheaper ones you might stumble upon. And having anti-skate technology? That's like a guardian angel for your records, keeping the needle in check so your tunes stay smooth.
And here's the kicker: many of these budget-friendly beauties come with Audio-Technica cartridges! These cartridges don't just sound good; they open the door for future sonic adventures. When you're ready, you can swap them for something even more high-end, upgrading your sound game significantly.
So, wrapping up, if you're not ready to drop big bucks on a high-end model but are itching to explore the vinyl world, going for a turntable under $200 is a smart and satisfying move. It's all about savoring the sweet sounds of vinyl and relishing in features that go beyond the bare basics.
We are supported by our audience. When you purchase through links on our site, we may earn an affiliate commission at no extra cost to you.
Our newsletter
* We will never send you spam or share your email with third parties