Nowadays, record players are becoming more and more popular among music lovers. And, of course, someone who wants to be in the trend, but has not yet had time to get acquainted with the vinyl world, faces the severe turntable choosing problem but risks getting lost among the advice. So, I offer you the best Crosley turntables review that can impress you with their looks, features, and price.
Crosley has been on the merchandise market since 1921, and its mastermind was a pioneer in radio broadcasting. No need to say, the brand is famous and has fans worldwide. The American company Crosley Brands has been producing not only turntables but also furniture since 1992, and you have the opportunity to get a designer device that attracts attention with its modern or retro style for every taste.
Сrosley vinyl players will undoubtedly suit those who appreciate quality and style. They were created for easy daily use, and the number of functions proves it. They are budget decks, ready to use.
Our pick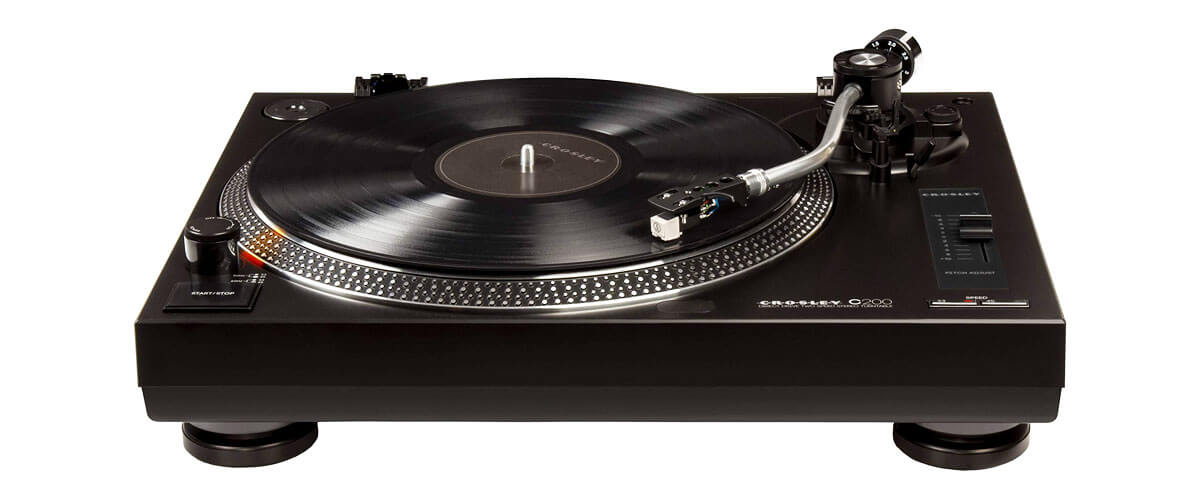 Crosley C200
Best Crosley record player
Get up to speed with the direct-drive power of the Crosley C200. With more control than ever over the speed of your discs, this sleek, powerful turntable was built to mix it up.
Read the full review.
Is Crosley a good record player?
When choosing a Crosley vinyl record player, you will find many different reviews, but don't be intimidated. As a beginner in the world of vinyl, you need to understand exactly what you want from your turntable, and you're not likely to want to understand a lot of details right away.
You can find vintage, modern, retro, or even a suitcase-style record player for every interior and taste in the Crosley range. You can use them at home and outdoors, with your own audio system, or buy a ready-made one. After all, these players have a lot of handy features, the purpose of which is to make listening to music more pleasant and comfortable.
And the main thing for beginners is you won't spend your whole budget to get acquainted with vinyl. At the same time, you'll get a ready-made turntable. That's why I think the Crosley is a great choice to start with. However, it can meet your musical needs and please you for a long time.
Name
Drive type
Operation type
Speeds
Phono Pre-Amp
Bluetooth
Review
Crosley C200

best overall

direct
manual
33 1/3, 45 RPM
yes
no
Review
Crosley Cruiser Deluxe

budget pick

belt
manual
33 1/3, 45, 78 RPM
yes
yes
Review
Crosley C62

record player with speakers

belt
manual
33 1/3, 45 RPM
yes
yes
Review
Best Crosley record player reviews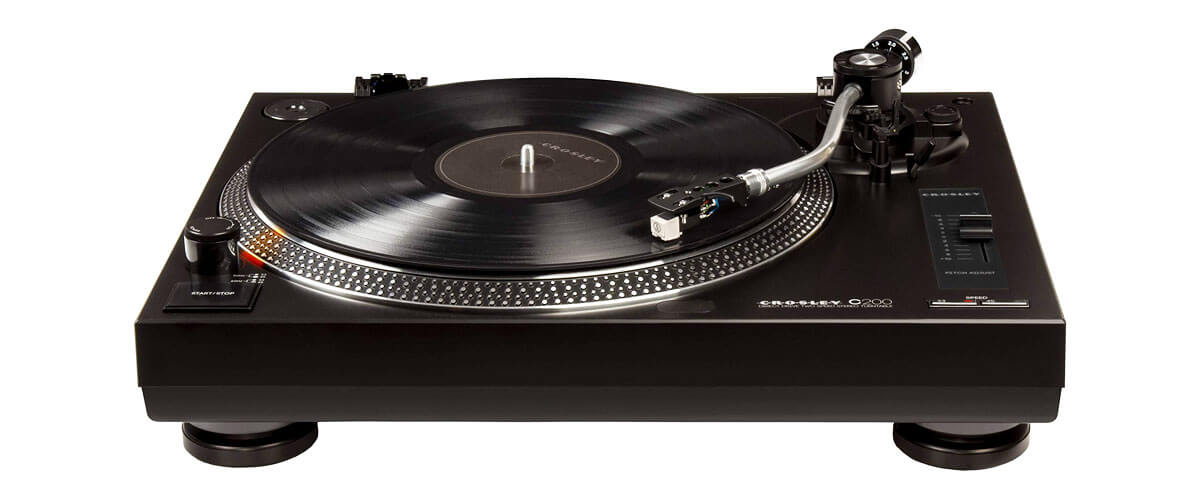 The fully mechanical C200 is an excellent choice for the beginner because it has everything you need to use immediately. In addition, unlike many turntables in its price range, it looks very decent even though it is pretty low in price.
All the control buttons are placed on the elegant plinth, which is very convenient for beginners. The aluminum platter and S-shaped tonearm with a built-in Audio-Technica magnetic cartridge, which can be replaced if desired, will last long. The features include adjustable pitch control and anti-skating. In short, everything makes you comfortable, and you do not suffer with the tuning. And the dust cover will keep your turntable in excellent condition for years to come.
Also, like the other Crosley Cruiser Deluxe vinyl player I reviewed here, the C200 has a built-in phono preamp. But it's not of high quality, and you might want to connect an external preamp, which you can do with one button. The small drawback I would point out is the short RCA cables. You might want to have longer ones to connect to the speakers.
This portable turntable sounds decent, looks cool, and costs ridiculous. So I can definitely recommend it as the best Crosley record player for those who want a great product without spending a lot of money, including additional components.
Key specs
Drive type: direct.
Operation type: manual.
Speeds, RPM: 33 1/3, 45.
Phono Pre-Amp: yes.
Bluetooth: no.
USB: no.
Aux in.: no.
Pros
All buttons are on the plinth.
Adjustable pitch control and anti-skating.
Built-in preamp.
Cons
The built-in preamp is not of high quality.
RCA cables are short.
Crosley Cruiser Deluxe – budget pick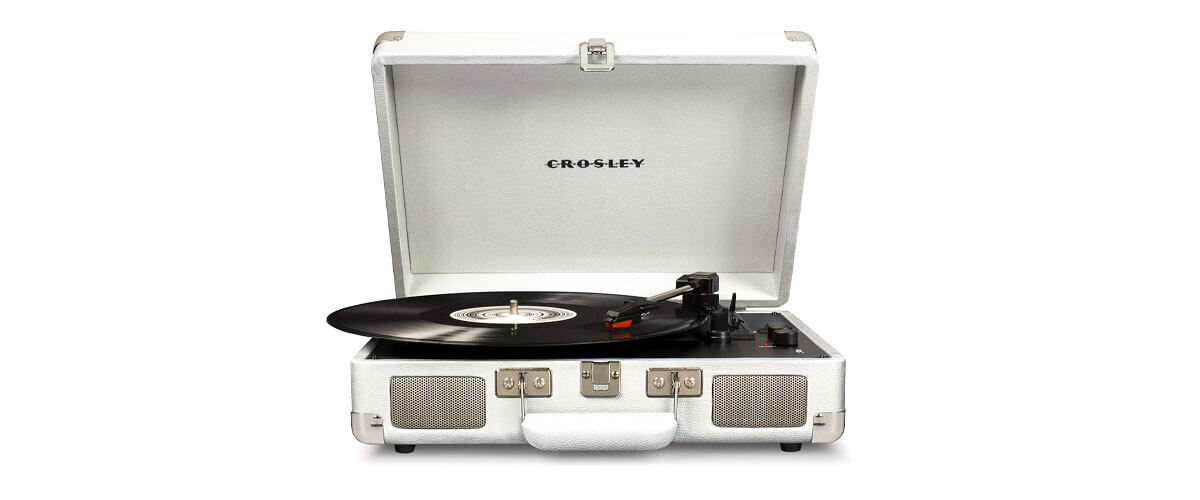 In this Crosley record player review, I turn your attention to the lovely, elegant, and unusual Crosley Cruiser Deluxe. It's an exciting model that impresses with its looks and features that make it as convenient and easy to use as possible, not only at home but also outdoors when you have guests over for a barbecue. It is a suitcase turntable, literally!
This vinyl player will be a very successful and convenient addition to the interior. Made in a charming suitcase-style case, covered with vinyl in white sand color, the turntable will be able to please you with its portability and compactness for a long time. The straight tonearm is comfortable, although I like the curved one better; it's more accurate. The adjustable pitch control and a built-in preamp make it plug-n-play without any additional adjustments. Want to get some privacy and listen to your favorite tracks? There's a headphone input on the plinth!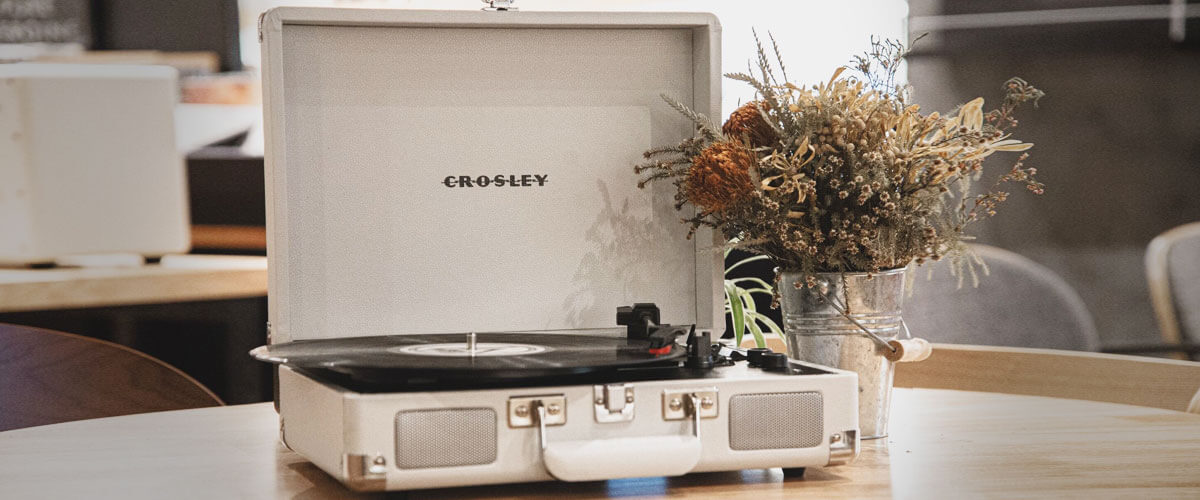 Very easy to install and set up, the record player, unlike the C200, has three speeds of 33, 45, and 78 rpm, which are changed with a belt drive. It also has a Bluetooth receiver so that you can connect your phone to it. What's more, it has Built-in Full-Range Stereo Speakers. And even though I'm not a fan of digital sound, I can't help but appreciate the advantages of a turntable that you can use anywhere, either take it for a visit or take it with you on vacation.
The only thing you have to do on your own is to rearrange the records, but I don't think you'll have too much trouble. It's surprising how good it sounds since it costs pennies. You can't go past the Crosley Cruiser Deluxe; you'll love it. An excellent item for those just starting in the world of vinyl.
Key specs
Drive type: belt.
Operation type: manual.
Speeds, RPM: 33 1/3, 45, 78.
Phono Pre-Amp: yes.
Bluetooth: yes.
USB: no.
Aux in.: yes.
Pros
Adjustable pitch control.
Three rotation speeds.
Built-in preamp.
Ergonomic design.
Cons
Haven't found any during testing.
Crosley C62 – record player with speakers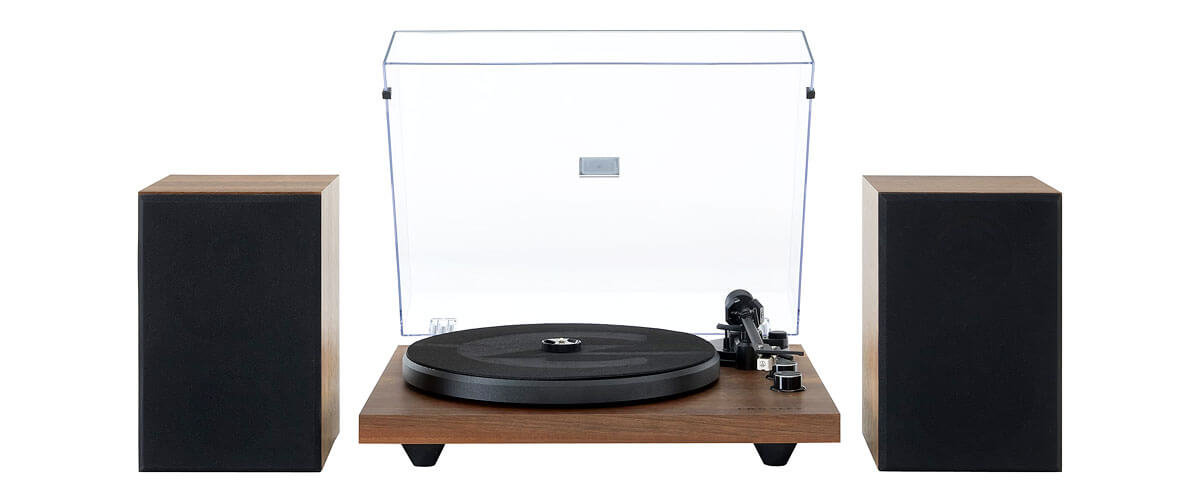 If you've always dreamed of having an off-the-shelf sound system but didn't have the money to buy one, now is your time. The Crosley C62 is a wooden record player with external full-range stereo speakers that looks elegant and compact and will suit any sophisticated interior. Thanks to its functions, it can serve you for a long time, and its operation is effortless.
In this model, the manufacturer has taken care to reduce vibrations with a solid MDF plinth, a heavy steel platter, and three adjustable feet. The synchronous belt-driven motor is pretty quiet, which is a joy to behold. The two rotational speeds change from 33 to 45 rpm with an external rotary knob on the body. The brushed aluminum straight tonearm comes with an inherently good AT-3600 integrated cartridge, which can be replaced if desired. But I never tire of repeating that curved tonearms are more accurate.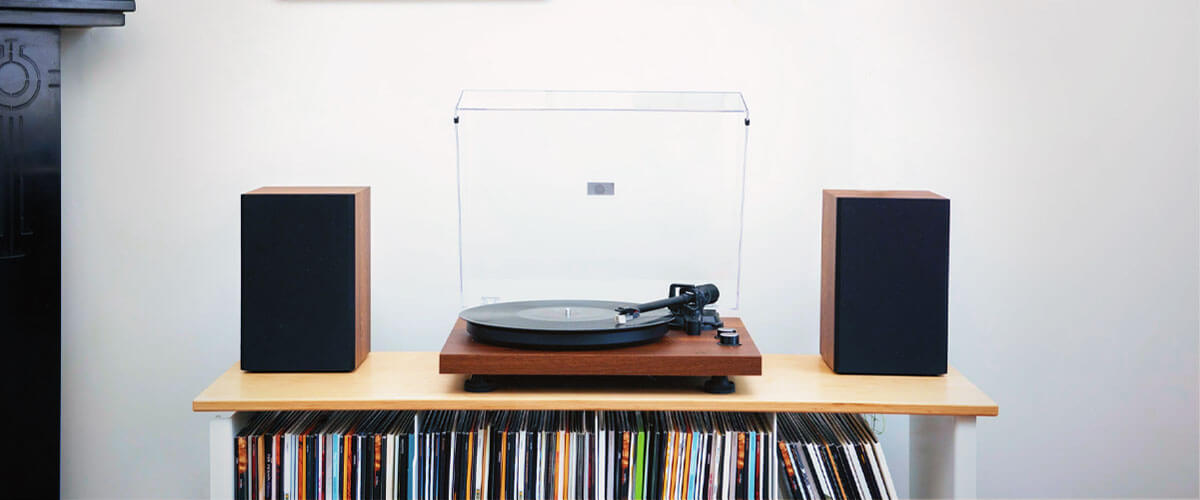 Just like its predecessors, the C200 and Cruiser Deluxe, the C 62 has a built-in switchable phono preamp. And also, like the Cruiser Deluxe, it has a built-in Bluetooth feature, with modes switched by a rotary knob on the body. But unlike those two models, it comes with two midrange speakers, as elegant as the turntable, covered in walnut or gray veneer. If you're unhappy with the digital sound, there's an RCA output for connecting to analog cables. And, of course, a hard cover will protect your device from dust and keep it looking good for a long time.
Crosley С 62 record player with speakers produces a pleasant sound without additional investment or manipulation. You get a ready-made system that can easily be installed in your bedroom, living room, or even your yard, and you won't go broke buying it.
Key specs
Drive type: belt.
Operation type: manual.
Speeds, RPM: 33 1/3, 45.
Phono Pre-Amp: yes.
Bluetooth: yes.
USB: no.
Aux in.: no.
Pros
Special design reduces vibrations.
The synchronous belt-driven motor is pretty quiet.
Speakers with midrange drivers.
Fully automatic.
Supports Bluetooth 5.0.
Available in several colors and variations.
Cons
The tonearm cannot be adjusted.
The cartridge can be replaced, but only with the same one.
FAQ
Do Crosley turntables damage records?
Records can be damaged by a variety of factors, including mishandling, age, and poor storage. However, Crosley turntables are generally considered to be gentler on records than other models, so there is a lower risk of damage when using them.
How can I make my Crosley sound better?
You can do a few things to improve your Crosley's sound quality. One is to make sure that the turntable is properly balanced. How? Just place a record on the turntable and adjust the counterweight and track force until the record is in the center of the platter. You can also try increasing or decreasing the damping control to find the best sound for your records. Finally, ensure that all the cables are properly connected and that no debris or dust is blocking the cartridge or stylus.
Why does my Crosley record player sound scratchy?
There could be a few reasons why your Crosley record player sounds scratchy. One possibility is that the needle is dirty and needs to be cleaned. Another possibility is that the belt has worn out and you need to replace it.
How do I know if my turntable needs a new needle?
The easiest way to determine if your turntable needle needs to be replaced is to look at it. If the needle is visually worn down, you have to
replace it
. Additionally, you will need to replace it if the needle is no longer effective at tracking the record's grooves. Finally, if you are experiencing poor sound quality or distortion from your records, your needle likely needs to be replaced.
We are supported by our audience. When you purchase through links on our site, we may earn an affiliate commission at no extra cost to you.
Our newsletter
* We will never send you spam or share your email with third parties