I bring to your attention the vinyl turntable AT-LPW50PB from the Japanese company Audio-Technica. The products of this brand have been delighting audiophiles worldwide for decades. In this Audio-Technica AT-LPW50PB review, I will go over the main features of this model, as well as give my opinion about the turntable's sound.
Design and materials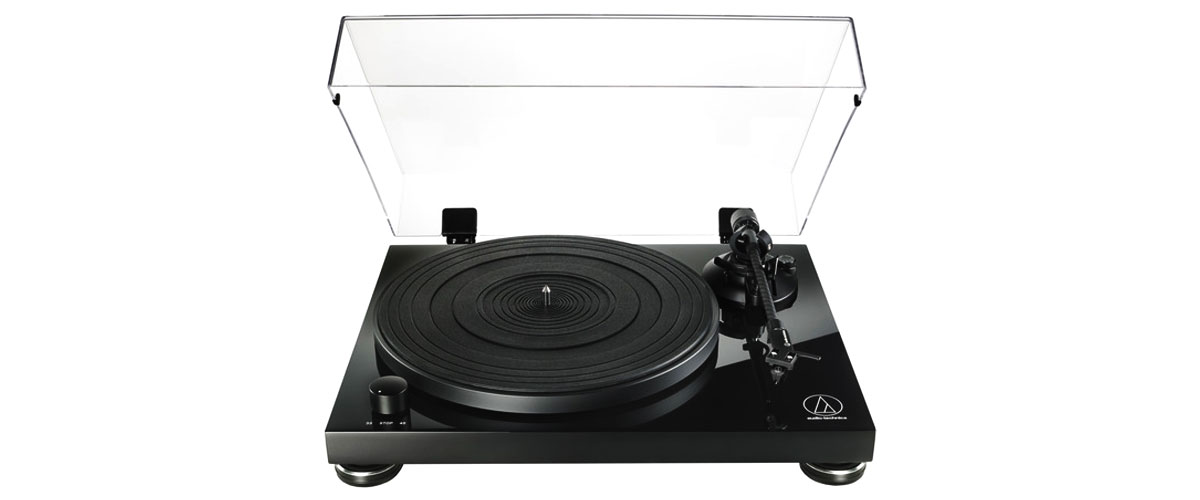 First, I noticed the solid 30mm thick plinth, made of MDF with a glossy Piano Black finish, which looks stylish and provides less resonance and better resistance to airborne vibrations. What's more, the Audio-Technica AT-LPW50PB comes with a clear Perspex dust cover and spring-loaded hinges. The case rests on four legs, which are slightly flexible but not springy.
The Audio Technica AT-LPW50PB turntable comes complete with a straight carbon fiber tonearm with a matte finish and spring anti-skating, a professional anti-resonance cast aluminum disc with a rubber mat, an AT-HS4 universal head with ½" mount, and an AT-VM95E Dual Moving Magnet cartridge.
Features and specs
The Audio-Technica AT-LPW50PB is a fully manual belt-driven record player. It has two rotational speeds (331/3 and 45 rpm), and they are selected with a rotary switch on the front left side of the plinth. The disc spins quickly at both speeds and takes about half a turn, which I think is fast for a belt drive. Although the switch has a center "Off" position, it simply stops the disc from spinning. To turn the turntable off, you have to turn to a small button, which is rather awkwardly located on the back of the turntable. There you will also find a pair of stereo RCA outputs, the main power input, and a built-in phono preamp switch that allows you to take the output directly from the cartridge and route it to an external phono preamp if you want.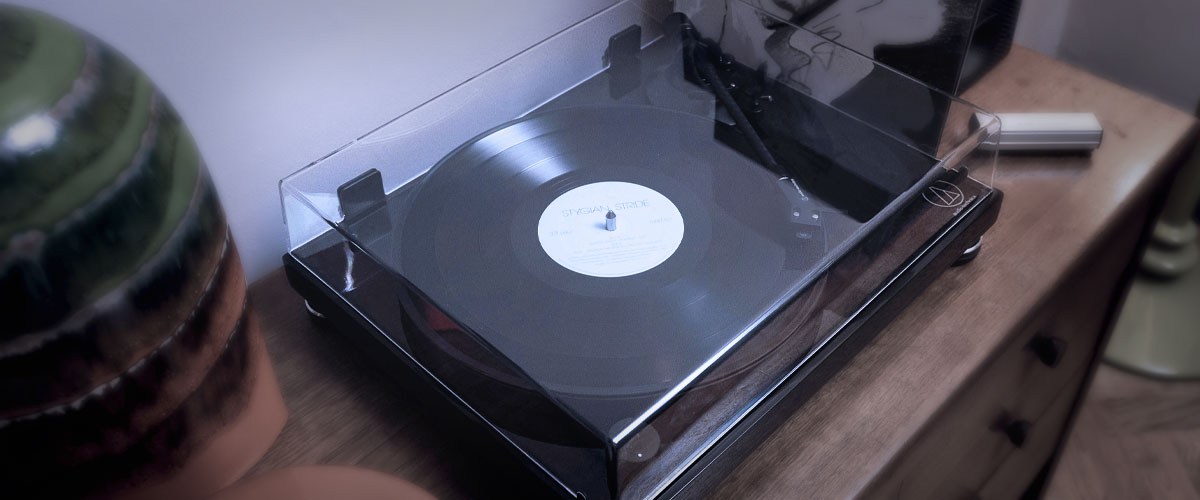 The cartridge has a 0.3 x 0.7mm elliptical stylus compatible with the VM95 series interchangeable needles. This stylus allows this cartridge to penetrate deeper into the groove, extracting more music.
How does it sound
For its price segment, this turntable sounds more than decent. The turntable owes its strengths primarily to the AT-VM95E cartridge, which makes listening very easy and enjoyable, and the carbon tube lever, which creates the quietest and most resonance-free conditions in the system, especially on older records. On my records, it showed decent results.
Key specs
Drive type: belt.
Operation type: manual.
Speeds, RPM: 33 1/3, 45.
Phono Pre-Amp: yes.
Bluetooth: no.
USB: no.
Aux input: no.
Pros
Built-in phono preamp.
Dust cover.
Possibility of stylus/phono preamp upgrade.
Cons
You cannot digitize recordings with this player.
We are supported by our audience. When you purchase through links on our site, we may earn an affiliate commission at no extra cost to you.
Our newsletter
* We will never send you spam or share your email with third parties