Dipping your toes into the world of vinyl? You're in for a treat! The importance of finding the best record players with speakers can't be overstated, especially if you're a newbie. Imagine not fussing over multiple components but just diving straight into those soulful melodies. Perfect for beginners and those who crave simplicity, these turntables come in two flavors: those with snazzy built-in speakers and others paired with external sound boxes. As we journey through both, not only will I share top picks, but I'll also equip you with a handy buying guide. Because, let's face it, armed with the right knowledge, your vinyl experience is bound to hit all the right notes. Let's spin!
Our pick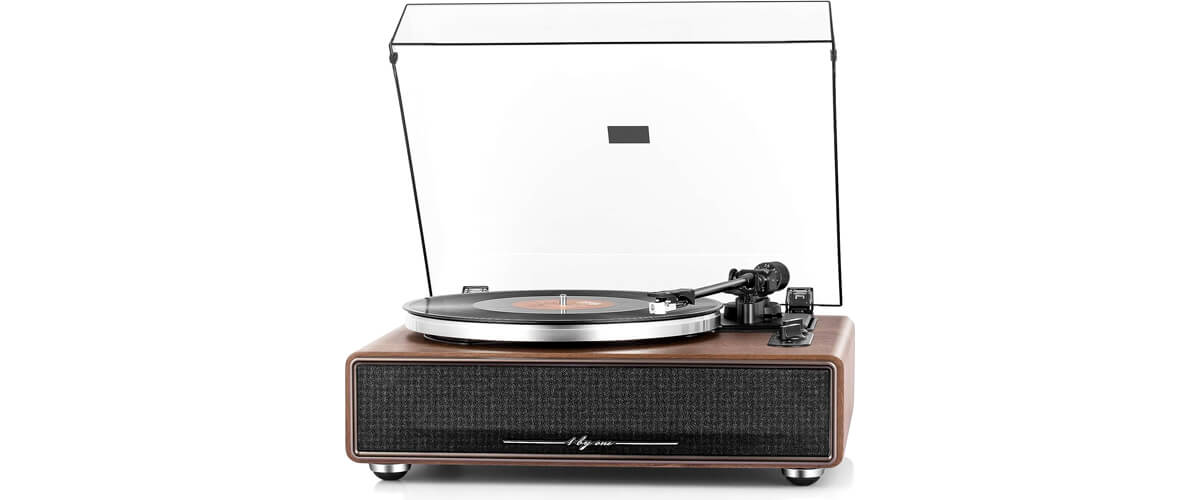 1byone H009
Record players with built-in speakers
1 by ONE high fidelity belt drive turntable with built-in speakers, magnetic cartridge, and Bluetooth connectivity lets you get rich and warm audio from your vinyl collection.
Read the full review
.
Our pick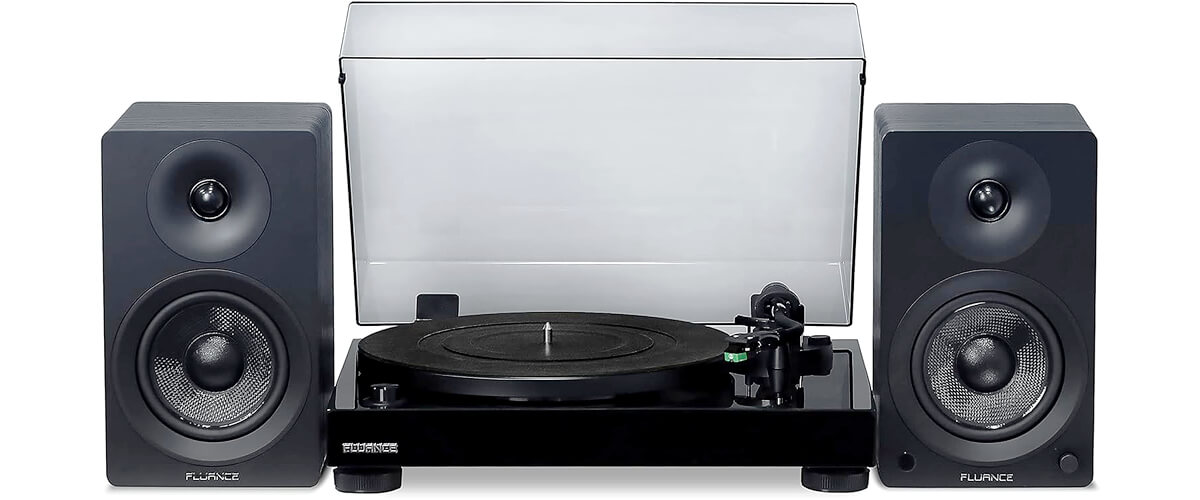 Fluance RT81 with Ai41 bookshelf speakers
Record players with separate speakers
Fluance RT81 elite high fidelity vinyl turntable with Ai41 Powered 5″ stereo bookshelf speakers features a built-in preamp, 90W class D amplifier, and Bluetooth for elevating your musical experience.
Read the full review
.
Record players with speakers comparison table
| Name | Drive type | Operation type | Speeds | Phono Pre-Amp | Bluetooth | Review |
| --- | --- | --- | --- | --- | --- | --- |
| 1byone H009 | belt | manual | 33 1/3, 45, 78 | yes | yes | Review |
| Electrohome Kingston 7-in-1 | belt | semi-automatic | 33 1/3, 45, 78 RPM | yes | yes | Review |
| Fluance RT81 with Ai41 bookshelf speakers | belt | manual | 33 1/3, 45 RPM | yes | no | Review |
| 1byone H004 | belt | manual | 33 1/3, 45 | yes | yes | Review |
Record players with built-in speakers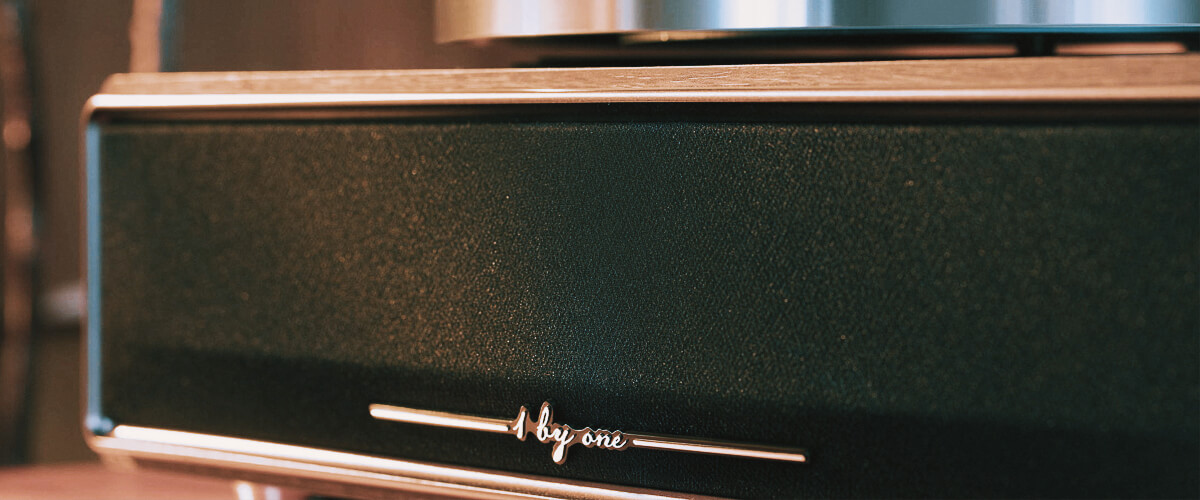 Vinyl record players with built-in speakers offer an all-in-one solution, combining the mechanics of spinning records with sound output in a single unit. It's the epitome of convenience, merging both functionalities to create a straightforward experience. But here's a heads up: not all of these TTs are created equal. While countless models are flooding the market, quality can vary wildly. For this article, I've filtered out the noise, leaving behind the low-quality temptresses that might look appealing due to their low price tag. I am focusing on those that offer a harmonious blend of value and performance.
So, what are the pros & cons of players with integrated dynamics?
Pros
Simplicity: just plug in, drop the needle, and dance away!.
Space-saving: no need to fret about where to place separate speakers.
Cost-effective: generally, these models are lighter on the wallet than buying a turntable and speakers separately.
Cons
Sound quality: while many offer decent sound, they often can't match the audio fidelity of separate components.
Limited upgradability: you're pretty much locked in. Unlike setups with external speakers, customization options here may be sparse.
Wear and tear: given that all components are in one unit, the whole system might be compromised if one part malfunctions.
Record players with external speakers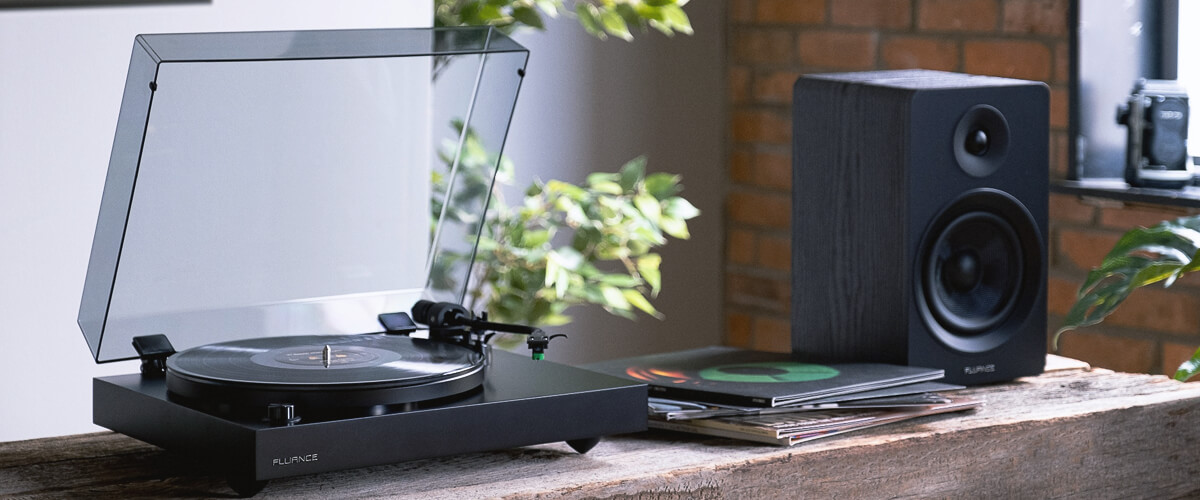 Record players with external speakers open doors to a dynamic range of audio nuances, allowing the vinyl to truly sing. For this guide, I've handpicked turntables paired with active speakers. So, if you're fretting over the maze of amplifiers and their compatibility, fret not! Active speakers come with built-in amplification, ensuring you can simply plug in and float away on musical notes without the added fuss of separate amps.
Pros of a TT with external speakers
Improved sound quality: with dedicated speakers, you often get a richer, fuller sound.
Better quality of the components: the turntable's components tend to be of higher quality since there's no budget allocation for integrated amplifiers and speakers.
Customizable: swap out speakers or upgrade as you please for a tailored audio journey.
Scalability: as your passion (or obsession) for vinyl grows, so can your setup.
Cons
Space-consuming: requires more room for the setup, which might not be ideal for compact living spaces.
More components: more parts mean more potential for compatibility issues.
Initial cost: often a heftier investment upfront compared to all-in-one models.
Best record players with speakers reviews
Record players with built-in speakers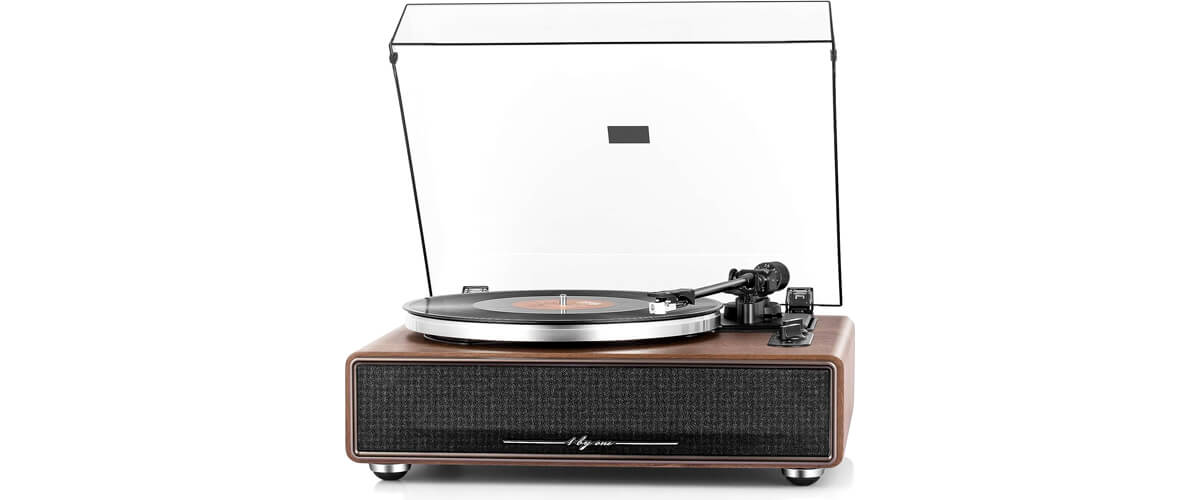 In my research of various turntables, the quest often boils down to a delicate balance between affordability and functionality. The 1byone H009, upon inspection, teeters rather well on this balance beam.
Visually, the H009 encapsulates a certain refined charm. The blending of wood and metal crafts a sense of timelessness, almost like it's paying homage to the classic turntables of yore while signaling a modern twist.
Sound-wise, it's clear where the 1byone H009 gets its character. The diamond-tipped Audio-Technica stylus, paired with its magnet-type cartridge, promises and delivers a decent sound reproduction. While it may not compete with high-end audiophile equipment, considering its price point, the clarity and warmth of the sound pleasantly surprised me.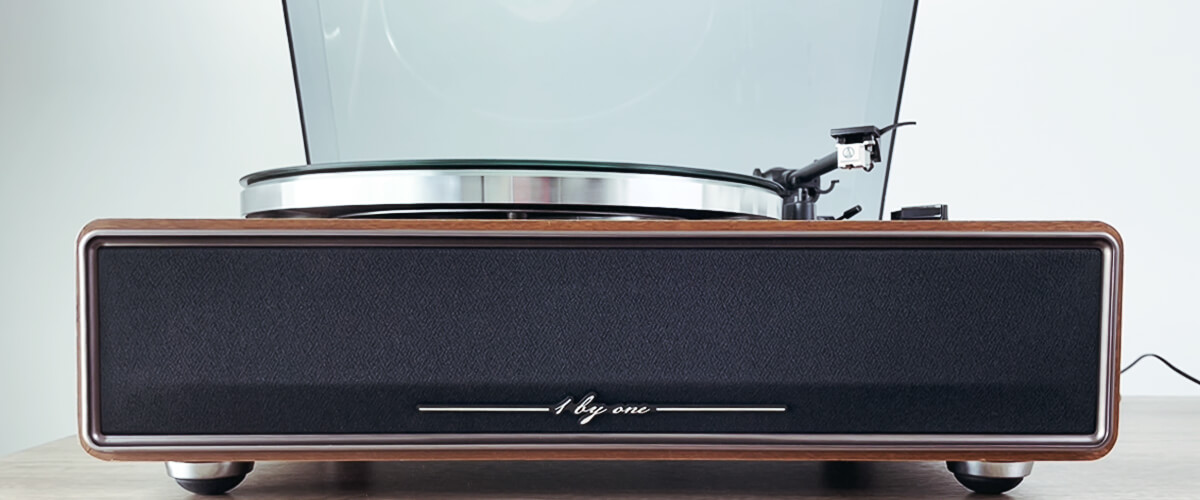 Its built-in speakers further accentuate this mid-range allure. While they won't replace a dedicated sound system, they can be used for casual listening, providing crisp, warm tones that resonate well in most settings.
The adjustable counterweight is a feature that usually finds its place in pricier players. That the H009 incorporates it, even though it demands some minor adjustments, underscores its dedication to harmonizing affordability with quality.
Diving into its connectivity, the turntable doesn't shy away from modern necessities. The Bluetooth integration, which allows streaming from other devices, and the Aux-in port are welcomed inclusions. Further enriched by its built-in amplifier, the H009 offers the possibility of connecting to externally powered speakers for those seeking an amplified experience.
Comparatively, when placed alongside the Electrohome Kingston 7-in-1, it's evident the two cater to slightly different desires. The Kingston, with its myriad features, targets a broader audience. The H009, however, offers a more focused experience. It doesn't attempt to be everything, but what it does, it does commendably.
To conclude, the 1byone H009, with its diamond-tipped Audio-Technica stylus, adjustable counterweight, and diverse connectivity options, asserts itself as the best record player with built-in speakers in its price range. It offers a harmonious blend of traditional vinyl experience and modern touches without stretching your budget.
Key specs
Drive type: belt.
Operation type: manual.
Speeds, RPM: 33 1/3, 45.
Speakers: yes.
Phono Pre-Amp: yes.
Bluetooth: yes.
USB: no.
Aux in.: no.
Pros
Atmospheric and stylish design.
Versatile connectivity.
Adjustable counterweight.
The auto-off feature ensures that the turntable stops spinning after a record ends, conserving energy and protecting the stylus.
Cons
While the TT can receive Bluetooth signals, it lacks the capability to send them to external Bluetooth devices.
The tonearm does not retract automatically after a record finishes playing.
Electrohome Kingston 7-in-1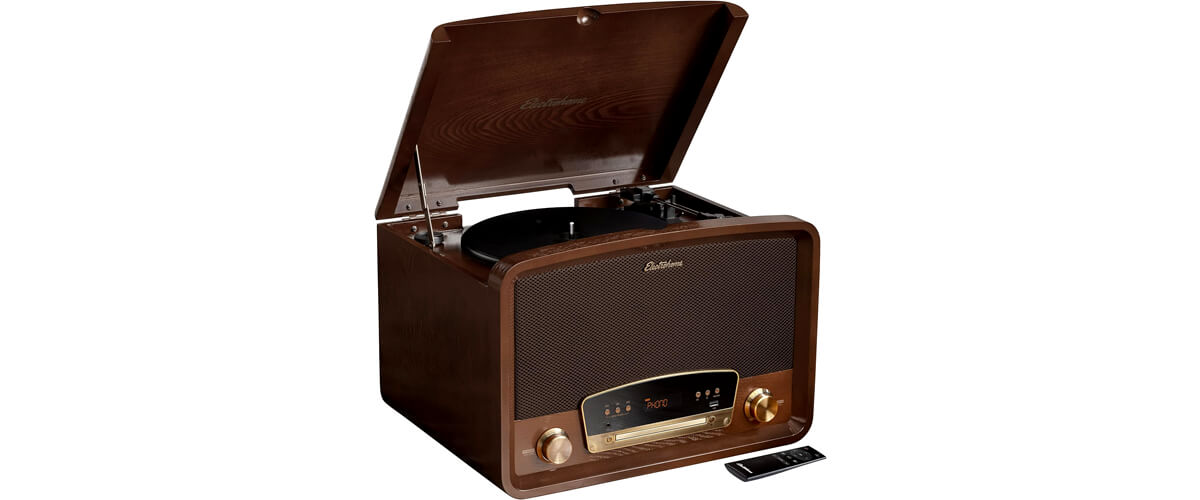 Right out of the gate, the Electrohome Kingston 7-in-1 establishes itself as a great turntable with built-in speakers, but there's so much more to it than just that. For those not looking to join the ranks of audiophiles, this turntable could be the versatile, low-cost option you've been looking for.
Crafted with a keen eye on aesthetics, its hand-crafted, acoustically tuned wood cabinet exudes a vintage charm that's hard to resist. Beyond its good looks, the Kingston offers a 7-in-1 system, opening doors to a myriad of music-listening experiences. Whether it's vinyl's allure, Bluetooth's convenience, or the nostalgia of an AM/FM radio, this machine has got you covered.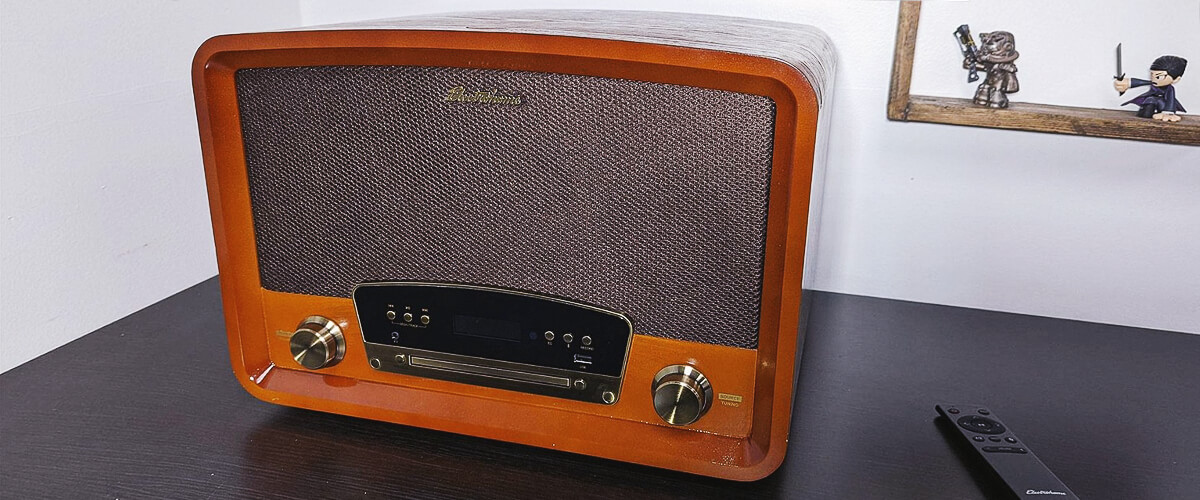 When discussing the sound, the built-in center speakers are surprisingly effective. Their performance can reproduce the warmth of vinyl and the crispness of digital streaming with admirable finesse. The 3-speed belt drive turntable further complements this, ensuring playback flexibility.
A highlight worth noting is the turntable's capability to digitize vinyl records or CDs into MP3 files. For those with a collection they'd like to preserve or take on the go, this is a feature that can't be overlooked.
However, the Kingston does have its nuances. While the lack of a cassette player isn't a significant oversight, it's notable given its "7-in-1" claim. Moreover, mentions of a somewhat loud CD drive and a lighter tonearm are aspects to consider.
To sum up, the Electrohome Kingston 7-in-1 stands out as an affordable record player with built-in speakers, presenting a balanced blend of functionality and style. It's not just about spinning records, it's about relishing music in its varied forms.
Key specs
Drive type: belt.
Operation type: semi-automatic.
Speeds, RPM: 33 1/3, 45, 78.
Phono Pre-Amp: yes.
Speakers: yes.
Bluetooth: yes.
USB: yes.
Aux input: yes.
Pros
Plays a wide range of music formats, from vinyl to digital streaming.
The all-wooden design is both heavy and well-constructed, adding to its durability.
Retro design that seamlessly fits into various decors.
Straightforward assembly process with clear instructions.
Cons
Noticeably loud noise when using the CD drive.
Records may skip at the beginning, possibly due to a light tonearm.
The tonearm doesn't retract automatically once the record is over.
No option for cassette playback.
Record player with external speakers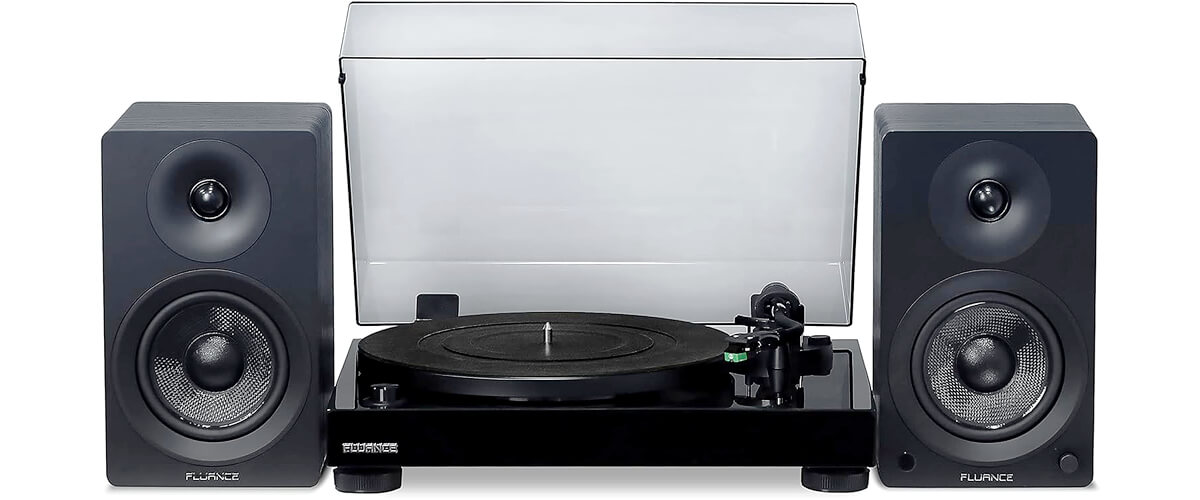 The Fluance RT81 is like a quiet conversation between old-world charm and modernity. In my hands-on experience, it's evident that this isn't about grandeur but honest craftsmanship.
The design, adorned with a wood cabinet, suggests a nod to time-honored aesthetics, but there's more to it than just aesthetics. Functionality-wise, the inclusion of the Audio Technica ATN95E diamond-tipped stylus paired with its rubber mat and S-type tonearm ensures a listening experience that's smooth and consistent, however, without claiming to be at the zenith of audio quality.
I definitely love this record player's adaptability. It handles vinyl with unmistakable elegance, yet it can effortlessly connect via Bluetooth to external speakers when the mood shifts to something more current.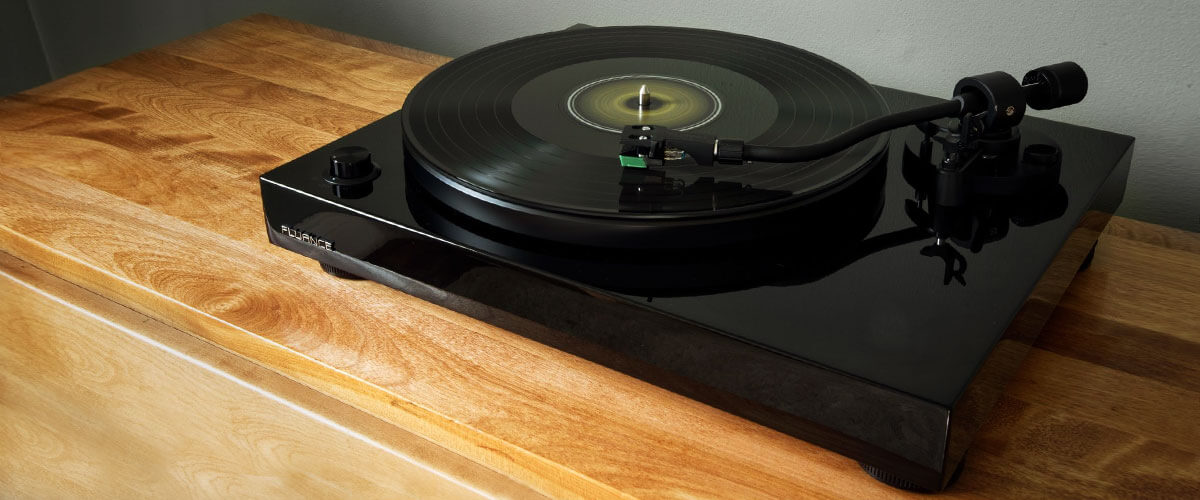 Speaking of sound, the Ai41 dynamics play a commendable supporting role. Their integrated 90W amplifier does a satisfactory job of delivering sound, though, in my testing, I felt they could've had a bit more depth. They're apt for the casual listener, but seasoned ears might yearn for a touch more.
A point of contention among some users, which I observed, too, was the presence of MDF in certain parts of the RT81's construction. While this might raise eyebrows among purists, it's something that doesn't take away from its overall performance but is worth noting for clarity.
In conclusion, the Fluance RT81, combined with Ai41 speakers, strikes a balance between vintage charm and contemporary tech. With its Audio Technica stylus, precision tonearm, and the added versatility of Bluetooth connectivity, it stands as the best record player with speakers in terms of both functionality and affordability.
Key specs
Drive type: belt.
Operation type: manual.
Speeds, RPM: 33 1/3, 45.
Phono Pre-Amp: yes.
Speakers: yes.
Speakers power: 90W.
Bluetooth: no.
USB: no.
Aux input: no.
Pros
The turntable has a visually pleasing design.
No speed issues, suggesting accurate and consistent playback.
The Ai41 speakers provide a decent sound when paired with the RT81.
Cons
The turntable is not made of solid wood and has MDF at the bottom.
Although the speakers sound good, according to some users, they could offer better sound range and volume.
1byone H004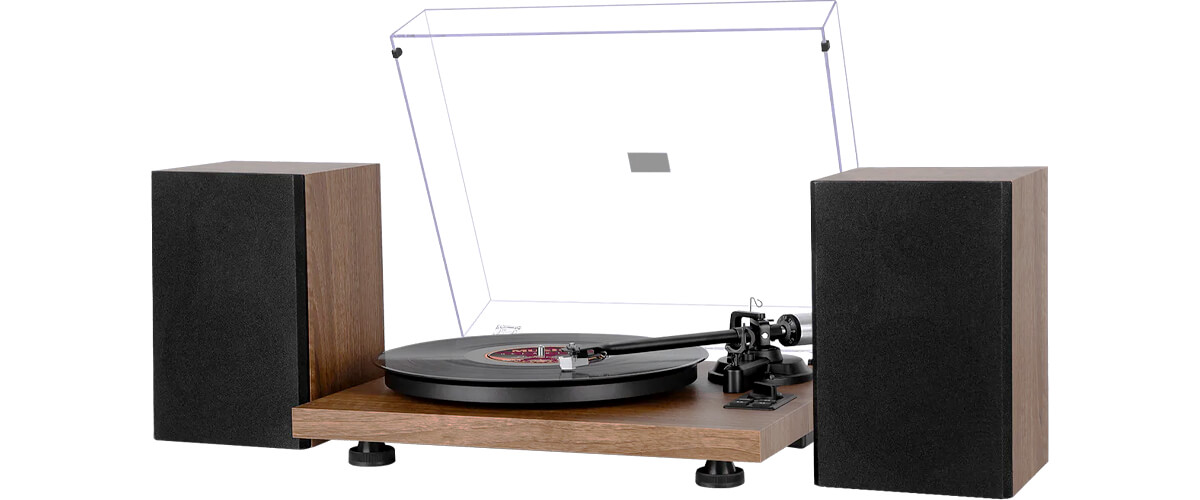 The 1byone H004 is nestled right in that sweet spot where budget meets sound ambition. Here's the kicker – while most in its price range come with built-in speakers, the H004 cheekily offers externals. For those of us who've been dabbling in vinyl without wanting to spend a fortune, this might be a pleasant surprise.
The first thing that caught my eye was the turntable's simple yet elegant design. It has a certain charm, making me believe it'd easily fit any room. Now, coming to the real deal – its performance. The inclusion of the Audio-Technica Moving Magnet cartridge was an unexpected bonus, and it genuinely contributes to a richer sound. Further enhancing its performance is the solid iron platter, combined with an adjustable counterweight, ensuring that sound reproduction remains consistent and true to the source.
Setting the table up was a bit of an adventure, I must admit. The tonearm had me scratching my head a bit, but with some patience and the detailed guide in tow, it felt rewarding once everything was in place.
Sonically, the H004 offers varied output settings, allowing you to tailor your listening sessions. While certain outputs lean towards treble, others provide a more balanced soundscape. The external speakers, a departure from the typical built-in ones in this price bracket, are commendably clear and capable of filling up a modest room. The Bluetooth functionality, facilitating seamless streaming, is a delightful modern touch. However, you should be mindful of its auto shut-off feature after periods of inactivity.
To wrap things up, the 1byone H004 establishes itself as a good turntable with speakers with its solid iron platter, adjustable counterweight, and versatile connectivity options. It offers a balanced mix of quality and affordability, making it a top choice for newcomers to the vinyl scene.
Key specs
Drive type: belt.
Operation type: manual.
Speeds, RPM: 33 1/3, 45.
Phono Pre-Amp: yes.
Speakers: yes.
Speakers power: 36W.
Bluetooth: yes.
USB: yes.
AUX: yes.
Pros
Solid build and neat, simplistic design.
Versatile output settings, including Phono, Line, and USB.
The sound output is satisfactory and offers multiple settings for varying audio preferences.
Bluetooth functionality allows for streaming from mobile devices.
The ability to close the dust cover while playing records.
Cons
Assembling the tonearm, especially the anti-skate weight, is a bit tricky.
A small hum is noticed in certain output settings.
FAQ
Can I connect additional external speakers to a record player with built-in speakers?
Yes, many record players with built-in speakers also offer output ports, allowing you to
connect additional external speakers
. However, always check the model's specifications to ensure compatibility and to determine the type of connection required.
How does the sound quality of built-in speakers compare to separate ones?
Due to their compact nature, built-in speakers often can't match the audio depth or richness of dedicated external speakers. Separate speakers typically deliver a broader soundstage, clearer highs, and deeper bass. However, modern integrated speakers have significantly improved, offering adequate sound for casual listening.
Is there a significant price difference between turntables with built-in speakers and those with separate speakers?
Turntables with built-in speakers tend to be more budget-friendly, catering primarily to casual listeners and beginners seeking convenience. On the other hand, setups with separate speakers, especially quality ones, demand a higher investment due to the superior components and the added cost of the speakers themselves. However, this price jump often translates to enhanced audio quality and customization options.
We are supported by our audience. When you purchase through links on our site, we may earn an affiliate commission at no extra cost to you.
Our newsletter
* We will never send you spam or share your email with third parties