If you've been searching for a high-performance yet affordable turntable, you couldn't have missed the Fluance brand. This Canadian-based company produces high-fidelity audio systems and turntables that revolutionize home audio. The best Fluance turntables rely on superior components and qualified audio engineering to let enthusiasts recreate music the way the author intended it to sound.
Deepak Jain established the company in 1999 in Niagara Falls, Canada. This is the story of a man with a passion for music who decided to create something innovative because he lacked the impressions when playing his record collection at home. Deep experience in upgrading speaker systems at home and a desire to make quality audio playback available to everyone encouraged Deepak to establish his brand of high-performance music systems.
So, in this Fluance turntable review, we will determine which record layer model is more suitable for your needs.
Our pick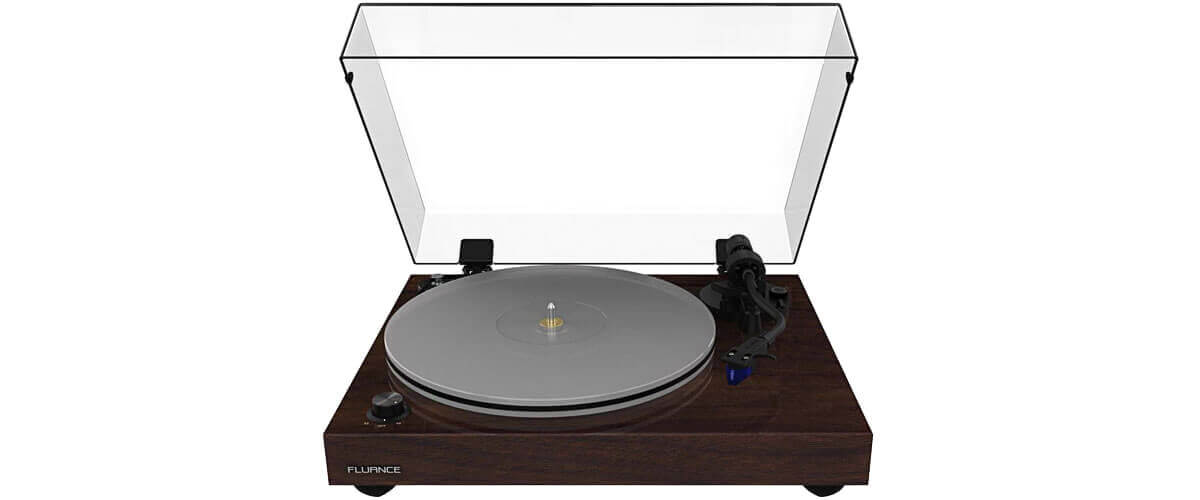 Fluance RT85
Best Fluance turntable
Fluance has successfully revolutionized home audio. Utilizing only superior components and expert audio engineering.
Read the full review
.
Fluance turntables comparison table
Name
Drive type
Operation type
Speeds
Phono Pre-Amp
Bluetooth
Review
Fluance RT85

best overall

belt
manual
33 1/3, 45 RPM
yes
no
Review
Fluance RT81

budget choice

belt
manual
33 1/3, 45 RPM
yes
no
Review
Fluance RT82
belt
manual
33 1/3, 45 RPM
no
no
Review
Fluance RT83
belt
manual
33 1/3, 45, 78 RPM
no
no
Review
Are Fluance turntables good?
Fluance is a famous brand that has established its solid reputation by offering high-fidelity turntables for every taste and budget. So, whether you look for an entry-level or higher-end record player, you will find a decent product among the Fluance products.
This brand has won plenty of attention from music enthusiasts due to the perfect mix of quality and affordability. It uses premium quality components and leverages advanced technologies without setting sky-high prices for its products. So, if you are not ready to invest much money into a home turntable, you should start your search with the Fluance assortment.
Also, Fluance vinyl players are good for starters. The company has a wide selection of entry-level turntables that are easy to use and maintain. In addition, you will easily find semi-automatic record players that you can set to work out of the box. However, you will still be able to enjoy the romantic nature of this device by handling the tonearm up and down when starting or stopping the record reproduction.
Moreover, you can find Fluance turntables in local stores. So, if you hesitate about purchasing a specific model online, you can check how it performs and sounds.
Best Fluance turntable reviews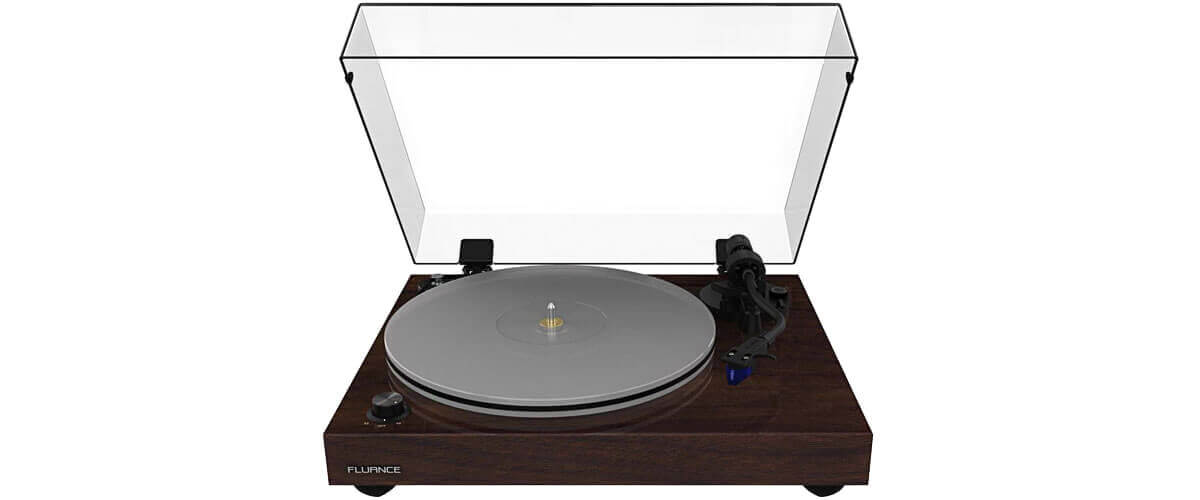 If you seek the highest performance in the Fluance product line, the RT85 model will come to your taste. This product refers to the Reference series, delivering the utmost functionality and accurate vinyl reproduction.
The MDF cabinet with a high-gloss walnut wood veneer finish looks amazing. The tinted dust cover is also included to keep dust away from the device when it is not in use.
Similar to RT84, this model has the Ortofon 2M Blue diamond cartridge with a 2M Blue stylus, which is known for its accurate groove tracking, dynamics, and resolution. However, RT85 has a heavier acrylic platter, which adds to vibration reduction and fewer distortions. In addition, the cartridge is combined with a curved tonearm, and a plinth mounted on top of rubber spring-loaded feet to ensure a pure sound.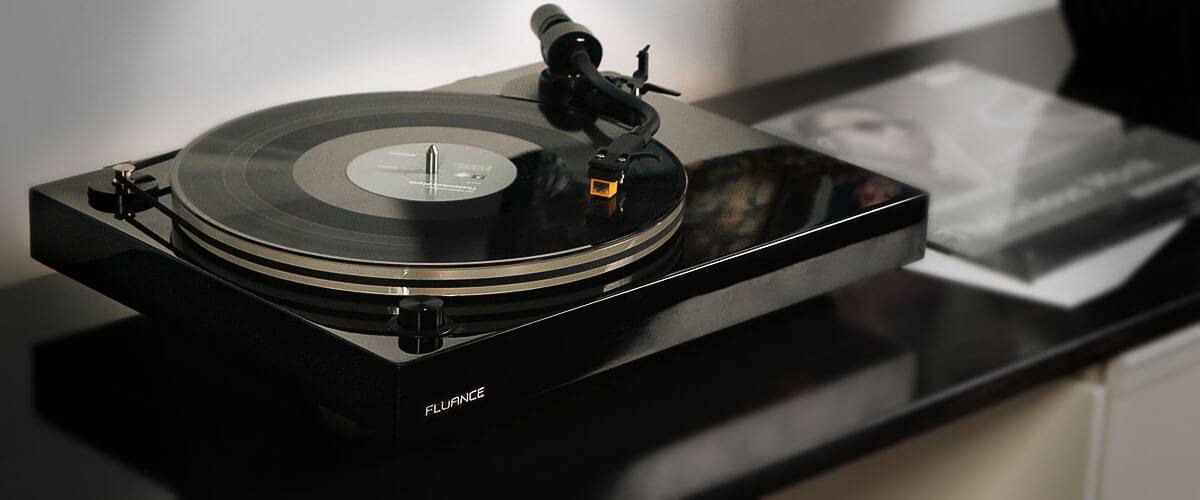 This turntable doesn't have a built-in preamp. On the one hand, this gives you the space for an upgrade. But on the other hand, this may involve extra expenditures.
This semi-automatic turntable with a belt-drive motor supports two speeds: 33 1/3 RPM and 45 RPM. As the motor is isolated, you will experience a pure sound that is not affected by vibrations. Unfortunately, it doesn't support a wireless connection, but you can use an RCA connection to attach this device to Bluetooth or Wi-Fi transmitter and reproduce audio wirelessly.
When it comes to performance, this turntable is dead silent. I noticed no resonance at all, even when playing with speakers. Also, RT85 produces much sound detail. It delivers a spacious sound stage with a fantastic reproduction of vocals and instruments. Considering this, RT85 is the best Fluance turntable in the line.
Key specs
Drive type: belt.
Operation type: manual.
Speeds, RPM: 33 1/3, 45.
Phono Pre-Amp: no.
Bluetooth: no.
USB: no.
Aux input: no.
Pros
Features an Ortofon 2M Blue diamond cartridge that produces a dynamic and rich sound.
A heavy acrylic platter along with an isolated belt-drive motor reduces vibrations.
Has an RCA connector to let you get hooked to Wi-Fi or Bluetooth transmitters.
The sound is crisp with a lot of detail.
Cons
You will need to invest in a high-quality preamp.
Fluance RT81 – budget choice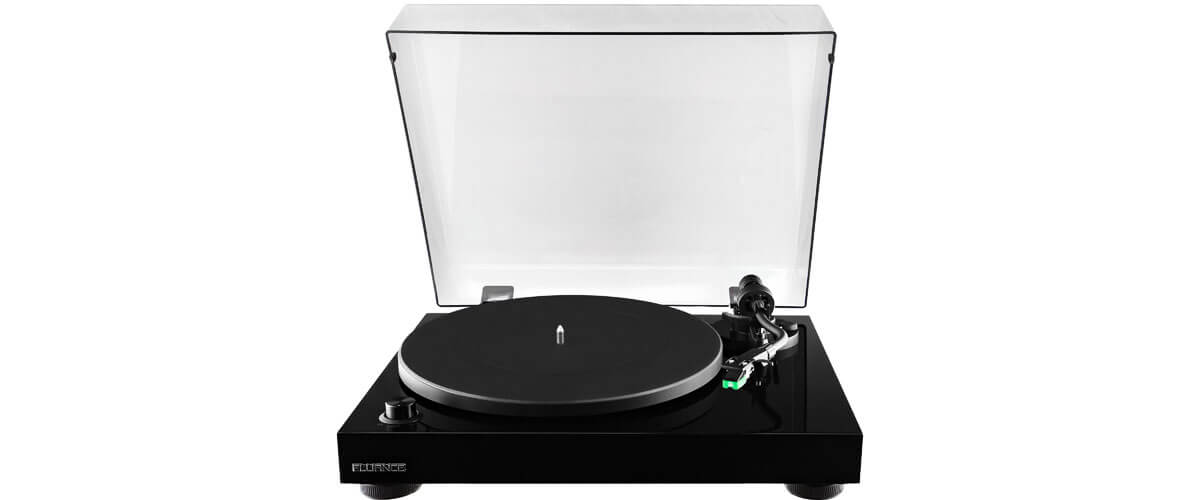 This semi-automatic model is simple enough but does a great job with its basic functions. The Fluance RT81 is ideal for beginners, so let's take a closer look at it.
While RT85 comes with an Ortofon 2M Blue diamond cartridge, this product is equipped with an Audio Technica AT95 cartridge that holds the AT95 stylus and offers outstanding clarity and detail. An S-shaped, static-balanced tonearm holds the cartridge to ensure the stylus is rested deep in your record's groove for accurate playback. However, I wish I had more flexibility in adjusting the tonearm height to upgrade a cartridge.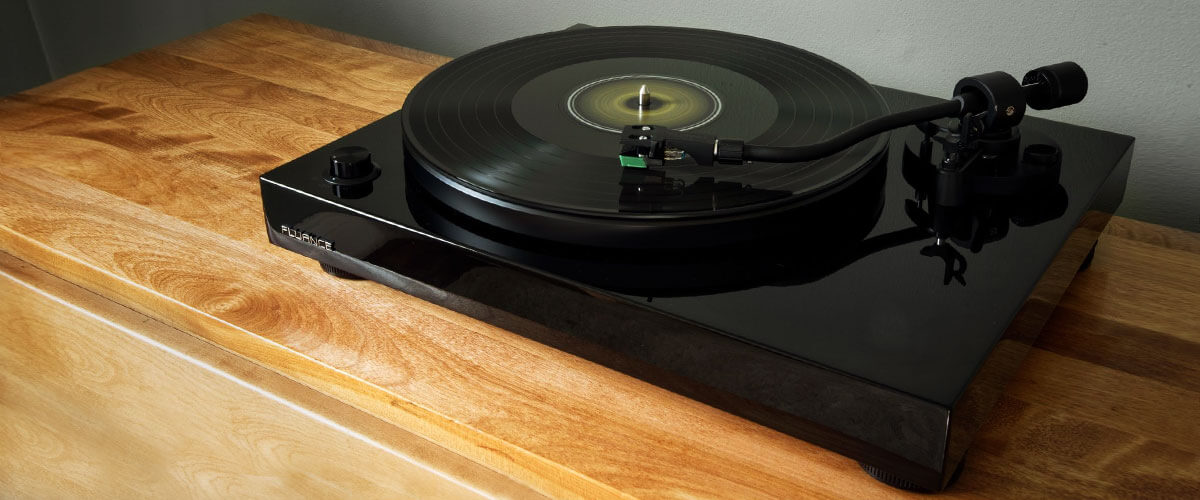 The belt-drive motor system and three-point rubber isolation do a good job of reducing vibrations. The plinth is heavy, so distortions are minimal. I am sure that the built-in preamp may satisfy the needs of people exploring the world of vinyl. However, you will find it slushy in lows if you are a more sophisticated listener.
The RT81 supports two reproduction speeds: 33 1/3 RPM and 45 RPM. The rubber slip mat and sound isolation feet contribute to distortion absorption. This model doesn't have a Bluetooth feature, but you can use an RCA output to pair it with the wireless transmitter.
Overall, the RT81 delivers a fleshy sound. I am not totally satisfied with the ground and minor interference, which is still noticeable regardless of the numerous features meant to fight it. Despite this, I believe this budget Fluance turntable offers the optimal balance of quality and price.
Key specs
Drive type: belt.
Operation type: manual.
Speeds, RPM: 33 1/3, 45.
Phono Pre-Amp: yes.
Bluetooth: no.
USB: no.
Aux input: no.
Pros
Comes with a time-proven Audio Technica AT95 cartridge and stylus.
A belt-drive motor with three-point rubber isolation for the sound purity.
A semi-automatic mechanism for ease of use.
Cons
Minor interference is present.
A built-in preamp may not satisfy demanding audiophiles.
Fluance RT82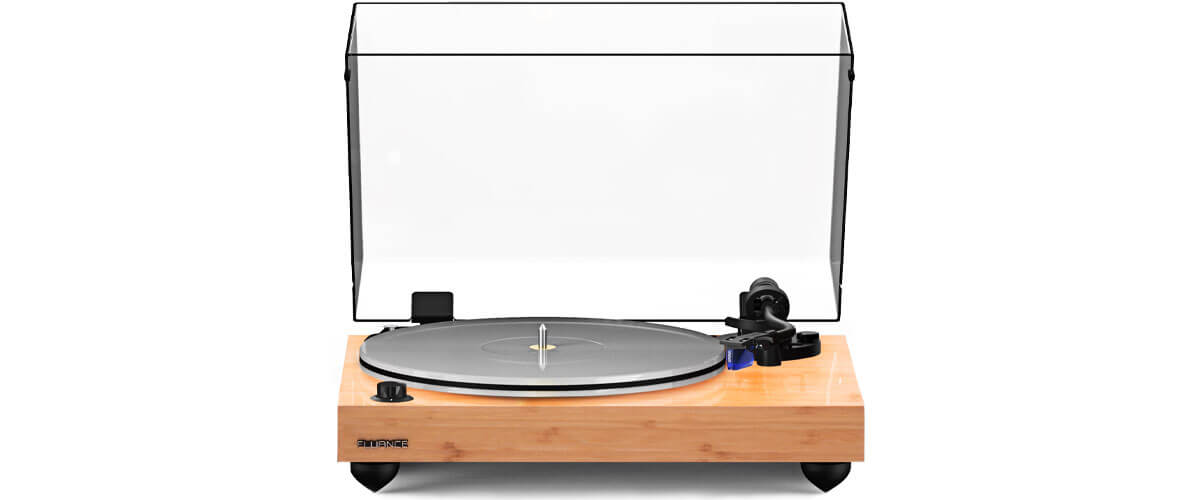 Meet RT82, the next model in my review. It features key critical upgrades compared to RT81, such as a three-foot design and an isolated motor, which adds stability and reduces distortions. Also, note that there is no preamplifier in this model. Besides, the AT95 cartridge is replaced with Ortofon OM 10 elliptical diamond-tipped cartridge for improved performance.
This is a semi-automatic turntable, meaning you must manipulate the tonearm to extract the sound from vinyl. Unfortunately, it won't return to its resting stand once the side is over, but this is inherent to all Fluance turntables.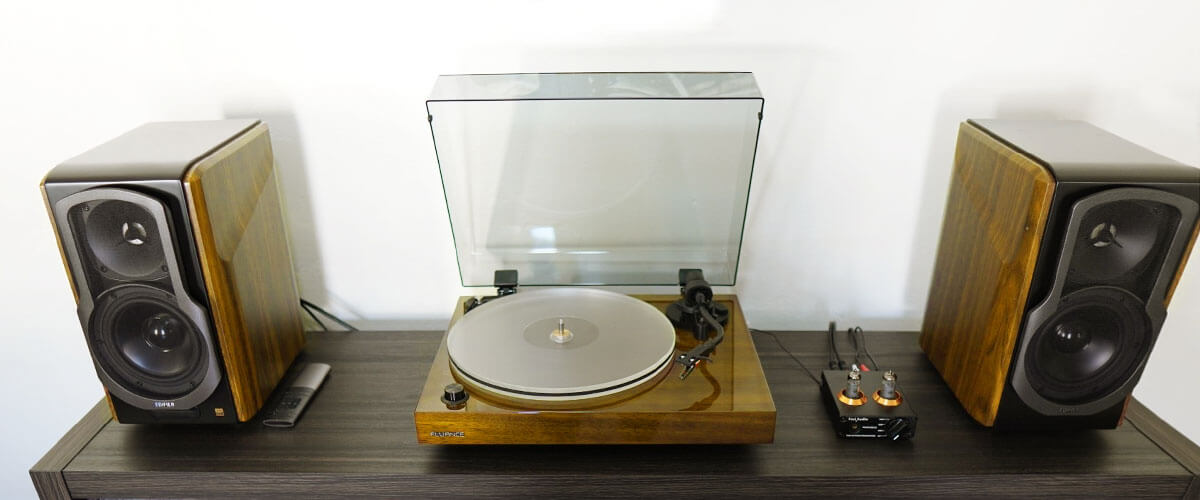 I want to admit that RT82 produces a purer sound compared to RT81. The music doesn't sound scratchy, and there are no skips or flutters. This is achievable thanks to the S-type tonearm that precisely tracks the grooves and aluminum platter. In addition, the Fluance RT82 supports two speeds (33 1/3 rpm and 45 rpm) and comes with a motor speed control so you can enjoy tracks at a precise pace.
However, I am not satisfied with the bass. It is not as deep as in RT85, but considering the price difference, it's pretty understandable.
The Fluance RT82 record player is a decent device for a reasonable price. It is easy to use, produces good enough sound, and is great for beginner vinyl fans.
Key specs
Drive type: belt.
Operation type: manual.
Speeds, RPM: 33 1/3, 45.
Phono Pre-Amp: no.
Bluetooth: no.
USB: no.
Aux input: no.
Pros
Equipped with an Ortofon OM 10 elliptical diamond tipped cartridge.
No skips, wow, or flutter – the sound is not scratchy.
An S-shaped tonearm diligently tracks the grooves.
You can upgrade this turntable with any preamp.
Cons
The bass reproduction leaves much to be desired.
Fluance RT83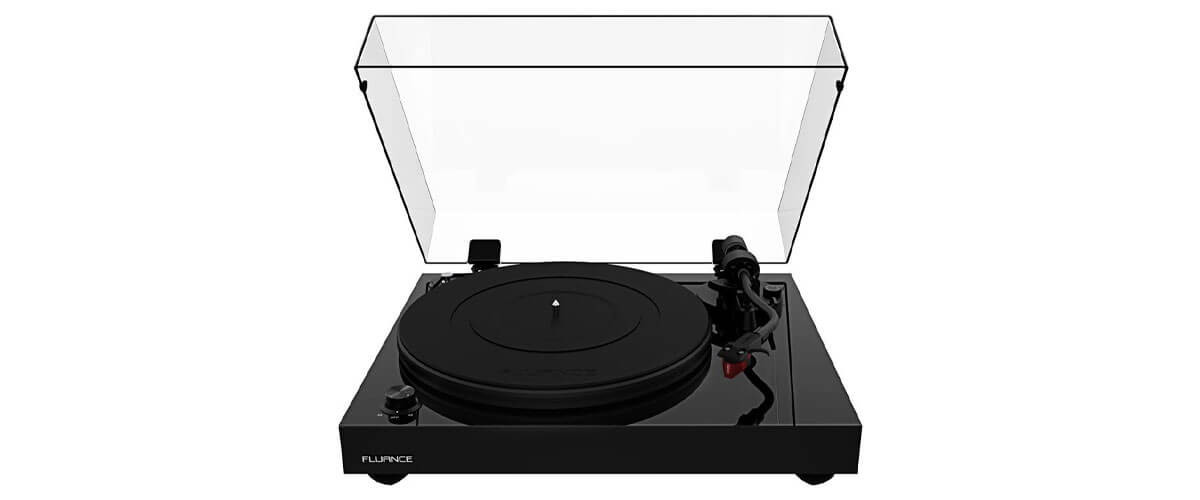 If the RT82's Ortofon OM 10 elliptical diamond-tipped cartridge doesn't meet your audio reproduction preferences, you will love the RT83. It comes with an Ortofon 2M Red cartridge known for delivering open, dynamic, and high-resolution sound. It will give your old vinyl records a new life and let you rediscover them.
As this is a semi-automatic turntable, you will still have to handle the tonearm manually. However, the motor will stop spinning when the record gets to an end. Nevertheless, I have a minor complaint about the tonearm. It is not as heavy as I wanted it to be to avoid hum. Also, it's static, so there is no way you can upgrade the cartridge.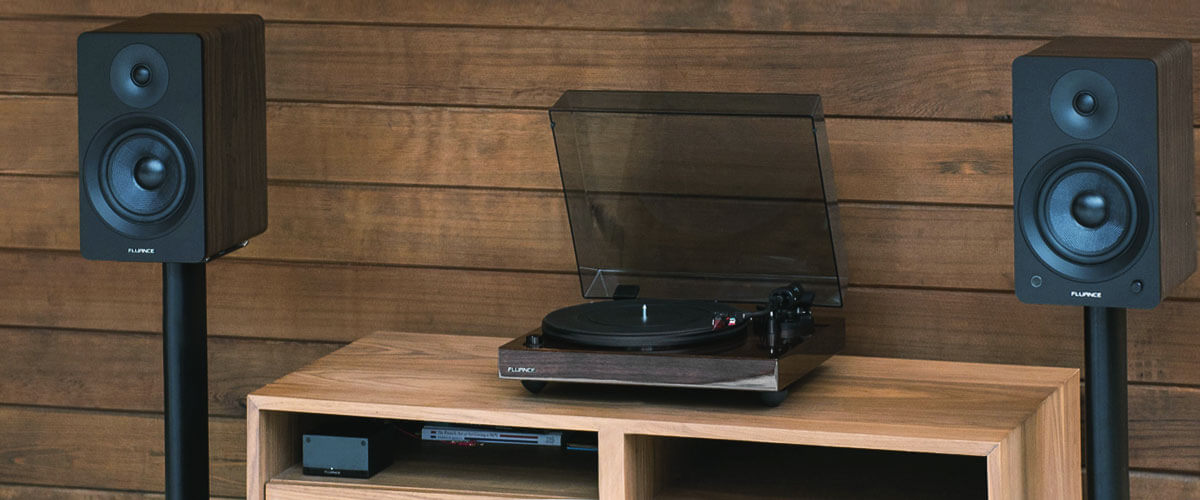 The cabinet is made of MDF material covered with a high-gloss piano finish. It looks stunning and will easily fit into any interior. There is also a dust cover to keep dust away from delicate turntable parts.
RT83 is a belt-drive turntable featuring under-mounted 7-point silicone isolation with a decoupling isolation ring. So, it is very unlikely that you will hear distortions during the playback. It also has a speed controller to ensure accurate reproduction of 33 1/3 RPM and 45 RPM records.
If your goal is to immerse yourself in the warm sound, RT83 by Fluance will give you what you want. Its dynamic cartridge will reveal new background sounds that will show the true beauty of vinyl.
Key specs
Drive type: belt.
Operation type: manual.
Speeds, RPM: 33 1/3, 45.
Phono Pre-Amp: no.
Bluetooth: no.
USB: no.
Aux input: no.
Pros
A semi-automatic mechanism lets you control the playing process.
The Ortofon 2M Red cartridge delivers a dynamic and open sound.
A classic design that will fit any interior.
A belt-drive motor with isolation to reduce vibrations.
Cons
The tonearm is not good enough for the Ortofon 2M Red cartridge.
Fluance RT84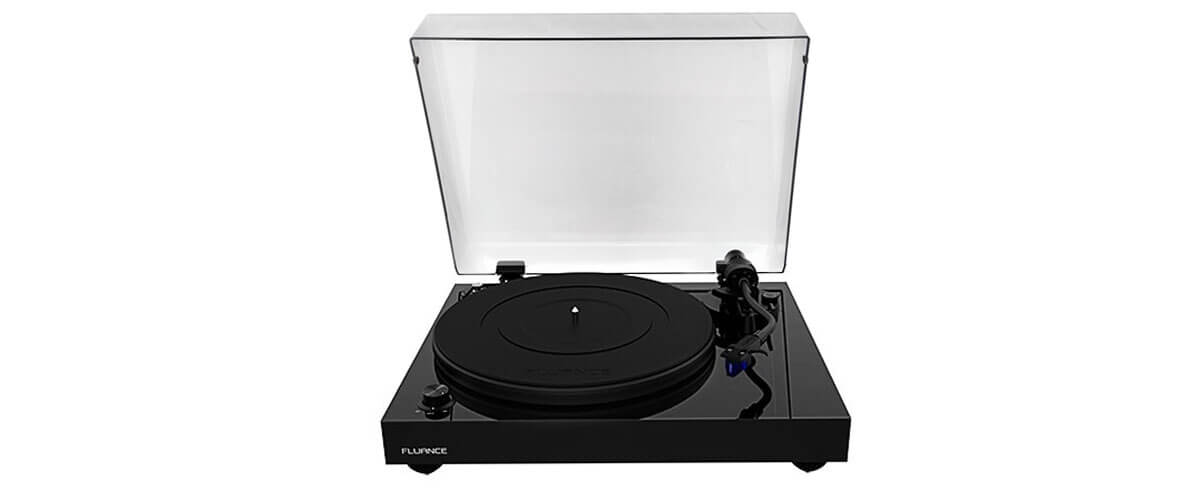 When sonic accuracy matters, RT84 becomes a perfect choice for audiophiles sensitive to vinyl reproduction. Because it has a more advanced cartridge than in RT83, you will unlock a high level of music reproduction. The Ortofon 2M Blue cartridge with a nude elliptical diamond stylus is light, so it tracks the groove more accurately, resulting in high-frequency transient reproduction.
RT84 boasts an MDF cabinet with a tinted dust cover. Moreover, the cabinet has a high-gloss finish, which adds more style and elegance to this item. On top of that, adjustable resonance damping feet ensure great isolation from unwanted vibrations. Finally, a highly precise metal platter and a belt-drive motor with 7-point silicone isolation significantly improve the level of wow, flutter, or vibrations.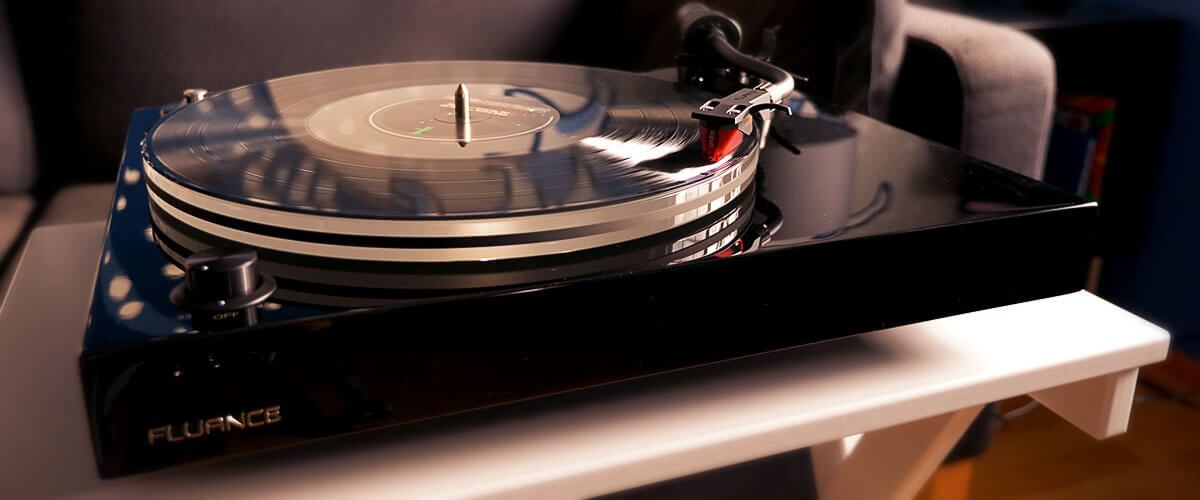 The static-balance, S-shaped tonearm may not give you the range of adjustment you want, but it does its job pretty well. Moreover, there is an anti-skating adjustment to avoid skipping.
Just like many high-end turntables, this one doesn't include a preamp. So, if you are not ready to invest in this audio system component, you'd better consider other models that already come with one. Also, it is a semi-automatic record player, which means you will still need to handle the tonearm when you want to start or stop the device.
RT84 is a good Fluance record player that delivers above-average performance. The platter is dead-silent and smooth when spinning. I was amazed by the wide frequency reproduction, especially fast high-frequency transients.
Key specs
Drive type: belt.
Operation type: manual.
Speeds, RPM: 33 1/3, 45.
Phono Pre-Amp: no.
Bluetooth: no.
USB: no.
Aux input: no.
Pros
Adjustable damping feet with a metal platter ensure the distortion-free operation.
An Ortofon 2M Blue cartridge with a nude elliptical diamond stylus precisely tracks the grooves.
A belt-drive motor with 7-point isolation delivers dead-silent operation.
Responsive sound with a wide frequency reproduction range.
Cons
You will need to buy a preamp.
What Fluance turntable did we test?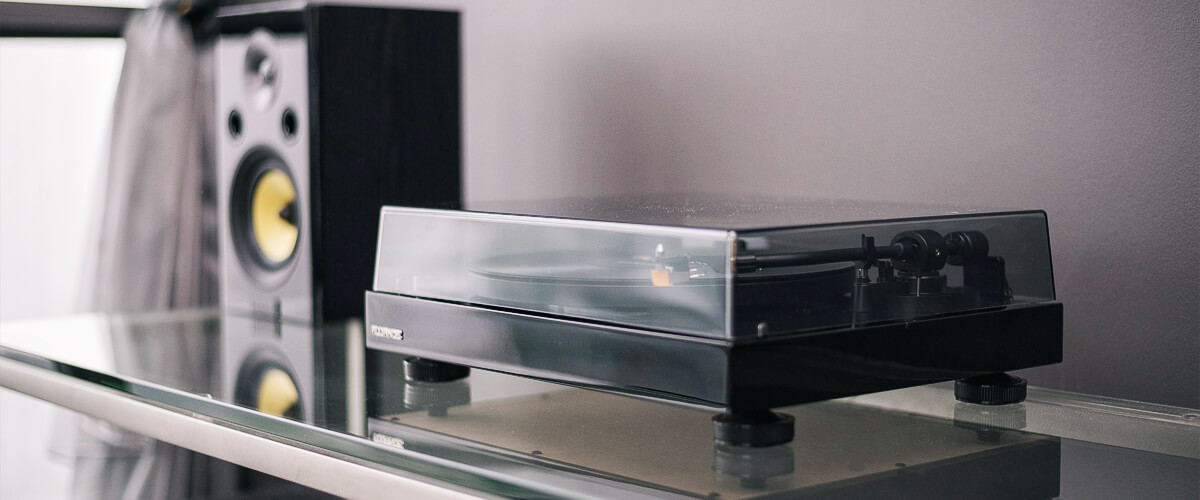 I studied quite a few different devices to make an objective list of the 5 most interesting Fluence vinyl turntables in 2023. I want to note that besides the models presented in my review, I analyzed Fluance RT80 quite deeply. And I would like to share my impressions with you.
The Fluance RT80 is a budget-friendly turntable that is easy to set up and use. It has a pretty good sound that works well for any type of music but lacks a built-in phono preamp. The RT80 has a belt-drive system, an aluminum platter, and an Audio-Technica AT91 cartridge.
Compared to other Fluance turntables, the RT80 is considered an entry-level model and doesn't have the same build quality or sound performance as more expensive models. For example, the Fluance RT81 is a step up from the RT80 and offers better sound quality and greater protection for your record collection.
The RT80 model didn't make it to my list for quite objective reasons (budget level, minimal additional features, and sound that is inferior to other models in my review). Nevertheless, it is a good option for those with a limited budget and just about to start their acquaintance with vinyl.
FAQ
Do Fluance turntables have a preamp?
Where are Fluance turntables made?
Fluance turntables are made in Canada.
Does Fluance make fully automatic turntables?
Fluance specializes in producing semi-automatic record players. While they do not have an auto-return or auto-lift feature, they do have auto-stop.
Do I need an amplifier for the Fluance turntable?
It is difficult to answer unequivocally because it depends on your preferences and how you will use a turntable.
Which is better: the external phono preamp or the built-in?
There is no definitive answer, as both have their own advantages and disadvantages.
The external phono preamp
typically has better sound quality because it is designed specifically for that purpose. In contrast, the built-in preamp is usually less expensive and takes up less space. However, the built-in preamp is more convenient because it is already included in your turntable, and you don't have to worry about buying or setting up another component. Ultimately, it comes down to personal preference.
We are supported by our audience. When you purchase through links on our site, we may earn an affiliate commission at no extra cost to you.
Our newsletter
* We will never send you spam or share your email with third parties