You want to join the world of vinyl, but you don't have the necessary experience and are not ready to invest too much in this hobby. Then you've come to the right place. My best automatic turntables review will help you choose the right model for you.
These turntables are a great fit for newcomers or anyone who enjoys a more effortless approach to music. They provide an easy-to-use interface while maintaining pretty high sound fidelity. In this article, I've carefully selected only the finest models to suit a range of budgets. Interested? Then, let's get started!
Our pick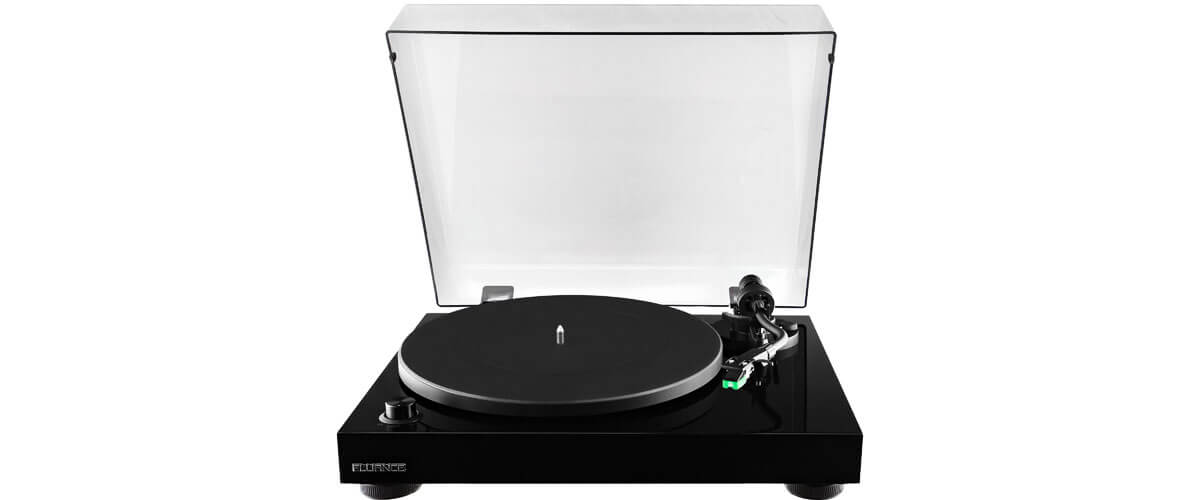 Denon DP-300F
Best automatic turntable
The DP-300F is a belt-driven, fully automatic turntable that will help you descend into your cherished collection of vinyl with a sturdy base, adjustable balance, and anti-skating controls.
Read the full review
.
Automatic turntables comparison table
Name
Drive type
Operation type
Speeds
Phono Pre-Amp
Bluetooth
Review
Denon DP-300F

best overall

belt
semi-automatic
33 1/3, 45 RPM
yes
no
Review
Pro-Ject Automat A1

also great

belt
fully automatic
33 1/3, 45 RPM
yes
no
Review
Audio-Technica AT-LP60X

budget

belt
fully automatic
33 1/3, 45 RPM
yes
yes
Review
Dual CS 429

premium pick

belt
fully-automatic
33 1/3, 45, 78 RPM
yes
yes
Review
What is an automatic turntable?
As I mentioned above, an automatic vinyl player is designed for ease and convenience. Unlike manual turntables, where you manually place and lift the needle, automatic models handle these tasks for you. At the press of a button, the tonearm precisely moves to the record's beginning and returns when the side is finished. This functionality makes it an ideal choice for those who seek a hassle-free operation.
Pros of automatic record players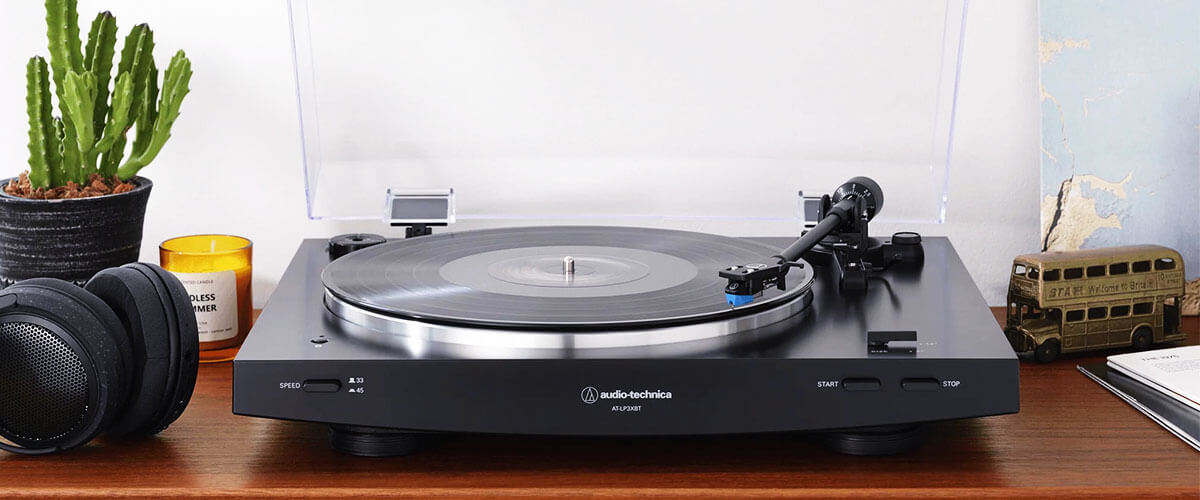 Ease of use: the most significant advantage of automatic record players is their user-friendly nature.
Reduced record wear: automatic systems are designed to precisely track the grooves of the record, reducing the risk of scratches or damage caused by human error. A turntable with an auto-stop feature prevents the stylus from continuously spinning at the end of a record, further protecting both the stylus and the vinyl.
Consistent playback quality: with pre-set tracking forces and anti-skate settings, automatic turntables maintain a consistent playback quality. This reduces the need for constant adjustments.
Convenience for multi-tasking: these players are perfect for those who like to listen to music while engaged in other activities. The automatic functions allow users to enjoy their records without constantly monitoring and adjusting the player.
Safety: automatic turntables offer a safer alternative for households with children or pets. The automated movement of the tonearm minimizes the chances of accidental needle drops or mishandling.
Cons of automatic record players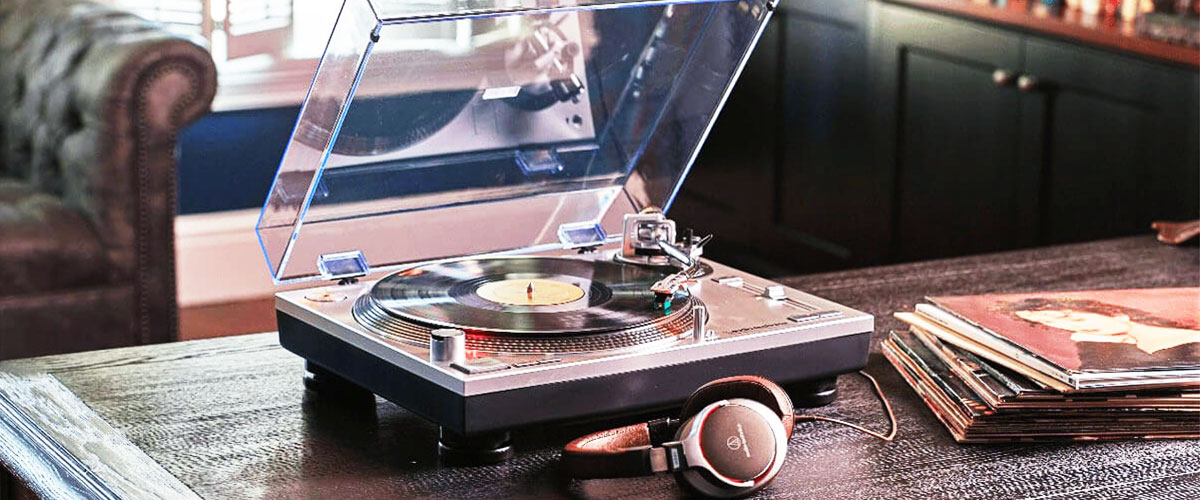 Complexity and durability: turntables with auto return often have more intricate internal mechanisms than manual ones. This complexity can sometimes lead to durability concerns, as more moving parts mean more potential points of failure.
Limited customization: audiophiles who enjoy tweaking and customizing their setup may find automatic turntables restrictive. While convenient, the pre-set adjustments for tracking force and anti-skate offer less flexibility for those who prefer a hands-on approach.
Higher cost: generally, automatic turntables are more expensive than manual ones due to their advanced mechanisms.
Potential for mechanism noise: in some models, the mechanical components of the automatic system can add unwanted noise or interference, potentially affecting the audio quality.
Best automatic turntable reviews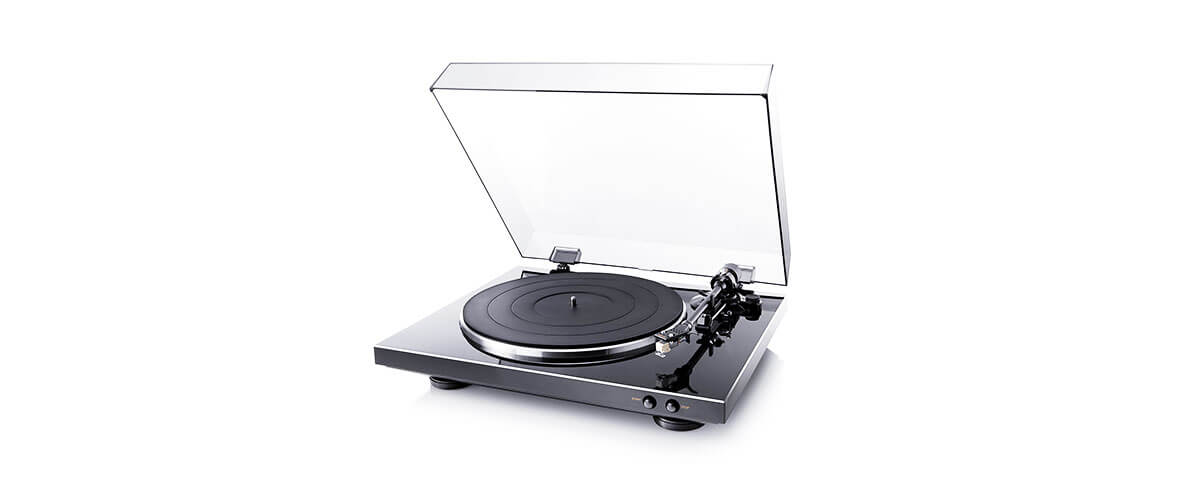 The Denon DP-300F harkens back to the classic vinyl era with its traditional design, yet it stands out in today's market. Its solid construction speaks to a time when durability was as important as performance.
During my time with this table, I appreciated the versatility of its standard mount headshell and MM Cartridge, paired with the reliable DC servo motor. This setup allowed me to smoothly switch between 33 1/3 and 45 RPM records, easily covering a wide spectrum of my vinyl collection.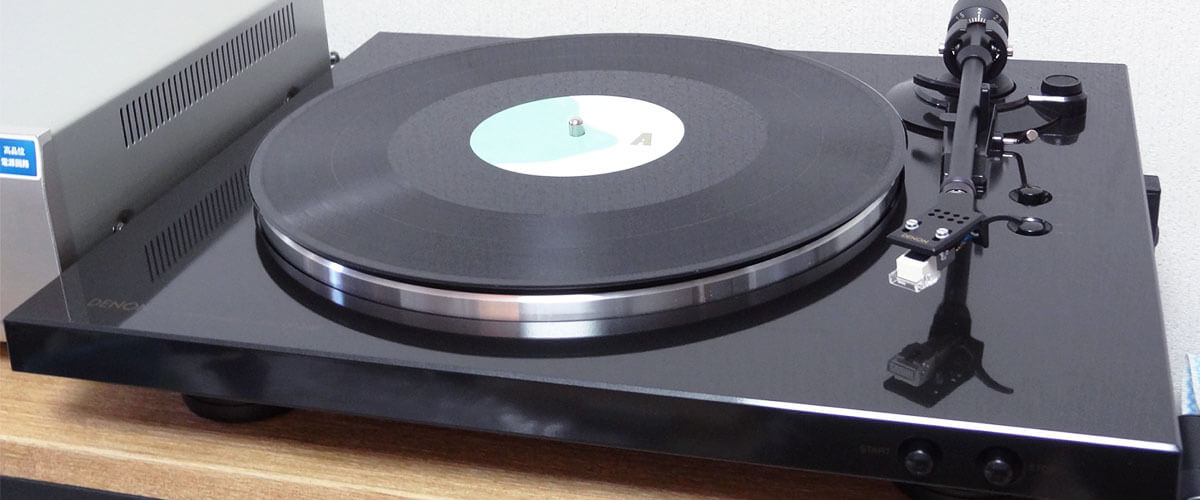 My favorite feature of the DP-300F is its heavier base construction, thoughtfully engineered to decrease vibrations. This careful design choice pays off in the listening experience – the sound is lush and detailed, with highs that sparkle and lows that resonate deeply. I also found the built-in phono equalizer a nice touch, giving the audio a noticeable boost. Moreover, setting up this turntable was a breeze, making it welcoming for newcomers.
Comparing the Denon DP-300F with the sleek Pro-Ject Automat A1 and the high-end Dual CS 429 really puts things into perspective. The Automat A1 has a modern flair, and the CS 429 is a hit as a low-end audiophile model, but the DP-300F brings it back to what matters most: a straightforward, classic vinyl experience. Even though the DP-300F and Automat A1 are similarly priced, I found the DP-300F more user-friendly. It skips the intricate adjustments needed for the Automat A1 and avoids the hefty price tag of the CS 429. Yet, it doesn't fall short of delivering a quality performance that anyone can appreciate.
To wrap things up, in my opinion, the Denon DP-300F shines as the best fully automatic turntable out there, thanks to its sturdy build, vibration-dampening base, and effortless automatic features. Its simple setup process and the handy built-in phono equalizer further seal the deal, making it an exceptional pick for vinyl lovers who value both convenience and top-notch sound quality.
Key specs
Drive type: belt.
Operation type: semi-automatic.
Speeds, RPM: 33 1/3, 45.
Phono Pre-Amp: yes.
Bluetooth: no.
USB: no.
Aux input: no.
Pros
Silent and seamless functioning.
Excellent audio with crisp highs, warm mids, and deep lows.
Straightforward to set up.
The cover can remain open or shut during play.
Cons
Sensitive to external vibrations, especially from powerful subwoofers, which may require additional stabilization.
Pro-Ject Automat A1 – also great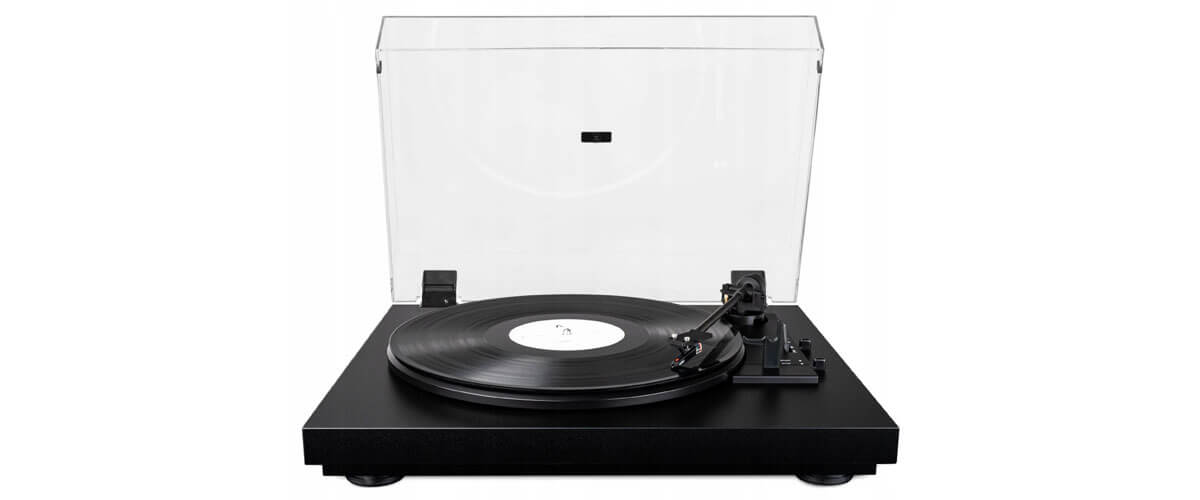 Stepping into the realm of the Pro-Ject Automat A1, I was immediately struck by its harmonious blend of aesthetic appeal and functional prowess. This belt-driven turntable feels like a crafted piece of art, with its ultra-light 8.3″ aluminum tonearm and carbon fiber headshell lending a sleek, modern touch. The inclusion of a built-in switchable Moving Magnet (MM) phono stage and gold-plated RCA output connectors speaks volumes about its commitment to high-quality sound.
The damped metal platter and resonance-damped wooden chassis are masterstrokes in reducing vibration-induced distortions, ensuring a pure and stable audio output. Playing through various genres, from the intricate layers of jazz to the energetic beats of pop, the sound clarity remained consistently high, thanks to the pre-adjusted OM10 cartridge. This cartridge, while not at the top of its class, delivers remarkable depth and detail in its audio output.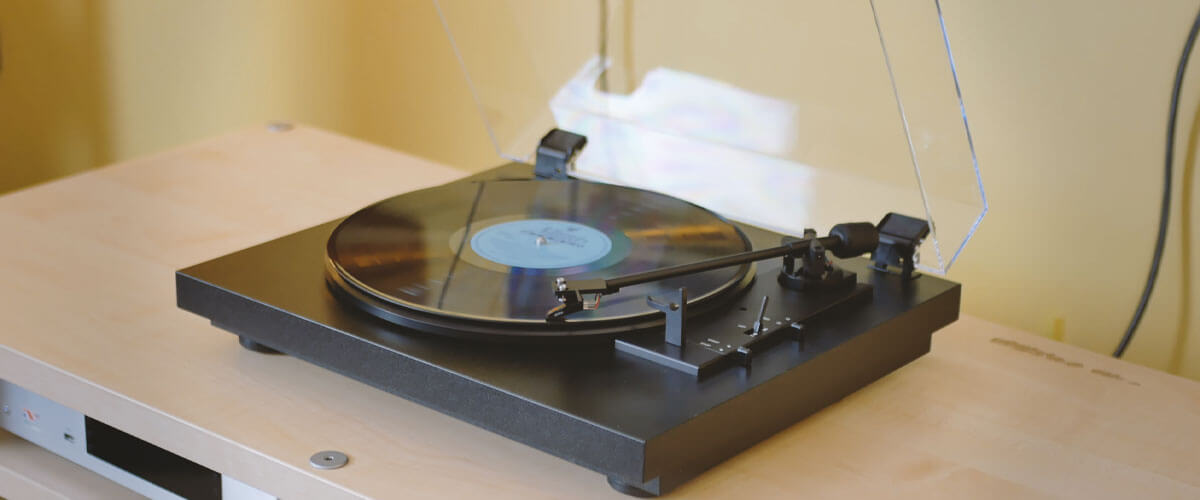 However, the player is not without its minor drawbacks. The placement of the controls next to the tonearm, rather than at the front, requires a bit of getting used to and might feel less intuitive for some users. Also, while the OM10 cartridge is quite capable, audiophiles with a keen ear might consider upgrading it for a more refined sonic experience.
In conclusion, the Pro-Ject Automat A1 offers a delightful experience for vinyl lovers, balancing simplicity and sophistication in every spin. Whether it's the first step into the world of LPs or an upgrade to an existing setup, the Automat A1 is an investment that promises to enrich your music collection.
Key specs
Drive type: belt.
Operation type: fully automatic.
Speeds, RPM: 33 1/3, 45.
Phono Pre-Amp: yes.
Bluetooth : no.
USB: no.
Aux in.: no.
Pros
Handmade with high-quality components, it offers a classic look with a modern touch.
The ability to upgrade the stylus provides flexibility for enhanced audio experiences.
Clear and clean sound across different music genres.
Cons
Inconvenient control placement.
Although straightforward, the setup might require some adjustments for optimal performance.
Audio-Technica AT-LP60X – budget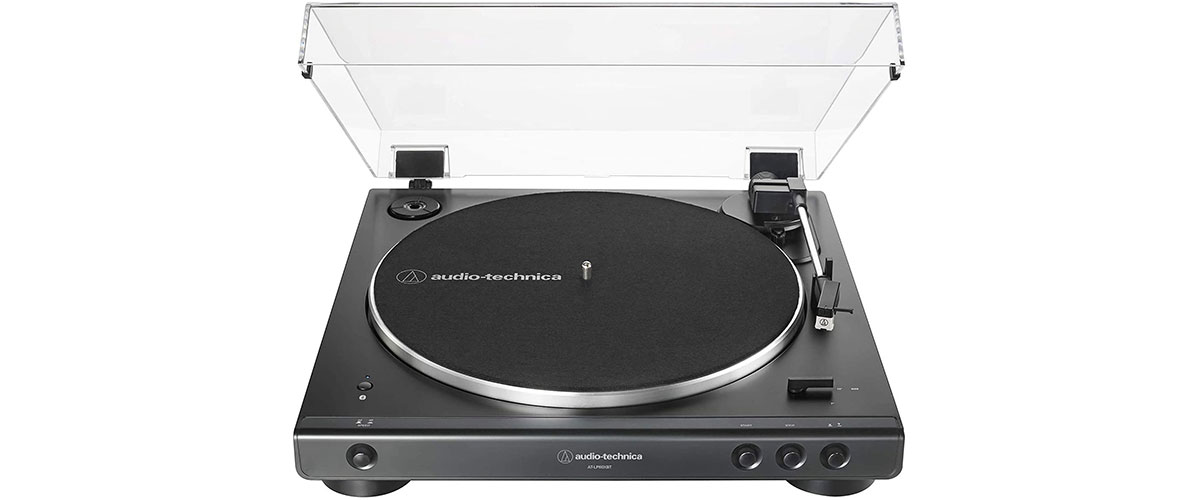 When I first laid hands on the Audio-Technica AT-LP60X, its straightforward, no-frills approach to vinyl playback was immediately apparent. This fully automatic belt-drive turntable handles 33 1/3 and 45 RPM records effortlessly, making it a good companion for almost any vinyl collection.
The AT-LP60X's practical design shines through in its anti-resonance, die-cast aluminum platter, effectively dampening unwanted vibrations. This feature contributes to a stable and clear sound output, something I found particularly noticeable in quieter, more nuanced tracks. The re-engineered tonearm and headshell are also noteworthy, offering improved tracking and reduced resonance – subtle yet significant enhancements to the overall audio experience. The clever positioning of the AC adapter outside the chassis to minimize signal noise further reflects the thoughtfulness behind its design.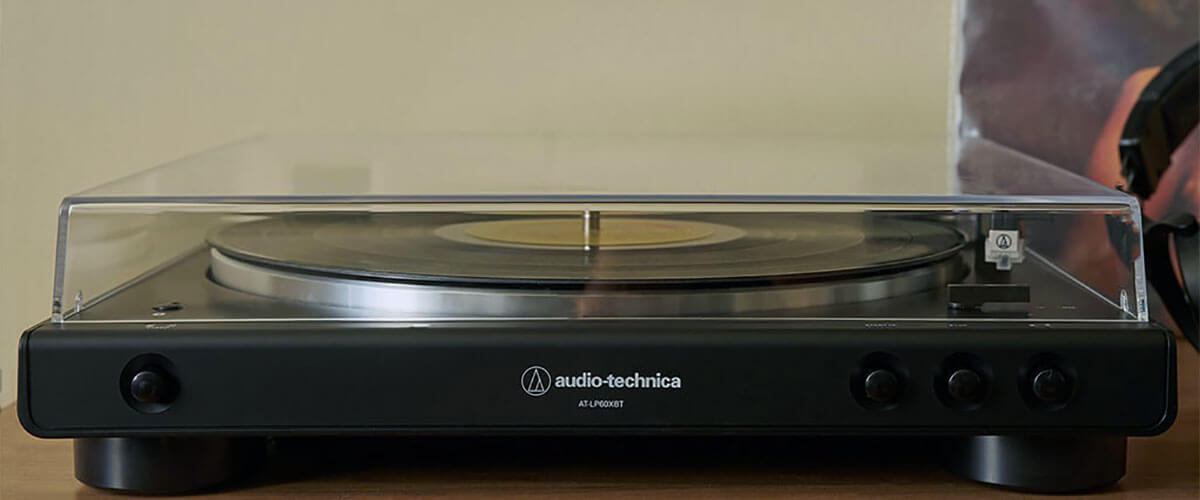 Sound-wise, while it may not rival the depth and range of higher-end models, it delivers a consistently smooth and enjoyable performance, especially impressive given its budget-friendly price.
The downsides? While sturdy, the AT-LP60X's predominantly plastic build doesn't evoke the same sense of quality as heavier, more robust turntables. Also, its focus on simplicity and automation means there's limited room for tinkering or upgrades – something to consider for those who enjoy customizing their audio setup.
In essence, the Audio-Technica AT-LP60X offers a solid, no-nonsense vinyl listening experience at a price point that's hard to beat, making it particularly appealing to those new to vinyl or seeking a simple, reliable automatic record player.
Key specs
Drive type: belt.
Operation type: fully automatic.
Speeds, RPM: 33 1/3, 45.
Phono Pre-Amp: yes.
Bluetooth: yes.
USB: no.
Aux input: no.
Pros
User-friendly design – great for beginners.
Setup simplicity.
The removable hinged dust cover can be closed during play.
Great price/quality ratio.
Cons
The construction may feel cheap to some users due to the use of plastic.
Limited upgrade potential because of its basic nature.
Dual CS 429 – premium pick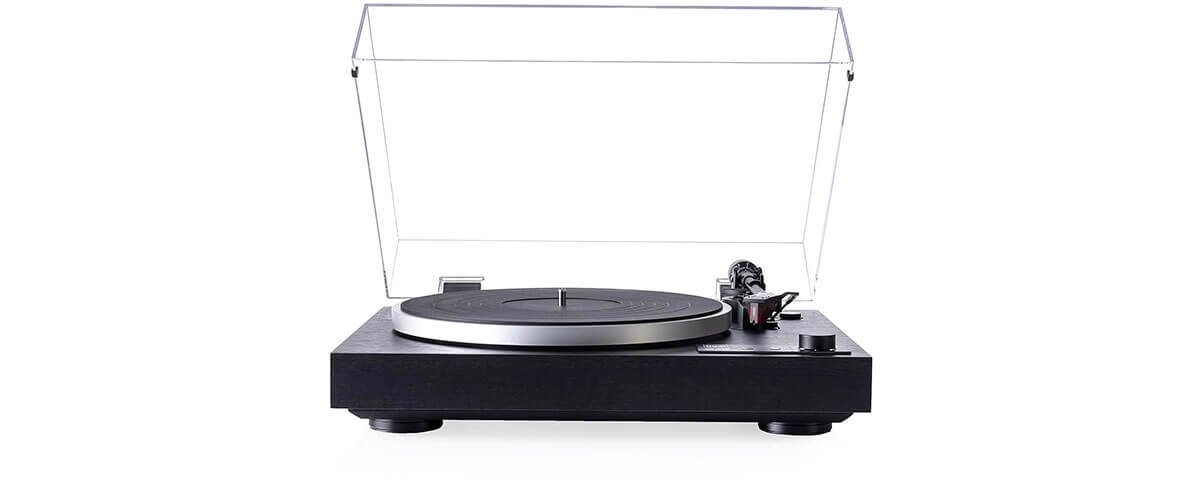 I immediately noticed its robust build when I handled the Dual CS 429 for the first time. With its solid aluminum construction and ball-bearing-supported tonearm, the turntable leans towards a higher-end market. It's a unit that feels built to last, an important aspect for any serious vinyl enthusiast.
The vibration absorption of the CS 429 is particularly noteworthy. Its solid MDF plinth, equipped with an internal vibration absorber, effectively shields the playback from external disturbances. This feature significantly improves the purity of the audio output. Similarly, the die-cast aluminum platter, anchored by a heavy rubber mat, ensures steady record play, a must-have for consistent sound quality.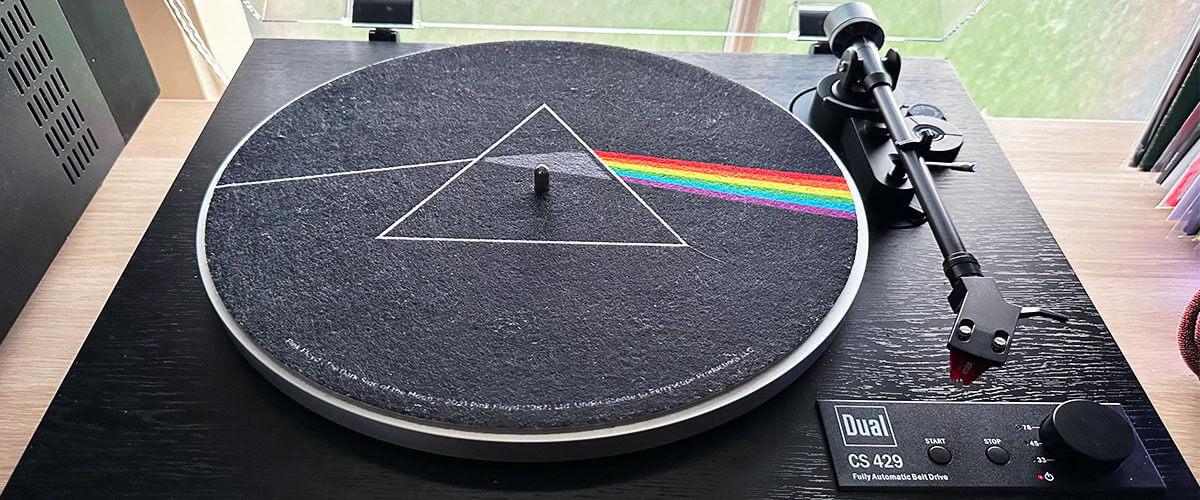 In my experience, the automatic features of the CS 429 were both a convenience and a boon to record longevity. The tonearm's automated movements, precise and gentle, take away the hassle of manual handling without risking damage to the vinyl. The sound quality, boosted by the Ortofon 2M Red cartridge, was excellent. The CS 429 delivers a balanced and dynamic audio experience, though I noticed occasional fuzziness in the higher frequencies, which could be due to cartridge alignment or external factors.
For beginners, the CS 429 might seem a bit daunting. Its advanced setup and sophisticated features are definitely geared more toward audiophiles or those with a good understanding of turntable mechanics. This is the reason why this beauty doesn't top my list.
In conclusion, the Dual CS 429 stands out as the best automatic turntable in terms of its robust build and great sound fidelity. Its key features, like the solid MDF plinth with internal vibration absorber, precise automatic tonearm, and Ortofon 2M Red cartridge, make it a top choice for audiophiles seeking a blend of durability, precision, and decent audio quality – all at a reasonable price.
Key specs
Drive type: belt.
Operation type: fully automatic.
Speeds, RPM: 33 1/3, 45, 78.
Phono Pre-Amp: yes.
Bluetooth: yes.
USB: no.
Aux input: no.
Pros
Robust and solid construction.
Lively and immersive sound experience across various music genres.
The robust Ortofon 2M Red cartridge.
Straightforward setup process.
Cons
There is a slight fuzziness at high frequencies, possibly due to cartridge weight adjustment or dust.
We are supported by our audience. When you purchase through links on our site, we may earn an affiliate commission at no extra cost to you.
Our newsletter
* We will never send you spam or share your email with third parties