Audio-Technica AT-LP60XBT is an amazing beginner turntable with fully automatic operation. In this Audio-Technica AT-LP60XBT review, I will try to shed light on the main characteristics of the product as well as the quality of sound of this record player.
Design and materials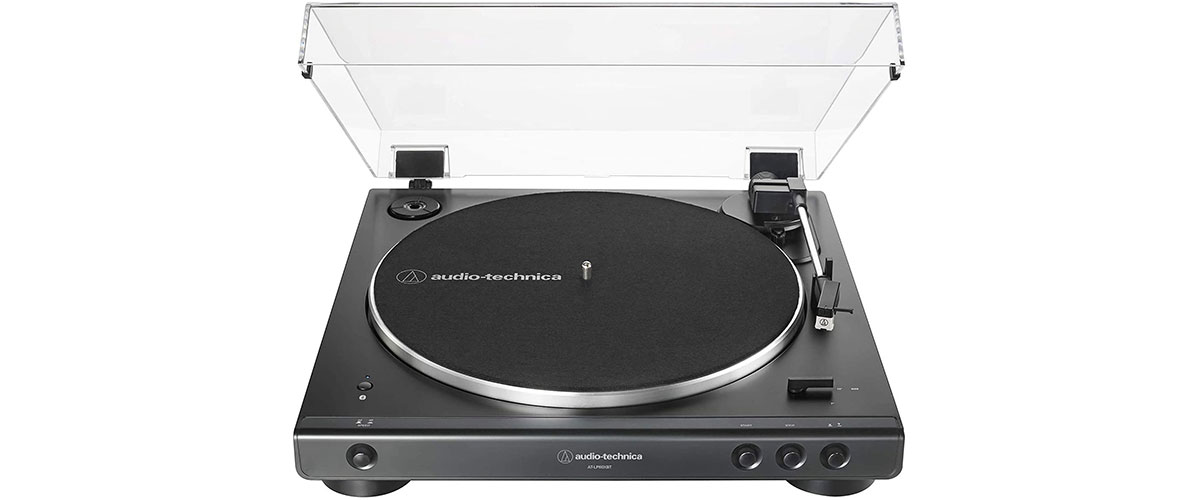 Audio-Technica AT-LP60XBT is a Bluetooth record player produced in a classical design. The product is made of thin plastic that makes the deck especially light, with the total weight of a turntable being only 8 pounds, which makes the item transportable. Owing to the automatic system, the record player is easy to use.
The tonearm is extremely simple, with a very light shortened aluminum rod suspended on two axes in a swivel base. The classic diamond stylus is replaceable, with a conical sharpening having a radius of 600 microns; the cantilever is made of ABC plastic reinforced with carbon fiber. The plinth is mat black with a shiny anti-resonance die-cast aluminum platter that makes it look expensive.
The item comes with a detachable RCA output cable (3.5 mm male to dual RCA male), 45 RPM adapter, and removable hinged dust cover.
Features and specs
The record player comes with an ATN3600L stylus and an Integral Dual Moving Magnet phono cartridge. The phono stage is optimized in accordance with the stylus; the signal from it is fed to the digital section, which ends with a new Bluetooth module. The latter complies with modern 5.0 specifications and provides transmission using the aptX codec. The Bluetooth wireless technology allows connecting to cordless headphones or a cordless speaker. At the same time, a wired connection to powered speakers is also an option using a dual RCA output cable.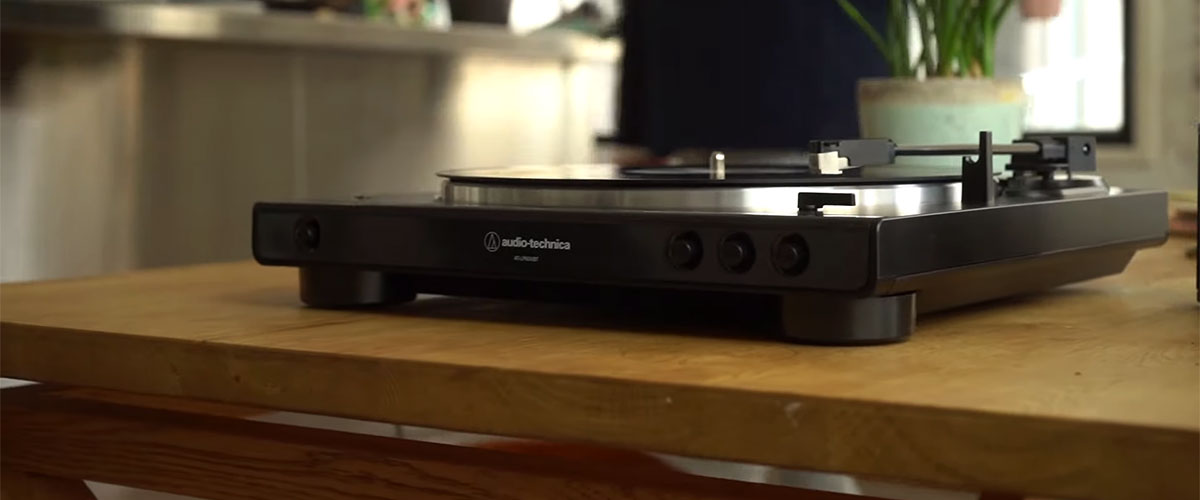 A miniature low-noise DC servo-controlled motor and the main axle with a bearing are fixed in a molded plastic case. These two units are connected by a belt and a gear pusher mechanism, which brings the tonearm to the introductory track of the record and activates the micro lift.
This record player has two speeds 33-1/3 and 45 RPM. In addition, the turntable comes with a built-in switchable phono pre-amplifier for phono- or line-level output.
How does it sound
When it comes to the quality of sound, you can notice light "plastic" resonances and subtle low "metallic" shades that are mixed into the original sound. At the same time, you will not discover any signs of sound defects like noticeable distortions in any part of the spectrum, obvious audio frequency response deviations in the middle range, or jammed bass. Indeed, the sound is smooth, neat, textured, and even has pleasant rhythmical dynamics. In short, the bass is impulsive, the mid has a rich background of harmonics, and the top has slight silicon shades. When you use Bluetooth headphones, the sound is even purer.
Key specs
Drive type: belt.
Operation type: fully automatic.
Speeds, RPM: 33 1/3, 45.
Phono Pre-Amp: yes.
Bluetooth: yes.
USB: no.
AUX: no.
Pros
Fully automatic operation with two speeds.
Comes with supplied accessories.
Wireless connection to speakers.
Cons
Made of cheap plastic.
The sound has slight metallic shades.
We are supported by our audience. When you purchase through links on our site, we may earn an affiliate commission at no extra cost to you.
Our newsletter
* We will never send you spam or share your email with third parties