Have you embarked on searching for the best vibration speaker to enhance the listening experience from your smartphone or another gadget? Then my review will help you decide and make the optimal choice for you.
Vibration speakers, also known as vibration transducers, turn any resonant surface into a speaker. This sounds odd, but there is a scientific explanation for this phenomenon. This type of speaker creates wide frequency vibrations duplicating the sound waves through the resonating surface. So, as you place the speaker against the window, wall, or table, they will send out the sound, enabling the listeners to enjoy the immersive playback.
As you see, this device can be a great tool in your household or even be used for commercial purposes. Nevertheless, picking the quality one can be tricky. To help you choose the vibration speaker the smart and easy way, I have compiled a list of top devices and made thorough vibration speaker reviews.
Our pick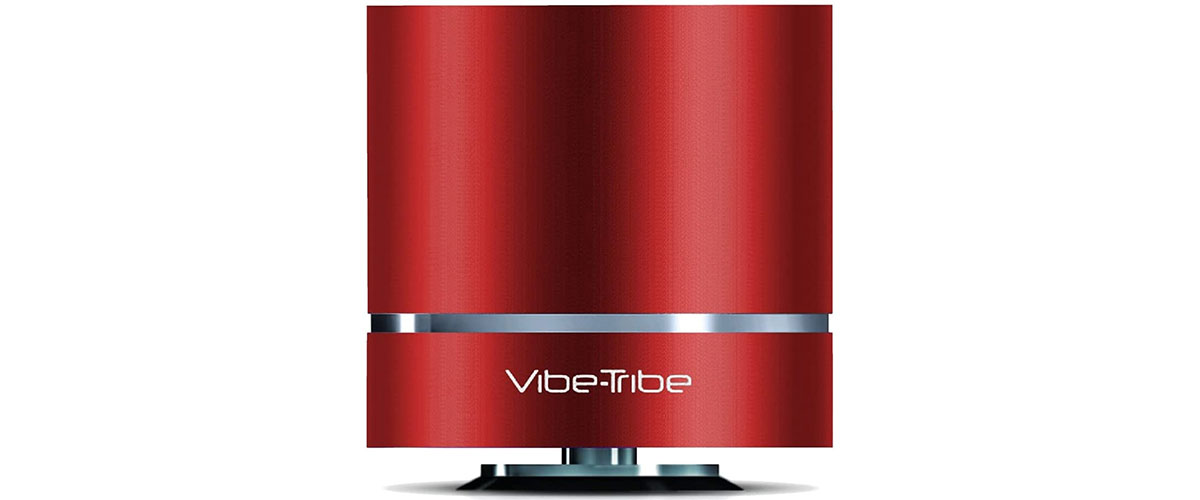 Vibe-Tribe Troll Plus
Best vibration bluetooth speaker
Optimal and secure support with the unique patented suction cup that adheres to smooth surfaces turning in exceptional source for the popular Vibe – Tribe " 3D sound"
What to look for when choosing a vibration speaker?
As you select speakers, I recommend paying attention to the following parameters.
Inputs and outputs of vibration speaker
You can find vibration speakers with different input and output options. They allow you to connect the speaker to other devices like an audio player, TV, or smartphone. So, make sure there are 3.5 connectors and USB ports if you plan to connect the speaker to other tools.
Voice recognition and speakerphone functions
If you want remote control over your vibration speaker, you should look for a device with a voice recognition feature. It would allow you to change the song or volume without approaching the tool. In addition, the speakerphone function allows you to receive calls through the item and have hands-free conversations.
Available wireless technologies
Wireless technologies in speakers enable easier and faster pairing with other devices. For example, some speakers might use Bluetooth for wireless connection with the phone, laptop, or tablet. However, you can come across devices with NFC, which allows you to set up the connection with the phone with one touch.
Power of speaker
Most vibrating speakers have a power range from 10 to 1000 watts. Of course, the greater wattage means a higher volume boost and better tone quality at lower volumes. That is why I recommend opting for the most powerful speaker possible within your budget.
Multiple speakers connections
More advanced vibration speakers allow you to connect multiple speakers at a time. This way, you can pair several speakers and create a multi-speaker audio system for a richer sound and a more immersive listening experience.
Best vibration bluetooth speaker reviews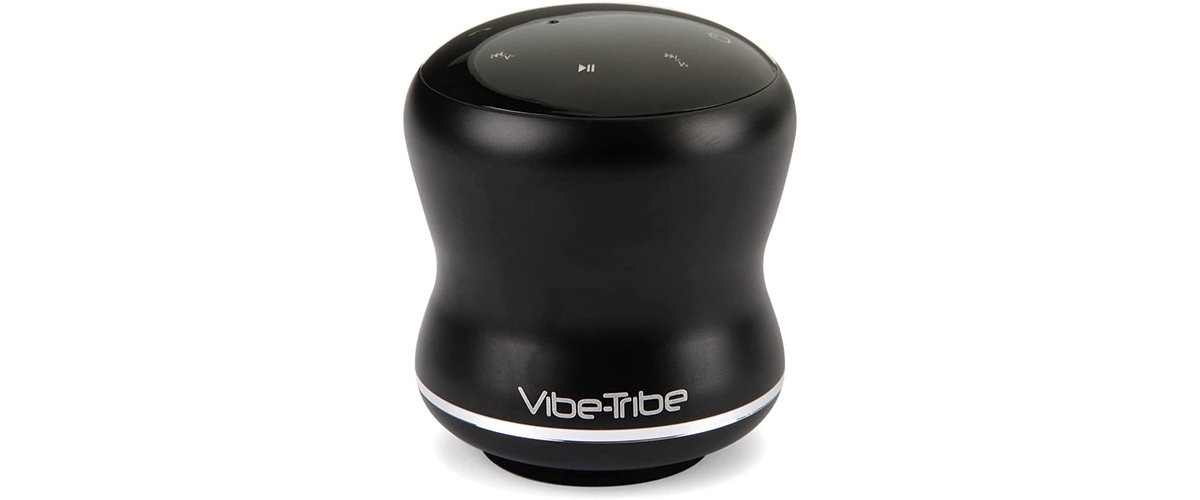 If you still believe vibration speakers are not powerful, just look at Vibe-Tribe Mamba. Its most significant advantage over other speakers, including the compact Vibe-Tribe Troll Mini, is that it holds 18W of pure power in a 2.6-inch unit. So, this item is loud in an average-sized room. It works smoothly on a wide range of surfaces, but my observation is that wooden tables ensure the finest performance.
This Bluetooth vibration speaker sticks to the surface owing to the 'vacuum' base and spreads sound in 360 degrees, creating an immersive effect. You can connect your devices via Bluetooth 4.0 or NFC, which reduces the need for cables. There is also a USB port for charging, but, unfortunately, it doesn't work smoothly. It allows me to charge the battery only when holding the cable in a specific way.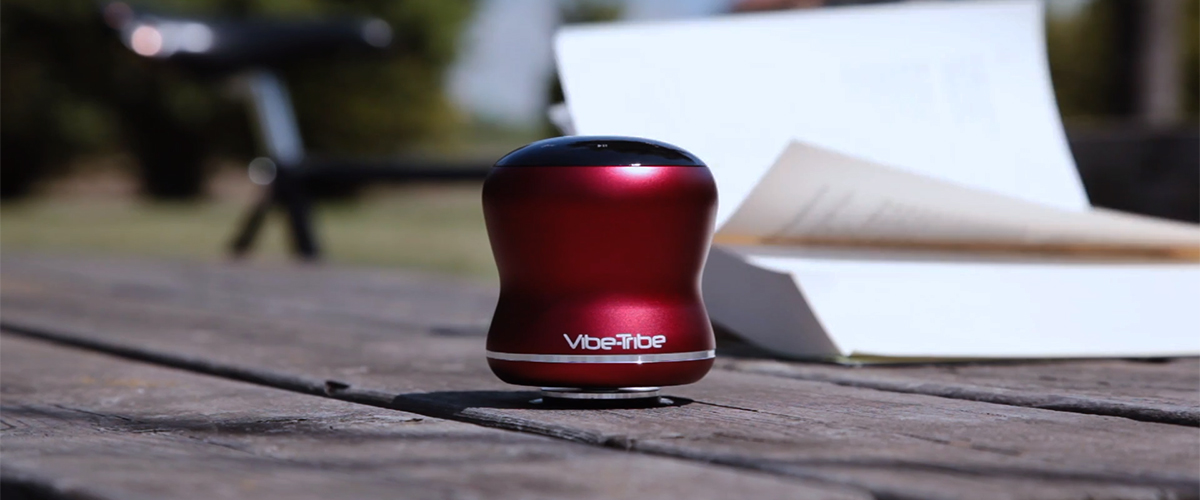 When I am busy or have dirty hands, I always use the handsfree-calls and conf-calls feature. I manage the calls directly from the speaker's command buttons, which is handy. Besides, there is an echo-cancellation microphone for uninterrupted communication.
Apart from being powerful, Vibe-Tribe Mamba is also well-made. Its whole aluminum body and elegant curved shape make it look stunning. Surely, this is the best surface vibration speaker you will find due to its perfect balance of power and performance.
Key specs
Power,W: 18.
Battery life: up to 4 hours.
Pros
18W of power in a compact package.
The sound quality is good, especially on wooden surfaces.
Has Bluetooth 4.0 and NFC for wireless device pairing.
Supports hands-free calls.
Cons
The USB port acts out from time to time.
Vibe-Tribe Troll Mini – budget choice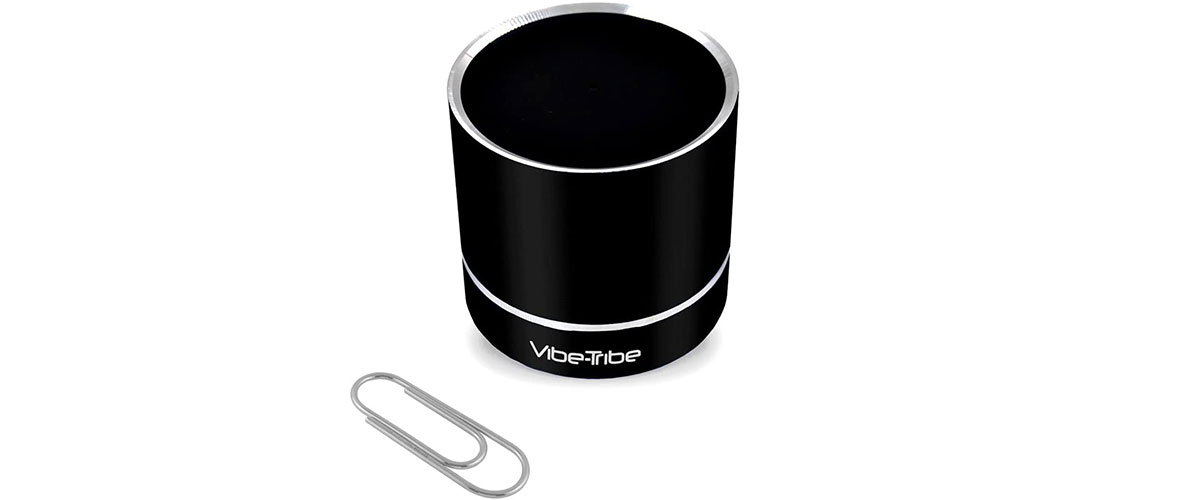 Being a smaller version of the Vibe-Tribe Mamba, the Mini speaker takes a decent position among compact vibration speakers on the market.
This item is less powerful than the Mamba version (3W), but it is also more compact – only 1.5 x 1.5 inches. However, despite the size, it turns the surface into an effective sound system capable of delivering the immersive sound effect.
The Mini speaker by Vibe-Tribe is compatible with IOS, Android, and Windows systems, so it will work with smartphones, tablets, MP3 players, TVs, laptops, and other devices. Moreover, the Bluetooth 4.0 technology ensures instant pairing between the speaker and the device for the wireless connection. But there are also Jack and USB cables included in the pack.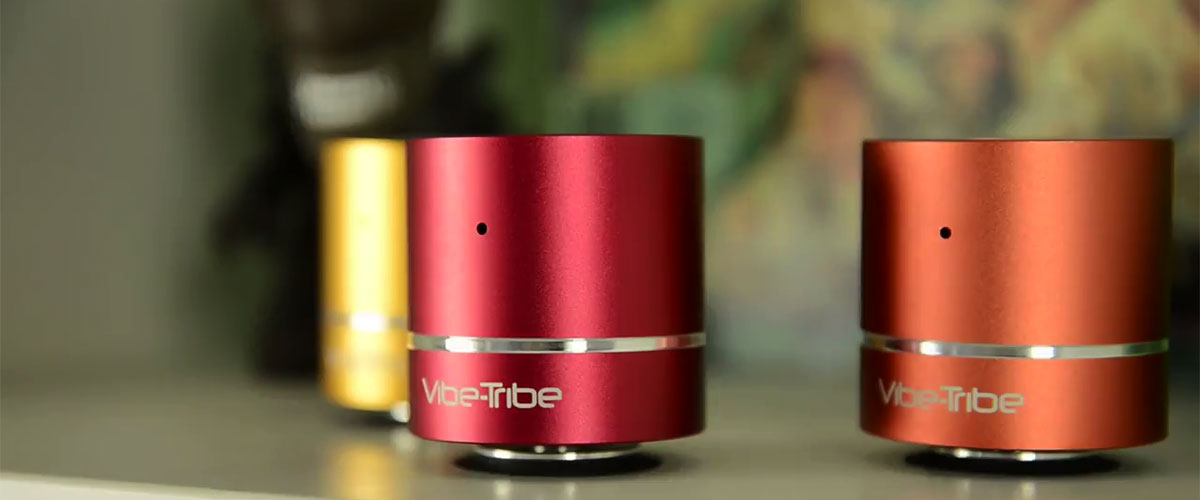 The sound quality of this device is not always great, and it depends on the surface you attach it to. So, if there is a chance, better use these speakers on wood – the sound quality would be much better. A super-sticky suction cup adheres to the surface without falling out.
I love the in-built echo-canceling microphone that allows for hands-free communications and conference calls. This is a great affordable vibration speaker you can put in a small purse or bag and carry with you whenever you need it.
Key specs
Power,W: 3.
Battery life: up to 4 hours.
Pros
The most compact vibration speaker with 3W of power.
A strong suction cup for reliable adhesion.
Features Bluetooth for quick wireless connection.
Cons
Doesn't deliver quality sound on all surfaces.
Bass Egg Verb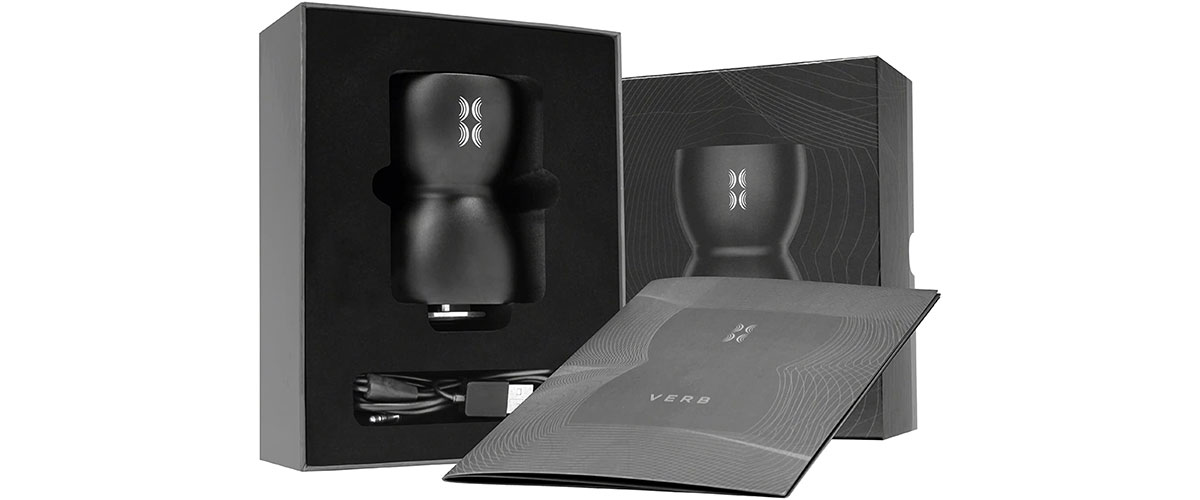 Meet the Bass Egg Verb gadget that turns any surface into a full-range speaker.
With this item, you can effortlessly stream music, movies, games, and any other audio output from any of your devices. Thanks to the Bluetooth and 3.5 mm audio jack connectivity, you can pair the speaker with all compatible gadgets, including TVs, mobile phones, laptops, tablets, etc.
Unfortunately, there is no way to remotely control this device with your voice, unlike in the SoundVibe Thunderpuck speaker. Besides, volume control in the Egg Verb device is unavailable, so you've got to regulate the volume from your phone, laptop, or another connected gadget.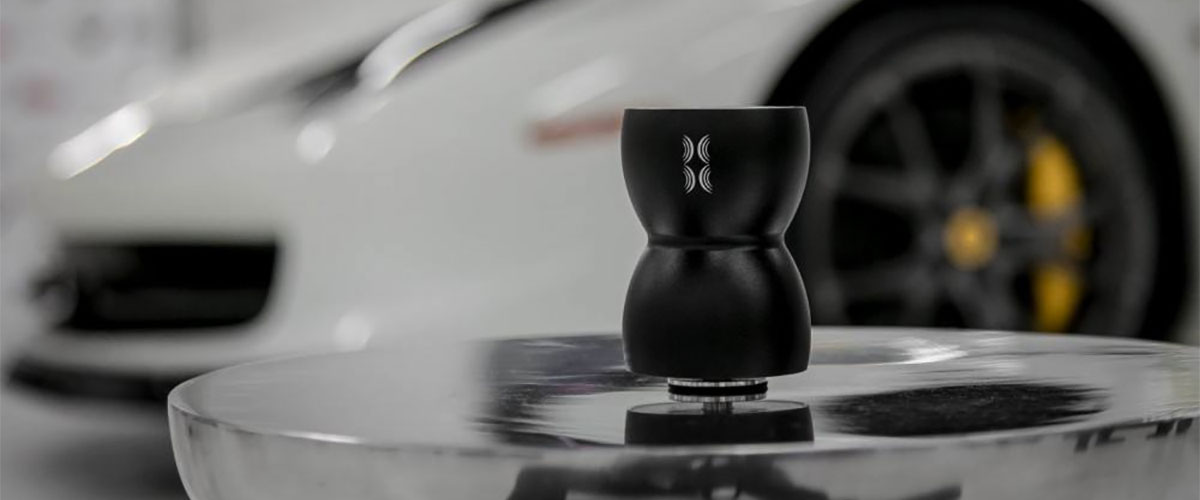 I do not recommend using the Egg Verb on glass. The speaker makes the glass vibrate, and you can barely hear the output sound because of distortion and vibrations. Also, the power of the sound reduces over time. It was fine at first, but then I noticed the sound was not as loud as during the first days of use.
Since this speaker ensures 4 to 10 hours of work, it can become a good device for your daily adventures.
Key specs
Battery life: up to 10 hours.
Pros
Features Bluetooth and 3.5 mm audio jack connectivity.
Compatible with phones, laptops, tablets, TVs, and other gadgets.
Works from 4 to 10 hours on a full charge.
Cons
Not suitable for use on glass.
No volume regulation.
Seems to lose its loudness over time.
SoundVibe Thunderpuck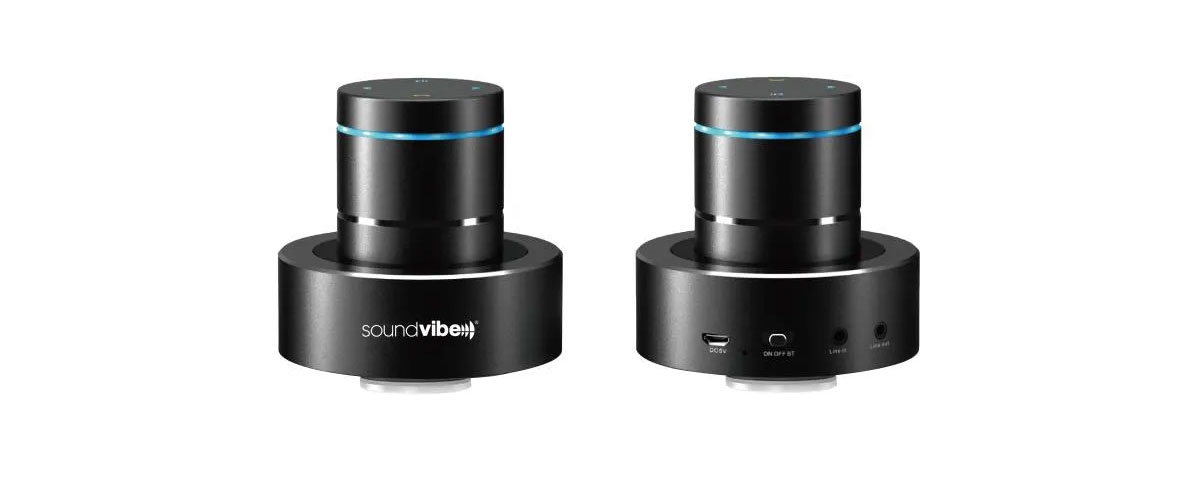 The 26-Watt Thunderpuck by SoundVibe promises rich and booming sound on various surfaces you mount it on.
This device can be connected to any other tool with Bluetooth, NFC, or an included cable, making it more versatile in terms of pairing than Bass Egg Verb without an NFC connection. It is also not a compact speaker like the Vibe-Tribe Troll Mini. It's made of anodized aluminum and is 3 inches tall, so some may find it bulky and heavy (1 lb). The suction cup I received was flat, meaning it was absolutely useless.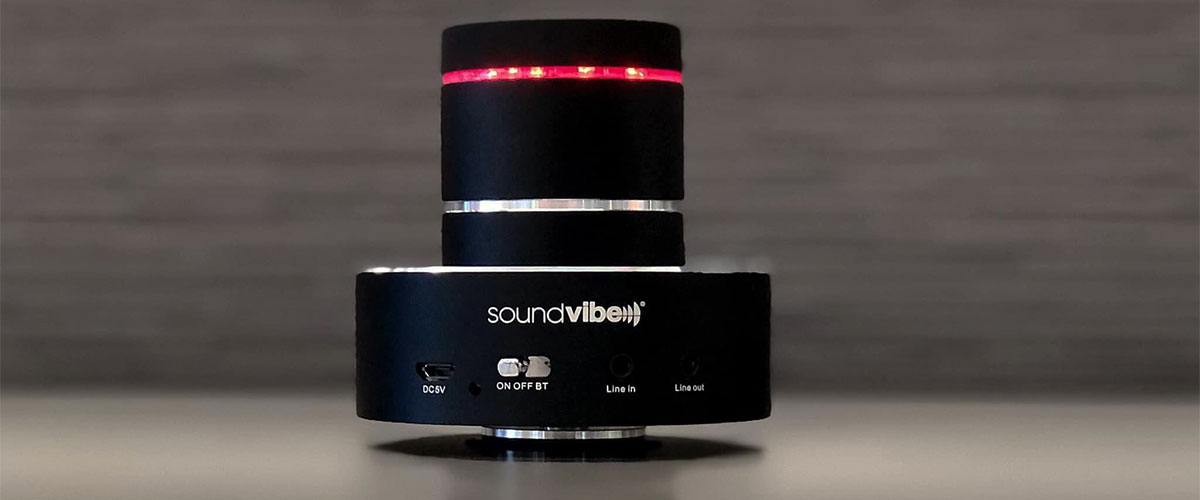 The embedded clarity microphone captures voice from 8 feet for hands-free calls. But do not expect much from the quality of sound. It's okay, but not the ultimate dream.
The SoundVibe Thunderpuck wireless vibration speaker can be an awesome novelty gift or a tool for experiments with sound conductance.
Key specs
Power,W: 26.
Battery life: up to 8 hours.
Pros
Made of durable material – anodized aluminum.
Pairs with devices via Bluetooth, NFC, or an included cable.
Includes a clarity microphone for hands-free calls.
Cons
I received a speaker with a flat suction cup.
May be too bulky if you appreciate the portability.
An average sound quality.
FAQ
How does a vibration Bluetooth speaker work?
Vibration speakers work due to the mechanical force delivered by a voice coil (you'll learn more details in a minute) and the properties of a solid surface to transmit sound as a result of the molecule movements.
As the surface vibrates with the speaker, it displaces molecules around it. Our ear is apt to detect the movements of molecules and transfer them into sound.
But you should know that not all surfaces are created equal – some work better with vibration speakers than others. Glass and wood are the leaders in these terms.
What is the difference between vibration speakers and regular speakers?
Regular speakers have several core parts: a suspension, a diaphragm, and a dust cap. These parts could be seen without disassembling the speaker. The suspension works as the frame for the diaphragm. The diaphragm resembles a simple cone, and it is responsible for producing sound, which appears as the result of reversing the current that goes through the coil and then pushes the diaphragm. This happens as the current passing through the coil creates a magnetic field. There is a permanent magnet at the base of the speaker. As the magnetic field's polarity matches the permanent magnet's polarity, two like fields repel one another and make the coil move. Which, in its turn, pushes the diaphragm. When the fields are opposite, they attract each other, pulling the coil inward.
Speakers that vibrate on the surface are similar in build but do not have a diaphragm. The sound is created not from the electrical impulses but due to the vibration of the solid surface. In these speakers, the voice coil is attached not to the diaphragm but to the movable plate. Current goes through the coil, moving it up and down and pushing it against the movable plate. Then, the plate pushes against the surface. In this way, it transfers the energy to the surface you mount it on and then turns it into the speaker.
Сan vibrating speakers work underwater?
Even though sound travels faster in water compared with air, and you are expected to hear higher frequencies underwater, I still insist you refrain from using a vibration Bluetooth speaker in an underwater environment. The thing is that the device must be completely waterproof to ensure safe listening underwater. Common vibration speakers have a certain degree of waterproof protection (some even feature a good IPX rating), but none of them are completely waterproof. I would rather say they are splash-resistant.
We are supported by our audience. When you purchase through links on our site, we may earn an affiliate commission at no extra cost to you.
Our newsletter
* We will never send you spam or share your email with third parties